Some Samsung users can't edit app permission alerts for Facebook apps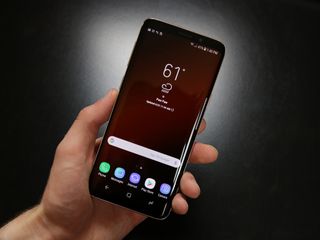 In Android Oreo on Samsung's Galaxy phones, one of the new features included with the update is something called "App Permission Monitor." With this, you can choose to get a notification when applications in the background are using certain permissions (like your microphone, camera, etc.) that you may not be aware of otherwise.
It's a great tool and can be genuinely useful at times, but for whatever reason, some users have been reporting that Facebook-developed apps aren't showing up here at all.
I checked my Galaxy S9 running Oreo, and sure enough, Facebook, Messenger, and Instagram don't show up in the App Permission Monitor list despite being installed on the phone. Daniel here at AC also isn't seeing Facebook in his list but can control settings for Messenger Lite and Instagram. In addition to those, we've also been told that WhatsApp (another Facebook-owned app) doesn't show up in some instances either.
That may not seem like a huge deal at first, but it essentially means that you have no way of knowing if any of these apps are using things like your camera, location, and microphone at any time in the background. If you're at all concerned about your privacy, that's far from ideal.
Facebook, Instagram, and Messenger are clearly installed but don't show up anywhere on the list.
It's unclear what exactly is causing this anomaly, but one suspicion is that it has something to do with Facebook being a pre-installed app on select Samsung phones and therefore being treated in a different manner.
We've reached out to Samsung for an official explanation, and if/when we receive one, we'll update this article accordingly.
If you want to check this out for yourself to see if Facebook's apps are showing up for you, grab a Galaxy phone running Oreo and go to Settings -> Lock screen and security -> App permission monitor.
Thanks, Sean!
5 changes that would make the Galaxy S9's software dramatically better
Joe Maring was a Senior Editor for Android Central between 2017 and 2021. You can reach him on Twitter at @JoeMaring1.
I have Messenger Lite on my S8. It shows up on the list. However, the others don't.

Instagram and Messenger Lite shows up on my S9+. Not Facebook.

None of those apps show up on my S8+ or Tab S3

I just noticed in the last couple of days while troubleshooting a problem with something turning on Do Not Disturb on my Galaxy S8 that WearOS does not show up in the permissions list even though I can control Do Not Disturb from my Moto360.

I would be happy to just get the stock email badge to show # of emails without turning on alert notifications. Galaxy S8

I thought those apps, if pre-installed, are stubs. That means you tap on those apps before they're downloaded and installed on the phones internal memory. That means the apps are not fully on the phone only shortcuts to download them.
That's how they work on my A5 2017 (on Oreo) and they don't show up in app permissions monitor only in the application manager (and of course the shortcuts on the homescreen to download them). Also if those appsoverflow menu to are pre-installed they could be system apps. Does the APM show system apps and is there an view them?

So I just installed these apps and can confirm that none of them show up in APM. SMH @Samsung. Facebook is a system app BTW.

Don't show on my S8+. Sad..

None showed up on my Note 8 either.
Android Central Newsletter
Thank you for signing up to Android Central. You will receive a verification email shortly.
There was a problem. Please refresh the page and try again.