You can now watch your favorite CBS content through Chromecast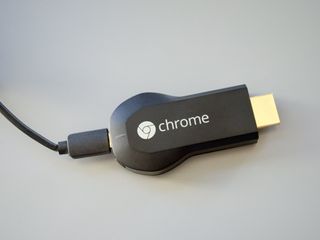 Chromecast support has been added to CBS, allowing users to cast their favorite content to their larger screen displays. With many people ditching their cable subscription, it is great to see more ways for users to stay up-to-date on their favorite shows.
For $5.99 users can subscribe to CBS All Access, which gives them more than 7,000 on-demand episodes from current and previous seasons of shows, as well as the ability to stream local CBS stations live in more than 20 markets.
To enable casting, all users have to do have their Chromecast and mobile device on the same wireless network, open the CBS app, select something to watch, and then tap on the cast button which is found in the top portion of the video player.
Press release:
WATCH CBS THROUGH CHROMECAST
Content From the CBS App and CBS.com, Including CBS All Access Subscription Service, Can Now be Viewed via Chromecast Devices
NEW YORK – May 14, 2014 – CBS Corporation today announced that CBS Television fans now have the ability to cast CBS content from CBS.com and the CBS App, including content from the CBS All Access subscription service, to televisions using Google's Chromecast.
Subscribers to CBS All Access, the CBS Television Network's digital subscription Video On Demand and Nielsen-measured live streaming service, will be able to cast all that the service has to offer to their televisions. For $5.99 a month, the service offers more than 7,000 on-demand episodes from the current season, previous seasons and classic shows on demand, as well as the ability to stream local CBS stations live in more than 20 markets, including New York, Los Angeles, Chicago and Philadelphia, with more to be added each month.
Chromecast is the latest OTT device added to CBS's digital distribution platforms. It joins CBS All Access's recent launch on the Roku platform, in addition to CBS All Access's availability online at CBS.com and on smartphones and tablets through the CBS App. CBS All Access will be available on more major connected device platforms in the coming months as well.
To enable casting through the CBS App for either iOS or Android, users must be on to the same wireless network as their Chromecast device, open the CBS App, select an episode and then tap the cast button in the top portion of the video player. Users also have the ability to simultaneously browse more episodes on the CBS App without interrupting the content they are watching through Chromecast.
To use Chromecast to watch CBS programming through CBS.com, users should download Google's Chrome browser and the Google Cast extension, then log on to the same wireless network as the Chromecast device and click the cast button in CBS.com's video player.
Jared started off writing about mobile phones back when BlackBerry ruled the market, and Windows Mobile was kinda cool. Now, with a family, mortgage and other responsibilities he has no choice but to look for the best deals, and he's here to share them with you.
If I already pay for cable is this open to me or do I have to purchase all access as well.
Edit: Nevermind, you do indeed have to purchase all access to get access to all shows.

To get access to the library of old shows. I just downloaded the app and after a quick look, it looks like you can watch the last four or five episodes of most shows free, but anything further back than that requires a subscription. That's about equivalent to what you get from basic Hulu or On Demand from your cable provider.

That may be, however there are so many drawbacks to this, you have to pay for something that was free before, you pay to watch commercials of their choosing much longer than regular tv, the apps are full of malfunctions...

The ads are not longer than regular TV. In an hour-long Hulu show, you get a little over half as much total ad time as you do with a broadcast show. In a half-hour show, you get about three quarters of the total ad time. I'm not sure what your issue is with the ads being of Hulu's choosing, since I've never had much of a say in the ads I'm shown over broadcast. And broadcast networks aren't really free, unless you're getting them through a digital antenna; you're probably watching broadcast shows through your digital cable service, and while your provider may not have to pay the networks in licensing fees as they do to the major cable networks, but you're still paying a lot of money for the privilege of watching them. As for the app being buggy, I haven't had a ton of problems with it, but I have heard otherwise from a bunch of people, so I may just have been lucky in that regard.

I just tried the free week of CBS all access on my Roku because I am a cable cutter and CBS is not available on Hulu, Netflix etc. Well I cancelled before my week was up. It's nice but it needs some work. A lot of shows available and all the new ones but not all episodes are available. So if you wanted to pick up with this seasons shows at the beginning you can't because some only have 5 available to watch or 7 etc. It's ridiculous. The worst part though is the commericals. THERE ARE A LOT and run about 1:30 to 2 minutes each. It's crazy. I couldn't stand watching a show. Anyway I hope this helps someone who is considering getting the all access.

Paying for commercials?? Where in the world did they get that idea??? Hulu*cough*f*ck*you*cough*cough*

Yeah, I can't believe Hulu charges you money and still shows you ads. That's why I stick with watching cable TV instead. ...wait.

I agree but hulu's ads are a lot less and not as long. Yes you can dvr and fast forward commercials with cable but you pay a TON more for it and there are still commercials if you are watching in real time.

Yeah, that's the point I was making. I don't think my sarcasm came across.

Duh... Definitely missed that wow. Ha

What about local. They said you get local CBS which could mean local news. This is the biggest thing I would miss if I cut the cord. The rest I can fill between Amazon, Netflix, and Hulu...but I miss my local and I'm not up for an antenna

Local isn't every where yet. I am in Missouri and it's not available at this time. That is another reason I cancelled. Check their website

I'll have to check it out, but I can't imagine there being much content unless you spring for the $5.99

Can anyone make a running tab on what programmes you can (and cannot) stream through this? Some folks told me the stuff currently on air aren't available here, mainly their sitcoms and NCIS and some others... Posted via the Android Central App

CBS.com is my households main line of TV these days. wife and I just cut cable last month. CBS has nearly all the shows we watch so it was pretty awesome that would could get away with this. new shows will show up the next day, you can also watch the past 3-4 episodes....all this for nothing (other than ads) if you pay the all access fee, you get all past seasons and episiodes as well as mobile use (you can't watch anything for free on the mobile app that I am aware of) I can only comment on the shows we watch...but I'm sure all other current shows are supported....but here goes
Big Bang theory, CSI, NCIS, NCIS LA, Mike and Molley, Blue Bloods, Hawaii 5-0, Survivor. all those we watch on a weekly basis the night after they air at not cost to us other than sitting through some ads. the fact that they added a cast icon to the player is awesome. my current internet/chromebook combo can only handle 480P streaming smoothly...i only assume because its going from the chromebook (no powerhouse) to the CC directly, or through the internet again to cast the TAB. the Cast button will tell the CC to grab the video link directly from the web and play it...so I'm hoping it'll be able to handle 720P. this makes me happy :) now if only ABC would do the same....then I would be all set. Modern family and Americas Got talent are the only shows I am missing really.

I know I watch the other networks on their mobile apps when i miss an episode, I thought I did CBS also.

I'll tell you where this app has come in handy...If a show is moved for some reason or doesn't show in it's entirety (sporting event goes over, political speech or debate, etc) and my DVR doesn't pick it up. I have watched the episode on my tablet but now can cast to my TV.

Football included? Posted via the Android Central App

Does this include Chromecast support for CBSN? Looking at the CBS News app in the Play Store, it doesn't appear to have been updated. Maybe it is coming soon. Really enjoy CBSN. It reminds me (somewhat) of the old Headline News network. But being able to cast it from my tablet would be a huge step in the right direction, if you ask me.

Lets get real, the only reason why ppl would want this is 4 the NFL games they broadcast and its not mentioned at all. Posted via the Android Central App
Android Central Newsletter
Get the best of Android Central in in your inbox, every day!
Thank you for signing up to Android Central. You will receive a verification email shortly.
There was a problem. Please refresh the page and try again.