You can now order the HTC U11 with 128GB storage and 6GB RAM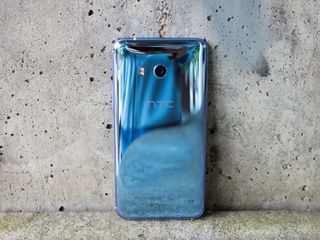 HTC's U11 flagship is one of the year's best phones so far, and the company is doing everything it can to get it into as many peoples' hands as possible. Starting today, July 25, you can order a 128GB version of the phone in the U.S. for $729, a $70 premium over the 64GB model that's been available since May.
Available from HTC.com (opens in new tab) as an unlocked model exclusively in "Amazing Silver", the 128GB model also comes with 6GB of RAM, which matches the model sold in China. With the extra memory and storage, the HTC U11 looks pretty future-proofed, a device that people will feel comfortable holding on to for a couple of years at least. It's also pretty great value against something like the Galaxy S8, which is sold unlocked $725 with 64GB of storage and 4GB of RAM (though it's on sale right now (opens in new tab).
If you're looking for something a little less pricey, HTC is discounting some older devices until August 7. The HTC U Ultra is down to $499 (a $250 discount); the HTC 10 is down to $399 (a $300 discount); and the UA Healthbox is down to $220 (a $180 discount). Not bad, especially on the HTC 10, which has aged really well.
Recently, the HTC U11 received Alexa support to shore up its existing smart assistant features.
See at HTC (opens in new tab)
Daniel Bader was a former Android Central Editor-in-Chief and Executive Editor for iMore and Windows Central.
Very nice, a $70.00 upcharge for twice the storage & 50% more RAM. Two things, they should have offered this version from the start, instead of engaging in the geographical crippling that Samsung and Lg also think is acceptable for the US market. Also, will there be any buyers remorse or anger from those who have already purchased the initial, lower spec model? This would seal the deal as far as the phone I would get if I needed a phone, right now.

I bought mine with 64GB and 4 GB of RAM and running smooth like crazy, no need for all that extra, I paid for it $549.0 and I`m happy with it.

I upgraded to a Solar Red U11 (fairly recently) from my One Plus 3, and while the phone is faster overall, I really do miss having that extra ram. So, this news broke my heart a little bit. I was on the fence about going back to HTC or sticking with OP, and right now im wishing I went with OP. HTC should have included the 6GB or ram from the start and kept it at $650. They think they're going to compete with Samsung and Apple in the mega premium space and they're not. They just don't have the brand recognition to do so.

I've got a OP5 and the Solar Red U11. OP5 has had a lot of BT and Wifi issues the last 3 weeks AND with the 4.5.5 update they broke Android Auto .. it connects to some headunits and goes completely unseen by others. The U11 has worked for everything I've thrown at it. The OP5 was to be the wife's gateway back into Android from iOS but since AA is broke as far as connecting to her '16 Accord .. it now sits powered off waiting for 4.5.7 or whatever fixes the BT/Wifi and AA issues. Sad but true the U11 was probably a more solid purchase for you.

Thank you, I think I needed to hear that. I'm sure i'll be happy once it comes back from HTC's repair dept. The phone got wet. **sigh**

No worries. I figured it's important. :) One works flawless and the other requires a bit of love and overlooking of shortcomings. :)

I'm returning my Solar Red. Luckily I have a backup phone. I'll pick up the 128gb model when it's on sale. Agreed: not offering this originally was incredibly bad form.

That's not a bad price for the upgrade, and if I was buying now, I'd get the 128GB version. Having bought mine two weeks ago, upgrading from a LG G4, I'm good with what I have.

I got these exact specs it was a welcomed surprise especially as I had expected the 64gb and 4gb RAM.
Came with an extra case and a car charger in a huge box?

The battery will still die in two yrs, can't hold onto it that long

A bargain compared to the premiums the likes of Apple charge for extra storage, it's just a shame that they don't offer it in all the colours available. The article should also state that this new availability is for the US and apparently not anywhere else.

I wish Sprint were going to carry this version. Is there any hope that might happen?

If you buy it from HTC it`ll work fine on Sprint, I did ask Sprint and they said it`ll work on their network.

That is good to know, but the reason I was asking is because I have a major loyalty discount with Sprint at this time. I want to be able to purchase it through my carrier to take advantage of that savings. However, I called today, and was told they have no plans to carry this version of the HTC U11 at this time, so I have an unpleasant dilemma. Get the version I want and leave approximately $300 sitting on the table, or settle for a color and configuration that I don't want but save a lot of money. I don't like my options. They should've just sold this version out of the gate.

I used this exact specification before. Not really a big performance gulf between the base model, but the extra RAM might be handy if you multitask heavily

Hope it comes to the uk, this would be my next phone. I am giving the samsung s8 a miss, i dont like the bixby button.

If the $50 off code works for this phone I'll bite. Wish I could get it in blue.

It's a bit expensive as a hand mirror. No - wait. There is a phone on the other side! how excitingly original. I understand making phones look nice, but Practicality is the real issue.

This phone looks amazing in person and I've had quite a few folks notice it and ask about it. The finish is a plus not a negative. It's also fast and just all around a nice dual sim unlocked phone. There is no real downside to it.

Do you find it a bit slippery? I'd be really tempted to keep it in a case, but that's a personal thing.

I don't find it slippery when holding it but I do have to be careful where I set it down. If the surface I set it on isn't level then it slides toward the downslope. Srsly. Folks could use this to measure how level a surface is. I'm putting an ultra clear skin on it tomorrow when it arrives but that's more for scratch prevention. I find that all the clear cases dull the finish and make the Solar Red version almost a dark pink. I'm not fond of this effect. I have a case to use it when I would need it ... the gym, mounting to the handlebars of the moto and a few other instances. Otherwise .. I don't use a case on it.

So do I still get the xepira zx premium or this update HTC u11

Exactly my question as well. I was debating between the 2 and got the XZP and it'll arrive tomorrow. I got the internatiinal XZP for $609 incl tax on Amazon so now I'm wondering if I should return it and get this.

How was the XZP that cheap on amazon?! I would buy it for that price.

It's the International version (which is the one that has a working FPS) which is cheaper than the US version and it still has all the necessary GSM bands. I think it's listed at about 634 but I also got a free $25 Amazon gift card on Prime day so that brought it down to $609. No tax since it's just "fulfilled by Amazon" not "sold by Amazon". It's in route and I should get it tomorrow.

Oh nice. Man I wasn't looking around on Prime day, but yea that's a good deal!

ZTE did this with the Axon 7. Why on Earth do these companies think it's a good idea not release the larger capacity model here on day 1?

Who needs that much RAM anyway? Unless you open the entire phone apps and keep them open 24/7 to look at them.

You're only saying that because you've never used a phone with 6GB of ram as your daily driver. I went from a OP3 to a U11 and I can tell the difference. The extra 6GB keeps most things right where you left them. It's something most people wouldn't notice unless they went backwards like I did.

Wow that Htc 10 for $399 looks like a great deal. The U11 is a truly beautiful device but I aint rich so....

Time to go back and study this phone. Been looking for a great phone with 128GB. This could be it!

I have the 4GB model and it's fast and has an amazing camera. If I could trade my 4GB solar red for a 6GB solar red I would. The best feature though is the squeeze thing. It's totally not a gimmick.

How do you know it's better? You don't even have it to put it to the test.
Android Central Newsletter
Get the best of Android Central in in your inbox, every day!
Thank you for signing up to Android Central. You will receive a verification email shortly.
There was a problem. Please refresh the page and try again.