YotaPhone updates its two-faced phone; in Europe now, U.S. in 2015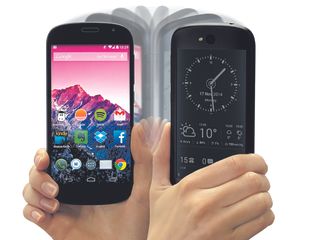 New secondary display promises to be 7 times more power efficient than its AMOLED face
YotaPhone today in London unleashed the second version of its dual-screen phone — and this one's looking to get in more hands. Available now in 20 countries in Europe, the Russian-made Android phone will make its way to Hong Kong by the end of the year, Taiwan, China and other Asian markets in the first quarter of 2015 — and the United States, Canada and Latin America after that.
If you're unfamiliar with the YotaPhone — the first was pretty much exclusive to Russia — it's got a traditional 1080p display on one side, and a low-power, always-on display on the other for what it says will give five days of e-book reading on a single charge. It also provides a glance view for things like notifications, clock and calendar info.
It's powered by a Qualcomm Snapdragon 800 at 2.2 GHz, with 2GB of RAM and 32GB of on-board storage. It's got an 8-megapixel camera with flash, and a 2MP front-facing shooter. It's got 4G LTE connectivity, NFC and Wifi.
It's also pricey, running £555 in the UK and 700 Euros elsewhere.
We're live at the event in London, so stay tuned for more. We've got the full press release below.
Yotaphone 2 is the world's first smartphone with two fronts
Dual-display technology redefines mobile for good
Wednesday 3rd December 2014, 6pm GMT. LONDON — We at Yota Devices, the mobile start-up behind the world's first "two-fronts" smartphone, are proud to launch the highly anticipated Yotaphone 2.
Slim, powerful and beautiful, Yotaphone 2 combines Android familiarity with something that has never been accomplished before: two fully touch-enabled displays with two very different personalities.
The front display is a high-definition 1080p AMOLED screen, perfect for everyday use such as social networking, browsing, watching videos or playing games. Turn the phone around and you'll see the other front screen, which uses a Yota Always-On Display that is ideal for e-reading, notifications, outdoor visibility and much more.
"We believe our technology constitutes an entirely new species of mobile device, not just by integrating a power efficient electronic paper display but by making two screens work in harmony," said Yota CEO, Vlad Martynov.
YotaPhone 2 key benefits include:
The Yota Always-On Display can drastically improve battery life, offering up to five days of e-book reading from a single charge. Ordinary Android phones also have power-saving modes, but Yotaphone 2 lasts up to three times longer based on usage that involves reading, messaging and calling. Reading on the Yota Always-On Display is up to 7x more power efficient than on the AMOLED HD screen.
The Yota Always-On Display offers almost 180 degree viewing angles and excellent readability even in direct sunlight, making it easy to see and use any Android app while you're outdoors.
The Yota Always-On Display offers an "at-a-glance" view of what's happening in your personal world, removing the need to constantly pick up, turn on and navigate to your emails, social networks or text messages. Just like a wristwatch, all you have to do is look and everything you need is available at first glance.
YotaPhone 2 is the product of an international team of engineers who have the passion and talent to create something that has never been built before. It has taken three years to get to this point, but Yota is now in a position to offer consumers real choice, rather than just another slightly different iteration of what is already available on the market.
Yotaphone 2 is lightweight at only 145 grams. It's also very slim (144 x 69.5 mm x 8.9 mm) and, with durable Gorilla Glass 3 on both sides, it is far from fragile. It's a mobile device that is both useful and elegant.
What else can Yota's two screens do? Here's a rundown of some of our key software features, all of which are entirely customisable by the user:
YotaEnergy -- This mode automatically switches all key functions, including calls and texts, to the Yota Always-On Display once battery life reaches 15%, providing another 8.5 hours of use.
YotaMirror -- You can use any Android application on the Yota Always-On Display. This includes everything from the most popular e-reading apps (such as Amazon Kindle) right through to messaging apps (like WhatsApp), music streaming apps (like Spotify) and any other activity that could benefit from superior battery life and readability.
YotaSnap and "Life after death" -- Grab a crucial bit of information from the colour display -- such as a map, meeting location, or the QR code from a travel ticket -- and preserve it on your Yota Always-On Display. What's more, you can hold this information on the screen even if your battery dies completely.
YotaCover -- Make your Yota Always-On Display private with a single tap. YotaCovers are user-designed photos and notifications that bring beauty and personalisation to your device without giving anything away to onlookers.
All of this is accomplished on the "rear" side of the device — an area that has long been dismissed as useless space on ordinary smartphones.
At the same time, YotaPhone 2 offers a solid, reliable and familiar home for Android users -- and indeed users of other smartphone platforms -- thanks to its internal specifications. These include:
A Qualcomm Snapdragon 800 2.2 Ghz quad-core processor with 2GB RAM and 32GB eMMC
An 8MP autofocus camera with LED flash (which can be used to take high-res "selfies" thanks to YotaMirror) and a front-facing 2MP camera.
4G/LTE, WiFi and Near Field Communications (NFC) connectivity
Availability YotaPhone 2 costs 555 GBP in the UK and in the region of 700 EUROS elsewhere in Europe. It is now on sale in 20 countries in Europe, the CIS and Middle East, from www.yotaphone.com and a variety of channel partners. The first Yotaphone Store opens in London (off Brick Lane in Shoreditch) on Wednesday 3rd December at 6.30pm. YotaPhone 2 will be available in Hong Kong by the end of December this year and Taiwan in Q1 2015. Availability for China and additional Asian markets will also begin in Q1 2015 with USA, Canada & Latin America availability coming soon after.
Ordering and further information: www.yotaphone.com.
Sign up for Black Friday email alerts!
Get the hottest deals available in your inbox plus news, reviews, opinion, analysis and more from the Android Central team.