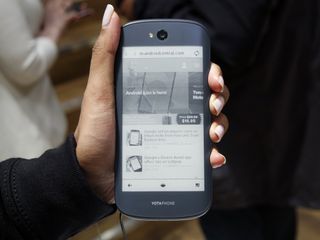 Pure Android on the front, e-ink goodness around the back
At an event in Central London today, YotaPhone unveiled its second Android handset, the appropriately-named YotaPhone 2. Like the original YotaPhone, the second-gen device features a standard smartphone display on the front and a unique e-ink panel around the back, and it's that "always-on display" which forms the YotaPhone 2's main point of differentiation.
From the front you're looking at a relatively pedestrian Android handset — there's a year-old Snapdragon 800 processor running the show, paired with 2GB of RAM and 32GB of storage and a 4.7-inch 1080p SuperAMOLED panel. Physically, it's a relatively nondescript Android slab, with curved corners and a matte-textured back. And on the software side it's basically vanilla Android 4.4.3 KitKat with very few modifications, right down to the Google Now Launcher as the default home screen setup. The main difference on the software side comes in the slide-up menu containing the Google Now shortcut, and this is one of the ways in which you interact with the rear display.
The leftmost menu item lets you push the on-screen app to the e-ink display, complete with touch functionality. The result is a black and white version of familiar Android apps — including YouTube, which works surprisingly well — on the back of the device, though with an expectedly lower refresh rate. (We'd estimate around 10-15 frames per second, though reps at today's event were unable to provide an exact figure.) There's also some noticeable ghosting left behind when mirroring the front screen to the e-ink display. The main bonus, however, is power saving, as the e-ink display only consumes power when changing what's being displayed, and there's obviously no need to generate light either.
At today's launch event Yota CEO Vlad Martinov touted the secondary display's ability to save power while enabling a surprising level of functionality. For example, another feature quickly accessible from the swipe-up menu on the primary screen takes a screenshot of the current app and pushes it to the e-ink display, ideal for boarding passes and other barcode-based info.
There's also a widget panel designed from the ground up for the rear display, bringing weather, calendar info and even a selection of your Facebook and Instagram photos to the back of the YotaPhone 2's display. The widgets displayed in this view are fully customizable, however interacting with the e-ink panel takes a little patience, as the user experience is a good deal slower than the standard display, and there's less visual feedback due to the challenges of animating UI elements on an e-ink panel.
YotaEnergy is also enabled through the widget panel on the rear of the phone, and this power-saving mode dims down the front panel and uses the e-ink display as the main way of interacting with the device. In this mode, the manufacturer claims the phone can manage up to two days of use in various apps. Naturally, reading apps like Google Play Books are an ideal fit.
It's too early to say whether the YotaPhone 2's ink-based capabilities will prove revolutionary, or whether this feature will turn out to be another ill-founded smartphone gimmick. However upon first inspection this dual-screen device seems to be surprisingly polished, and we're looking forward to spending more time with it. At €699 in the eurozone and £555 in the UK however, the price of admission is pretty steep.
Image 1 of 12
Android Central Newsletter
Get instant access to breaking news, the hottest reviews, great deals and helpful tips
Alex was with Android Central for over a decade, producing written and video content for the site, and served as global Executive Editor from 2016 to 2022.
Very interested in this design. How much? Posted via the Android Central App

Apparently not interested enough to read the whole article...

Exactly..... Baaaaahahahahaha Posted via a Republic Wireless Moto X using the Android Central App

This looks really nice Posted via my Xperia Z2

Na, I'm good! Posted via the Android Central App

Wat Posted via the Android Central App

If it comes to the US I might try it if the price is right Posted via Android Central App

So interested in the design and the low-light use, but THAT PRICE. God damn it, that price....

Lol yeah way more expensive then I imagined.

around 700 euros I hear, so I'd guess US$999

Not to mention that a traditional case would defeat the purpose of such a devices. It's bumpers or nothing to protect this very expensive device. I love the concept and companies that think outside the box, but the price Wow!

Lots of us don't use cases Posted via a Republic Wireless Moto X using the Android Central App

Wow! Just Wow! Don't get me wrong, it has a interesting design to it BUT! the damn thing is being priced more then the 128GB iPhone 6 and Note Edge :( stupid move. Amazon Fire failure all over again.

Er no, in the UK it is just a few pounds more than the 16G iPhone 6 (£555 versus £538) and much, much less than the 128 at £699. That UK price includes sales tax at 20%.
It has enormous potential - especially the sunlight readability of e-ink displays - and it is on my to look at list come replacement time.

Okay that design is really interesting. I'd be interested to try it out. My other thought is that Amazon should implement this on their Fire tablets. I bet a lot of people would go for both kindle devices combined into one.

introducing the Mullet phone. Business on the front, party on the back.

Will this ever come to a us carrier Posted via the Android Central App

What's a case? Posted via the Android Central App

Pretty steep? Try DOA. Posted via Android Central App

Just watched the video. They're already started using material design in their app to configure the e-ink panel. That's impressive.

Interesting. I backed the Inkcase on KS to try out. https://www.kickstarter.com/projects/378232716/inkcase-plus-e-ink-screen... Should get it before Christmas and probably go on sale after that

Too slow! Posted via Android Central App

You clearly haven't used an eInk device before if you think that's slow. Posted via Android Central App

reminds me of the nexus s

Very interesting concept, but I'll stick with my Note 4

I'll stick with my brand new nexus 6.

Good. Creative. AC App via Nexus 5

That's right! ... ( 0ppo F5) ...

Too many Shots fired at this e/phone reader....lol.. dont look like it's going to fly in the US? Posted via the Android Central App

Dear Amazon, please make a Kindle like this. Thank you.

Great design - always good to see companies trying out new ideas. Something will eventually stick! Posted via the Android Central App

Zero interest in this design, and I doubt I'm in the minority. Smartwatches put the once interesting concept to bed for me.

This is a great concept and it appears to be great execution as well. If the price was more attractive it would be a buy, but not coming from a major manufacturer leaves questions on future support and updates. The fact that it is pretty close to stock Android should help a lot though. If it was half the price I would definitely have to get one.

Really cool concept. Sent from my Samsung Galaxy Alpha

It takes unique ideas like this to start some sort of evolution with smart phones. All these new flagship phones look relatively the same, and operate nearly the same. Its nice to see manufactures trying something new.

Why would I look at the e ink screen when I can be looking at a gorgeous lcd display? Posted via the Android Central App

Christ. will this yotaphone eva get to Nigeria?
Android Central Newsletter
Get instant access to breaking news, the hottest reviews, great deals and helpful tips
Thank you for signing up to Android Central. You will receive a verification email shortly.
There was a problem. Please refresh the page and try again.