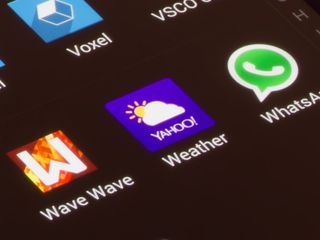 Following up on our Yahoo Mail review, Yahoo Weather is the next in the family we're going to dig into. Like their other apps, Yahoo Weather earns big points for a sharp interface and tight integration with other services.
Yahoo has done an absolutely great job with most of their Android apps, and Yahoo Weather is no exception.
All of the core functions of a weather app are cleanly laid out in Yahoo Weather. The first screen shows you a local image, the current temperature, forecasted high and low, and the current conditions. Scroll down and you get hourly and daily forecasts (either 5-day or 10-day). Keep going and you'll get humidity, visibility, and UV index. Then there's a Google map that you can tap through to get a visualization of wind speed, temperature, and pressure systems, plus a recent satellite view of cloud cover. Wind & Pressure view has a nice little windmill animation, as does the sun & moon info. Between them, you'll get a look at chance of precipitation across morning, afternoon, evening, and night.
With a quick swipe you can view all of that information for as many other cities as you like. Add them by tapping the plus symbol in the top-right, where you can punch in a zip code, city name, or plug into Facebook or Yahoo to add cities your friends are from. Tapping the hamburger icon in the top-left brings up all of your city locations, quick links to other Yahoo apps, and the ability to change the order your cities are presented.
Across the rest of the Android system you can enable a tasteful persistent notification, and in severe weather conditions you'll get an alert as well. There's an extremely broad range of home screen widgets to use: 1 x 1, 2 x 2, 4 x 1, 4 x 2, 4 x 2 with clock, and 4 x 1 hourly forecast. Each one has a fair bit of customizability to boot, such as changing background, text color, or selecting different cities.
One of the surprisingly compelling cross-service tie-ins with Yahoo Weather is with Flickr. It crowdsources local, high-quality photographs to go with the weather and time of day in your area. The great thing about this is that you can actively participate by uploading and geotagging your photos through the web and submitting them to the Yahoo weather group. It would be great if this functionality were bundled into the Yahoo Weather app. Even still, I've found the idea of having my photos popping up on phones of other people in my area when they check out the weather a compelling enough idea that I've gone through the trouble of submitting pictures via the web.
Good
Highly polished interface
Tasteful system-wide integration
Bad
More video content would be nice
Bottom Line
Yahoo Weather manages to stay robust without being cluttered. The focus is very clearly on the user interface, but you really do get all the weather information you could need. Yahoo's other services do a good job at scrounging up related web videos and embedding them in the app (namely News Digest), and it would be great to see a similar ticker with local and national weather videos and news content. Optional notifications for when it's very likely going to rain would be handy. That's nitpicking though. You get an awful lot from a free app with no ads. All in all, Yahoo Weather is one of the best weather apps you can find on Android.
Stick around, because the rest of this week we'll be digging into the other big-name Yahoo apps, like Flickr, News Digest, and Aviate.
Be an expert in 5 minutes
Get the latest news from Android Central, your trusted companion in the world of Android
Simon has been covering mobile since before the first iPhone came out. After producing news articles, podcasts, review videos, and everything in between, he's now helping industry partners get the word about their latest products. Get in touch with him at simon@futurenet.com.