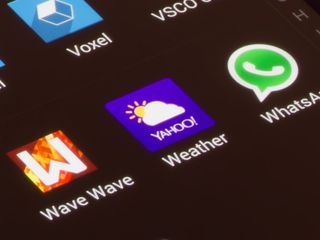 Following up on our Yahoo Mail review, Yahoo Weather is the next in the family we're going to dig into. Like their other apps, Yahoo Weather earns big points for a sharp interface and tight integration with other services.
Yahoo has done an absolutely great job with most of their Android apps, and Yahoo Weather is no exception.
All of the core functions of a weather app are cleanly laid out in Yahoo Weather. The first screen shows you a local image, the current temperature, forecasted high and low, and the current conditions. Scroll down and you get hourly and daily forecasts (either 5-day or 10-day). Keep going and you'll get humidity, visibility, and UV index. Then there's a Google map that you can tap through to get a visualization of wind speed, temperature, and pressure systems, plus a recent satellite view of cloud cover. Wind & Pressure view has a nice little windmill animation, as does the sun & moon info. Between them, you'll get a look at chance of precipitation across morning, afternoon, evening, and night.
With a quick swipe you can view all of that information for as many other cities as you like. Add them by tapping the plus symbol in the top-right, where you can punch in a zip code, city name, or plug into Facebook or Yahoo to add cities your friends are from. Tapping the hamburger icon in the top-left brings up all of your city locations, quick links to other Yahoo apps, and the ability to change the order your cities are presented.
Across the rest of the Android system you can enable a tasteful persistent notification, and in severe weather conditions you'll get an alert as well. There's an extremely broad range of home screen widgets to use: 1 x 1, 2 x 2, 4 x 1, 4 x 2, 4 x 2 with clock, and 4 x 1 hourly forecast. Each one has a fair bit of customizability to boot, such as changing background, text color, or selecting different cities.
One of the surprisingly compelling cross-service tie-ins with Yahoo Weather is with Flickr. It crowdsources local, high-quality photographs to go with the weather and time of day in your area. The great thing about this is that you can actively participate by uploading and geotagging your photos through the web and submitting them to the Yahoo weather group. It would be great if this functionality were bundled into the Yahoo Weather app. Even still, I've found the idea of having my photos popping up on phones of other people in my area when they check out the weather a compelling enough idea that I've gone through the trouble of submitting pictures via the web.
Good
Highly polished interface
Tasteful system-wide integration
Bad
More video content would be nice
Bottom Line
Yahoo Weather manages to stay robust without being cluttered. The focus is very clearly on the user interface, but you really do get all the weather information you could need. Yahoo's other services do a good job at scrounging up related web videos and embedding them in the app (namely News Digest), and it would be great to see a similar ticker with local and national weather videos and news content. Optional notifications for when it's very likely going to rain would be handy. That's nitpicking though. You get an awful lot from a free app with no ads. All in all, Yahoo Weather is one of the best weather apps you can find on Android.
Stick around, because the rest of this week we'll be digging into the other big-name Yahoo apps, like Flickr, News Digest, and Aviate.
Get the Android Central Newsletter
Instant access to breaking news, the hottest reviews, great deals and helpful tips.
Simon has been covering mobile since before the first iPhone came out. After producing news articles, podcasts, review videos, and everything in between, he's now helping industry partners get the word about their latest products. Get in touch with him at simon@futurenet.com.
That app is sweet but holy wakelocks. Over 2k WL a day. Posted via Android Central App

Have you noticed a battery drain? Just wondering cuz I love using this app in the pulldown shade/status bar, but I haven't noticed any difference on my Note 3's power yet. I wish they had nicer looking widgets. The clock widget is just ugly imo. A nice plain 4 x 1 with weather, date, maybe a little battery percentage, would be great. But I do use the Weather Now app for that. They have nice widgets.
Posted via Ash William's Boomstick

Most all weather apps that are set to display weather based on your location do this. I had Yahoo Weather installed for over a year, but just recently uninstalled it due to its extreme memory usage, but I never had any battery issues with it even with the thousands of wake locks per day. My issue was that even when not open, the app still regularly used 150mb of RAM. What could they possibly be doing that uses that much RAM? And when the app was open, it was frequently over 200mb. That is ridiculous for most any app, let alone just a weather app.

I agree the app is sweet but one nagging thing is there is no animated radar. I have not checked on wakelocks myself but I wouldn't be surprised it would be a high number.

I love the interface on this but Google now is just fewer button presses for me. Still props to Yahoo. Posted via Android Central App

For some reason my app shows the days if the week twice. Multiple bug reports have gone unanswered.

Yeah I have about 982 wakelocks - no dice. Nice try though.

The battery drain made me uninstall this app. It is, however, beautifully made. Posted from my TARDIS!

I don't understand the need for background pictures and all that flash. Just seems like overkill. I want something that loads damn near instantaneously. Not sit there and wait to download a picture from Flickr or wherever. Just give me the weather and a map.

+1
WeatherBug used to be perfect, but it's gotten so bloated and slow I'm searching for something else.

Way too many wakelocks so I uninstalled as well, which is unfortunate cause Yahoo Weather is very polished with a good UI. I had well over 1,000 wakelocks in around 13 hours, if Yahoo can somehow fix this problem then I'll reconsider but until then there are better weather apps without the wakelocks.
Posted from LG G2

I haven't been monitoring wakelocks, but my battery life with the app running all day on the S5 has been totally fine. With any luck, it's an issue they've fixed, but I don't know how recently you guys have tried using the app.

Thanks to Google Now I don't need apps like these anymore. AC App via Nexus 5

I used to use it. Found AccuWeather to be more accurate Posted via my LG LS740 and The Android Central App

It's beautiful but the widget doesn't always refresh

Beautiful app, whoever designed it did a first class job. Unfortunately, it's not very accurate. <Insert dumb blonde joke here.>

Sweet. Another weather app...can't get enough of those. Posted via Android Central App on BlackBerry Z30

What is a wake lock? Posted via Android Central App

Time spans where an app keeps your phone awake (or more accurately, running in a higher power state)... If they're short it may not make much of a difference, but the really high number described by other comments does seem rather odd and unnecessary. Edit: The battery graph can sort of give you an idea when your device has been "awake"; look for excessive wake times when the screen was off, random slivers are normal for all your stuff set to sync but big blocks or a ton of smaller slices can indicate an issue. BetterBatteryStats is a better tool for actually tracking partial wakelocks as it'll list them out for you so the info is much easier to parse etc... At least that's what I've used for years, I see there's other similar tools now.

It looks good, but I still think WeatherBug is more accurate in location data. Between WeatherBug and Google Now, I don't think Yahoo Weather is going to make it onto my phone.

My app has been really slow lately in addition to not being as accurate as I think it should be! Posted via Android Central App

Wish they would make a widget five wide for the LG3. Posted via Android Central App

Never had any battery drain issues with this. And all the wakelock 'issues', I get thousands sometimes from Play music alone with no drastic battery drain.

Not sure if this is new but Yahoo Weather is displaying a big ad right after the "details" section once you press on the widget to see more info. Right now I am seeing an ad for a Princess Cruise to Alaska taking up almost 1/2 my screen. I'd rather pay for an app that endure ads. That's why I use Android and Adfree. And yet, here is one in Yahoo Weather.