Wink Hub 2 vs. Wink Hub: What's the difference?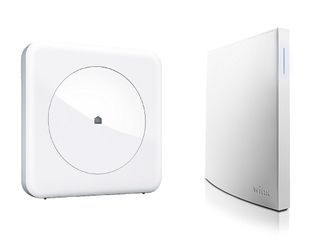 The brain of any smart home is the hub and finding the right one can be pretty important. One of the options you may be considering is the Wink Hub, but there are two different versions to decide between. You can opt for the original Wink Hub (opens in new tab) and save a little cash, or grab the latest Wink Hub 2 (opens in new tab) for a bit more, but what makes it worth the extra cash?
With Wink continuing to maintain the original hub there are a few key things to consider when deciding between the two, so let's break it down.
Design
The original Wink Hub has a rather uninspired design. It's basically a square with rounded corners, and on the back there is only a power port. Wink updated the look of the Hub 2, making it a bit taller and sleeker looking. The power port has moved to one of the sides, which allows you to place it on a shelf easier, and on the back, it also has an ethernet port.
Odds are you'll be putting the hub somewhere that it isn't visible regularly, so the design isn't going to be the most important selling feature here. The addition of the ethernet port to the Wink Hub 2 allows you to hardwire it to your modem instead of wirelessly connect to it. This makes for a stronger, more secure connection between the hub and your internet.
Supported devices
When it comes to supported services and devices, the two hubs are nearly identical. Both will allow you to use compatible Zigbee, Z-Wave, and Alexa (opens in new tab) accessories. Each hub has built-in Wi-Fi and Bluetooth, but the Wink Hub 2 does offer Bluetooth Low Energy, which the original does not. You can automate tasks for connected devices on both hubs through If This Then That (IFTTT).
The Wink Hub 2 has Thread support and a security chip to ensure that the software is not tampered with on the device. It also brings along scheduled tasks and Robot, which allow you to complete multiple tasks with just a single tap.
Speed
One of the key differences here is that the Wink Hub 2 has eight times the amount of RAM that the original one did, which means that it can complete tasks much faster. Some side-by-side comparisons have shown that it can complete some routines in under 3 seconds that took upwards of 15 seconds on the original hub to complete. This is a huge difference, and something you will definitely notice regularly.
No one wants to wait upwards of 15 seconds to have the hub turn on your lights or power off a smart outlet that is connected to it. With the upgraded internals, Wink was able to move some of the processing from its servers to the hub itself, allowing it to be more reliable and faster.
Which should you buy?
If you are looking to buy your first Wink Hub today, the Wink Hub 2 is the way to go. You get the newer, sleeker hardware, which has a few new features over the previous version. It also includes some technology that can be taken advantage of in the future, which puts you in a better position to use it long-term.
Already own the original Wink Hub? It's a little harder to recommend the Wink Hub 2 as a needed upgrade over the original, though if you feel the limitations of the hub, then an upgrade is obvious. The apps are the same, the main features are very similar, and both are very competent smart home hubs that work with tons of different hardware.
See at B&H (opens in new tab)
Get the Android Central Newsletter
Instant access to breaking news, the hottest reviews, great deals and helpful tips.
Jared started off writing about mobile phones back when BlackBerry ruled the market, and Windows Mobile was kinda cool. Now, with a family, mortgage and other responsibilities he has no choice but to look for the best deals, and he's here to share them with you.
I have the 1st wink hub and I haven't felt a need to upgrade quite yet. The speed would be nice but I'll use the $100 for something else. I have nothing but good things to say about using wink. Super easy and tons of compatible products at good prices. If only Blink would add wink support for their cameras I would never look at any other solutions. You can purchase the 1st gen for around $35. For that price it's worth every penny even today.

I, like you, have an original Wink hub with about a dozen items connected. Works fine. Ironically items turn off/on faster through the Wink hub via Google Home than from the Wink app.

Funny you say that. I find that using Alexa is quicker than using the Wink app most of the time.

I was thinking about getting the Wink2 to go along with new recessed lights I'm installing. I would use the Wink to occasionally dim or change the color temp. Otherwise, i will use the wall switch for daily use. Will they work via the wall switch or be a turn on delay? Also does this require an internet connection to use? i can connect to router for internal access, but prefer no outside internet access...

To use wink you need an internet connection. I use wall switches and not bulbs. Bulbs are okay but if you flip the switch to turn off the light Then you cant use wink to turn it back on. With the switch you can use the switch or wink at all times. The switch shows no delay from pressing it to when the lights turn on. I use the GE Z-Wave switches. I find these are very good quality.

There is no difference. They both sit on store shelves with very few buying them.

The original Wink hub absolutely supports scheduled tasks and robots (and does not need IFTTT to do any of it). The only merits of the Wink Hub 2 are bluetooth and the speed, but my original hub is not slow (none of my tasks take more than three seconds to complete, whether I'm using Google Home or the app to execute them), and I haven't noticed a need for bluetooth.