Will you get the Galaxy S9 or stick with the Note 8?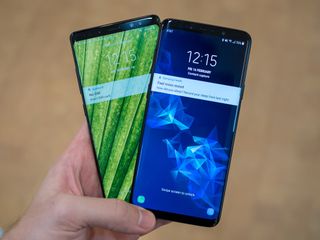 For the past couple days, there's been nonstop coverage surrounding Samsung's new Galaxy S9 – and rightfully so. The phone is gorgeous, its physically changing aperture is a technological marvel, and the new power of the Snapdragon 845 should make the user experience better than ever before.
It's no surprise that the Galaxy S9 is a pretty, feature-packed phone, and while a lot of folks will likely be picking one up as soon as pre-orders open March 2, the reaction to the phone is more of a mixed bag coming from current Galaxy Note 8 owners.
Many of our members in the Android Central forums proudly carry the Note 8 as their daily driver, and this is what they have to say about the newly announced S9.
If you've got a Galaxy Note 8, we'd now like to hear from you – Are you going to ditch your Note for the S9?
Joe Maring was a Senior Editor for Android Central between 2017 and 2021. You can reach him on Twitter at @JoeMaring1.
If you already have a Note 8, there's no need to upgrade

I'll be sticking with my Note 8 for a while. But I must say that I like the camera features on S9+.

There is really no reason to go from note 8. Those improvements and Korea will come to note 9 and you will have buyer's remorse.

Did the S9 magically get an SPen? Why would I downgrade?

Envy the speakers, but that's it. Oh, and Oreo. Which we'll get. Eventually. Groan.

Its funny people say no need to upgrade. For the few things on this phone I want to, but i will wait for the Note 9 since there will be many more features than the S9+

S9+ envy now or S9+ buyers remorse when the Note 9 comes in 6 months time with those same features plus many more? Hmmmmm

Stay with note 8. I'll wait and see what the note 9 brings.

You guys are forgetting to mention the slightly larger battery in s9+ and the newer QC chipset. I'm tempted but I'll hold off.

I'll be sticking with my note 8 until the note 9 is out and then I'll decide between that or the next pixel

Sticking with 8+, really had no intention of switching anyway. I figured it be a copy of the note 8 anyways and other than the pen nothing spectacular there either. At least we won't have to here any more crap about the finger print position, which never bothered me or my wife.

Sticking with Note 8. It does everything I need and want. And the S9+'s upgrades are far too incremental.

S9 looks amazing and I love the new features, but I love my S pen. The note 8 is still awesome I can wait on the Note 9.

Nothing to create an itch to switch I'm happy with my note 8 it's my perfect phone

I think I'm gonna be going for the s9+ and leave my note 8.

maybe using another phone like iphone or LG motorola htc or.. a samsung S7, S6 Note 5 ... but from Note 8 to S9 is like switch from 2017 Toyota Camry standar to a 2018 Corolla S its like a discrete way to promote the new phone with the already inside the brand people. "im gonna do the switch because a fraction of a millisecond on the camera speed,, or a 15min extra of battery life because a bigger battery ..' thats a reason?

I'm thinking both. I have the Note 8, but....my S7 edge has pretty much been nothing but VR. Trade in the S7 for a S9 at half price....pretty sweet

It's more of a impulse buy, going with S9+ midnight black unbranded version from Samsung US.

Ugh this is exactly what I'm signing with right now!! I really love the design of the S9+ and camera features plus software but I know that when the note 9 comes out I'll probably regret it... The struggle!!

You mean the brand new phone I bought for $960 a mere 6 months ago? Seriously?

If you paid that much for it 6 months ago, you got robbed. I paid $500 for mine brand new, unlocked, directly from Samsung. And you've been able to get it for well under $900 since a few months after release.

I wish I could say I'm waiting for the note 9. Actually for as much as I paid for the note 8, I'll be waiting for 10..maybe the 11.

My Note8 has terrible screen burn in. I really don't want to give this phone up but this screen burn in is very bad. I'm definitely considering picking up the S9+. Also for some reason the camera on my Note8 really stinks recently, all my pics are blurry AF.

Note? I'm not even upgrading from S8. The pricing is getting out of hand, especially for such an incremental upgrade.

nope nope nope, waiting for FPR in the display.

Keeping my N8 and still getting the S9+!

Leaving my s8+ for the 9+. 6gb's the 845, Oreo, stereo speakers, camera. Why not I love the forever program!

I bit the bullet I'll get the s9+ for $250 cad plus my s8+. The camera and new dex is my main reason.

Love my Note 8...Will wait for Note 9....

I might trade in my s8+ to get the s9+. I'll keep my note 8 though.

I like both the S9 and the Note 8 but I'm not getting either, because I'm a Google and stock Android lover who wants a smooth, clean uncluttered experience along with fast updates, hell my current Chinese Android phone (Oukitel K6) is pretty much stock Android anyway and I'm using the Pixel 2 launcher and if I haven't made clear my intentions to get a Pixel 2 XL already then I've hopefully cleared things up on that front. I love the design of both Samsung phones but I'll never get on board with their software, I just love Google and stock Android too much and it's true Android and what Android should be IMO but that's one of great things about Android, choice, be together not the same.

I had all the Galaxy S phones from from the GS4 to the GS7 edge and loved them.
But almost a year after getting the GS7 edge I realized I needed something like the Note series for work.
That's why I got the Note 8, and it works great for me, don't see a reason to get anything else.
At least not at the moment, maybe the Note 9, we'll see. But definitely not the GS9 or GS9+.

Makes 0 sense for someone to buy an S9 coming from a Note 8.

I am going to stick with my note 8. I don't have any particular reason to upgrade. The S9 has a bit of a spec bump, a better low-light camera, 960 fps super slo-mo, and some AR tricks up its sleeve. The screen is brighter than S8 but not as bright as Note 8( 100 nits less than N8). I find myself using the S-Pen often. I think I can use the Note for a couple of years more( I had changed my smartphone 4 times in 2017). I may change it in 2019 or 2020.
Android Central Newsletter
Get the best of Android Central in in your inbox, every day!
Thank you for signing up to Android Central. You will receive a verification email shortly.
There was a problem. Please refresh the page and try again.