Will my phone get updated to Android 7.x Nougat?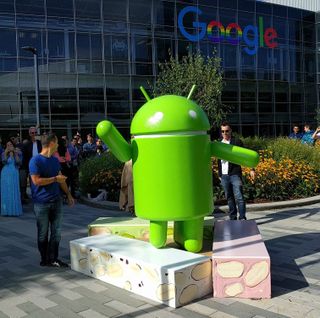 It's time for a new version of Android, and that means I also get to make my yearly predictions about updates. Fun times!
Now, to be sure, unless a manufacturer has already committed to updating an existing phone, these are simply (mostly) educated guesses. We base them on a company's track record, the capabilities of the phone itself, and the number of phones a company makes. It's sort of like a blogger version of reading tea leaves and calling the bookmakers. And it's fun. Even when we get it wrong it's fun.
Since we're here because we are interested in Android, and most of us like to have a little fun, let's jump right in and answer the million dollar question — will my phone get updated to Android 7.x Nougat?
Nexus phones
We'll start with the easy ones. Nexus phones aren't actually built by Google, but they are built to Google's specifications and they have absolute control over all of the software. They also aren't afraid to disappoint and tell us which phones are getting updated, and which phones are not.
The Nexus 6 has been updated to Android Nougat. It will be updated to Android 7.1.1 in early January.
The Nexus 5X has been updated to Android Nougat.
The Nexus 6P has been updated to Android Nougat.
Android One models will be updated to Android Nougat.
On the non-phone side, the Nexus 9 has been updated to Android Nougat. The same goes for the Nexus Player.
This means the Nexus 5 and the Nexus 7 2013 aren't getting updated. Nobody who is still using either is happy about it, but Google has made it clear that they support phones with new platform updates for a minimum of two years, and provide security and bug fixes for phones as long as they are able. The good news is that both the Nexus 5 and the Nexus 7 2013 are super easy to drop a custom Android 7 ROM on, and we'll see them shortly after Google puts out the source code for the new update. #420ROOTIT.
Samsung phones
Android's elephant in the room, Samsung sells about as many Android phones as everyone else combined. A lot of those phones are ones nobody expects to be updated, and a good many of them are models none of us knows a lot about. These phones and the low-end models from other companies are the new flip phone. A lot of people buy them because they are cheap, and they look good compared to a phone with a tiny screen and a number pad. We're not going to go there, and if any of those phones get updated we're happy and surprised.
The Galaxy S7 and Galaxy S7 edge will be upgraded to Android Nougat after a beta period.
The Galaxy Note 5 will be updated to Android Nougat.
The Galaxy S6, Galaxy S6 edge and Galaxy S6 edge+ will all be updated to Android Nougat.
Every other model is still a big old question mark. I think some of them, based on things like existing stock, the number of units sold and ease (price) of securing parts if they have to make more of them will get an Android 7 update. Others, with very similar hardware and software, won't. This isn't some sort of conspiracy thing where Samsung is trying to force you to buy a new phone. It's a business decision that we don't like. Supporting the phones they sell with bug and security fixes for two years is another story for another article.
The real question is when. The Galaxy S7 and its edge counterpart will get updated starting in January. The Note 5 and the S6 series will get shortly after.
LG
The LG V20 launched in late October with Android 7.0 onboard. Technically it was the first Android phone with Nougat preloaded, but it beat out the Pixels, which launched with Android 7.1, by a single day.
The LG G5 was updated in late November 2016.
The LG G4 will be updated to ... just kidding.
No, really. The LG G4 and LG V10 might get updated, and they could be made better with Android 7.0, but each has a strike against it. The G4 seems like one of those phones LG wishes they could take back. It has a beautiful screen and seems very capable, but the components were plagued with hardware problems and the software just wasn't ready. If you have a G4 that the mainboard hasn't taken a ride in that long black Cadillac (yet) and can put up with the quirks of LG's software and occasional glitches, I hope they can update it to Nougat and fix some of the issues for you. The phone deserves it. But I'm not holding my breath.
The V10's problem is its limited release. The unlocked international versions aside — which don't have complete LTE support in North America — the rest are mostly carrier phones. That means your carrier gets to decide if they want to fuss with updating it. Bloatware be hard, y'all. With an updated V model coming shortly, will LG and the carriers want to spend the time or money to update the V10? I don't think so.
Like Samsung, some of LG's other more inexpensive phones will surprise us with an update. We're not about to guess which ones in which countries.
Motorola / Lenovo
While we can guess about the update situation from Motorola, one thing we know for sure is that they aren't going to make the same mistake as last time and promise updates they aren't 100% sure they will be delivering. A lot of factors went into that decision, but the end result is the same no matter the reason — customers were understandably pissed off, and it looked like Motorola lied to us. It's not the first time a company has made this mistake (and it won't be the last) but it's recent and we still taste the sourness.
The Moto Z started seeing its update in November 2016.** The unlocked version still hasn't been updated to Nougat.
The Moto G4 will be updated to Android Nougat. It's already begun in India.
The Moto X Play and Moto X Style will be updated to Android Nougat.
Lenovo is going to be looking forward, and models released before they bought Motorola are mostly done for. The good news is that Lenovo should be able to pump out the updates in short order if they want to do so. We could see the update cycle starting before Christmas.
HTC
HTC has announced that the HTC 10, the HTC One A9 and the HTC One M9 will be getting Android N. Good. All three of these phones should be good for another year with the new software.
The HTC 10 received Nougat in November 2016. The One M9 will get it in the next couple of months, while the A9 should also get Nougat sometime soon. No word on the One M8, but we're not holding our breath.
HTC's higher end Desire models should see an update, but of course some won't. We know HTC wants to differentiate themselves by being great with updates. Sometimes they are.
Huawei
Huawei had a pretty decent beta build for the Huawei P9 leak out recently. We know they are working on it already. They've also started to tone down EMUI which should make building the new version even easier. And easier on our eyes
I'm going to say that the Mate 8 and the P8 also get an update to Android 7.0. Don't make me regret it, Huawei. Baby needs a new pair of shoes. Or something.
The Honor 5X will be updated to Android Nougat.
Huawei has announced which phones will be updated in December 2016. The P9 series, Mate 8 series, and Nova series will be updated. Honor is technically their own brand so they weren't mentioned. These updates start sometime in Q1 (Jan. - March) of 2017
Huawei is thirsty for the number one spot. That's a tough nut to crack, but they could easily grab the number two spot (by devices sold) and keep trying throughout 2017. They also know how to filter the feedback from the Android die-hards (that'd be you and me) to alter what they do and how they do it. Getting updates out quickly for their best models is a part of that. It makes you and me happy and we say nice things online and recommend them to others.
Since it's prediction season here's a free one — Huawei's fierce competition will make Samsung change parts of their business model. Expect faster updates, more refined features and more generic hardware from the Korean giant. We're already seeing it. Nobody adapts like Samsung.
Sony
Sony's 2016 flagships, the Xperia X, Xperia X Performance, Xperia X Compact, and Xperia XZ will be updated to Android 7.0. In fact, as of January 2017, some models in some regions already have been.
The Xperia Z3+, Xperia Z4 Tablet, Xperia Z5, Xperia Z5 Compact, Xperia Z5 Premium, Xperia XA, Xperia XA Ultra will also be update to Nougat at some point.
Honorable mentions
With about 13,000 different models of Android phone out in the wild, we can't cover everything. But there are some phones we have to mention by name even if we aren't writing a flowery paragraph or two about them.
The OnePlus 3 has been updated to Android Nougat, but not nearly as quickly as some would have liked. The OP3's target audience is broader than their previous models, but nerds still buy them. Nerds want Nougat.
The NVIDIA Shield TV will be upgraded to Android Nougat fairly quickly, but the Shield Tablet will take a backseat to a new thing and take longer.
The Axon 7 should get the update, but not very soon. ZTE struggles to meet their aspirations in the update department, but at least they have them.
Xiaomi will focus on new models running Android 7.0 and take six to eight months to update any existing phones.
Finally, one thing is certain when talking about all of this — there will be bugs. No matter how long it takes or how much testing is done, there will be bugs. Some of us will enjoy finding fixes for them (everything is broken on some level to people like us) while others will be unhappy and vocal about the issues. Like every year on every platform, it's going to be a fun ride.
This post was originally published in August 2016. It was recently updated in January 2017 with information about the latest Nougat updates.
Android Central Newsletter
Get instant access to breaking news, the hottest reviews, great deals and helpful tips
Senior Editor — Google Ecosystem
Jerry is an amateur woodworker and struggling shade tree mechanic. There's nothing he can't take apart, but many things he can't reassemble. You'll find him writing and speaking his loud opinion on Android Central and occasionally on Twitter.
*subject to carrier Posted from my Galaxy S6

"Posted from my Galaxy S6" - couldn't agree more. I was so frustrated with how long it took AT&T to get Marshmallow to the S6. I received the update in June.

lol i cant really expect Android´7 for G Flex 2 right ? :D

Haha! We don't even get MM BUT ...we have ergonomically the best smartphone EVER built plus nearly unbreakable And that's something! Posted via the Ferrari of Smartphones: LG Flex 2

Is the Flex 2 like a Ferrari in that they both have overheating issues? Posted via the Android Central App

Aint true too,in MM there are no heat issues,at least not bigger than other phones (but i have to admit SD800 runs cooler),but compared to other flagship of 2015 it runs as cool as they do.

What you mean with "overheating issues" Because the 810 throttles down a bit? Don't worry even when it throttles down it's still fast ( as fast as an 808 easily) and browsing is a breeze especially with that curved screen. Unmatched experience. Posted via the Ferrari of Smartphones: LG Flex 2

How does a curved screen help you browsing?

It doesn't. It helps them justify their purchase.

I think it might be because too much pressure might be being put on the CPU

Aint true. Im rolling with 6.0 over month,they hatin. Its pretty easy to update it,unless you have some carrier version,just check out xda forums.

Anyone else want to know what Jerry was "partaking" while he wrote this article?

My guess is high quality marijuana Posted via the Android Central App

Green Nuggets and Tasty Nougats

Been rocking the nexus 5 since its release. Outside of the battery life it has been my favorite phone of all the ones I own. But its time for new and better things, 2016 nexus you will be mine soon enough.

Considering the LG G3 got mashmallow I'd be really pissed if the G4 doesn't at least get Nougat. If the G3 got two major updates why shouldn't the G4 as well?

Same. LG already pissed off a big portion of their dwindling fan base. Not updating a phone that's 1 generation behind will ignite even more fire. Posted via the Android Central App

Refer the bootloop. Issue and the amount of returns LG gets back, the phone is built flawed, it would be dumb to put resources into it at this stage, it's just gonna break again. Posted via the Android Central App

LG seem to be pretty flaky when it comes to updates though. Posted via the Android Central App

Shadow, because they want to forget that the g4 was ever created. It was such a Garbage phone Posted via the Android Central App

I've had to have mine replaced once due to random reboots, but beyond that it's been a good phone for me.

What are you on? This was one of the best phones last year. Posted via the Android Central App

I must be the exception, then, because mine has no issues and works well. And I'm sure I'm the exception in appreciating the only phone with an LED notification light that plays nice with Lightflow and supports all colors, unlike the 6P, and the mess Samsung created after 5.1.1. Posted via the Android Central App

Same here. Had my G4 12months. No problems. I bet most of those that had the bootloop/fails were owned by XDA fiddler types. Been a solid phone. I hope to get another two years out of it like I did with my Nexus 4.

My G4 died without warning while sitting in my pocket. It was not rooted and had no modifications. I got it replaced for free .
I then sold the replacement on Swappa and got my current 6P. If I didn't want to switch to Project Fi I'd still be using my G4. Posted via the Android Central App from my Nexus 6P on Project Fi

As much as I like tinkering with phones, my wife's G4 was bone-stock and it suffered the boot loop issue. It was replaced, and outside of battery life, it's been running competently since. Just bought her a Note 7, and keeping the G4 as a spare phone.

Ah, but the G3 was an AMAZING phone that made LG matter again... well, for a little while at least. ...Joe K.

I read somewhere last week, that the Nexus 5 & Nexus 7 2013 are being tested.

It would be a nice surprise, but I think we would've gotten a developer preview if it was going to happen. At least we have custom ROMs Posted via the Android Central App

They seem like they could handle one more update. But they are pretty old and battery life had degraded significantly. Posted via Techmology

Google are in a bit of a predicament. On the one hand, they want to increase the number of phones running the latest version of Android. On the other hand, if they stop updating the Nexus 5, which still has better specs than many mid range phones, how can they put pressure on other OEMs to update their software. Posted via the Android Central App

Really? The battery life on my N7 2013's battery life is excellent on MM with Doze. If I had to guess, it has around 3 times the battery life of my 6p. If it got the newer implementation of Doze, I can't imagine how good it would be.

+1 Posted via the Android Central App

I doubt the N7 could handle multi window and they didn't want a subpar experience. If I had to guess.

Good news about the s6 edge Plus. Just got my boy one and he loves it. My wife and I both have the 6p and my sone has the s6 edge Plus (and my daughter has the iPhone 6s plus). Posted via the Android Central App

I was hoping the lg stylo2 would be getting the 7. 0 update. Posted via the Android Central App

Haha good joke. I needed that. Posted via the Android Central App

Sony wise, we're probably looking at Z3, Z3+/Z4, Z5, X, XA, X Performance, and at a guess, M4 and M5. Z2 owners out of luck. Posted via the Android Central App

Probably true enough. Most Z2 owners are upgrading about now though, and likely not to Sony phones. I know a couple of people who bought Z2s on my recommendation... They both just upgraded to the S7 and S7 edge, also per my recommendation. Posted via the Android Central App

The replacement for my Z3 (which I love) will probably be an S7. Sony basically peaked with the Z3. Posted via the Android Central App

Yup, they just aren't making anything compelling anymore. It really is a shame. Posted via the Android Central App

Yup.
Xperia X range
Xperia Z5 range
Xperia Z3 range (Z4 included)
Xperia E5 These seem almost certain (not that I care, I've put my Z3C back on KitKat as it was a much better version of the OS than the crap that followed it).
I'm not sure that sure about the M mid-rangers. Posted via the Android Central App

Unfortunately here in AUS sony hasn't even pushed out MM to the M4 so I'm pretty sure Nougat is out of the question.
First and last Sony phone I will ever buy.

According to The Verge, the Z3 isn't getting Nougat. If that is the case, that's it, I'm done. I love my Z3, I've praised it, and Sony to friends. But not only have successive phones been less impressive, now they're abandoning the last great phone they had. Not only are their phones not competitive with their rivals, they're also not trust worthy on updates. So I'm out. My money will be going elsewhere. Probably to Samsung. Posted via the Android Central App

It's pretty much official http://blogs.sonymobile.com/2016/08/23/sony-xperia-and-android-7-0-nougat/ The idiots are dropping the Z3.
Personally Sony's 5.0 and 6.0 updates to me were utter sh*t, specially when they started to become more and more like stock Android. Which is why I've put my Z3C back on KitKat.
But this is incredibly stupid for everyone who isn't picky about software like me. It's ridiculous to have the Z3 line (which is less than 2 years old) dropped SPECIALLY when that same phone was the one used for the 6.0 and 7.0 Beta tests! It's like saying "thanks for helping us develop the OS" and then spitting on the face of those people who partook in the Beta. I honestly don't blame you. And as an ex-Z3C owner (the phone is now a dedicated music player) I can assure you you will be immensely pleased with the S7. And if I had no plans to drop the S7 as soon as Nokia returns, I'd probably keep it until the S8 and then buy the S8 too. I've gave Sony way too many chances.

As a Z5 owner, I will not be buying a Sony product again either. I continue to have Bluetooth audio issues, the battery life isn't very good, and I don't really like the camera. Also can't buy anything in the Google Play store because the app keeps crashing when I press the purchase button.

Someone actually mentioned the G4 bootloop issue....

I was surprised as well. Posted via my G5

I honestly didn't expect Jerry to say that. But if LG doesn't update the G4 to Nougat, that's going to raise hell. I doubt they'll do that, though.

Agreed. Posted via the Android Central App

I never had the Bootloop. Just the dead motherboard. Posted via the Android Central App

LG not even cares about one of their last year's flagships which is still rocking 5.1.1 - so no surprise here. Posted via the Ferrari of Smartphones: LG Flex 2

The flex 2 wasn't a flagship, it was an experiment. Posted via the Android Central App

It's the LG way. I turned away from them back in the G2X days and reading your comment now, shows me they still haven't changed their update tendencies. Owned 2 phones from them, flagship and other and none of them got updated.

Will The Samsung Galaxy Note 4 Get Android Nougat Posted via the Android Central App

Probably not, the phone is approaching 2 years old. Posted via the Android Central App

Nope. After two OS updates Samsung stops support of a phone to let you know it's time for a new one. Isn't that nice of them? Posted via the Android Central App

Well, I'm no Samsung fan, but to be fair that's better support than most. Posted via the Android Central App

Unlikely. Posted via the Android Central App

I am still waiting for M from ATT. So the answer is a big NO.

(looks at his AT&T Note 4 which doesn't even have Marshmallow yet)
(laughs)
(goes into corner and starts sobbing)

For me, right after never because Samsung and AT&T want me to buy a new phone.

That one's a big question mark. It's possible, but I personally doubt it. It's really borderline, and very much a niche phone.

"The Galaxy S6, Galaxy S6 edge and Galaxy S6 edge+ will all be updated to Android Nougat"? Jeepers, I'm STILL waiting for Marshmallow on my Rogers S6. :( Marty

You haven't got 6.0 yet? Got 6.0 on my unlocked S6 edge since around march... Posted with ❤Love❤

Hence why he hasn't gotten ut. His is a carrier model and yours is not... Posted via the Android Central App

If my G4 doesn't get the upgrade, it will further justify my decision to get a new phone when that happens. It has the July security patch, so I will let it ride for a few months more. The LG G6 needs to be LG's Galaxy S7 moment. It needs to make a super baby from the G3, G4, V10 and G5 (sans the modules). Until it does, it will probably be Note 7 next. Posted with my LG G4 6.0 via the Android Central App

Reno, get a new phone. The g4 is absolute garbage Posted via the Android Central App

I will take a LG phone over your Droid phone.

The LG G4 is actually a amazing phone, better than any Droid ever made Posted via my LG G4

And then you woke up....in cold sweats.

I was extremely happy with my G4 in every way, except for the minor issue where the phone spontaneously died and had to be replaced twice. Seriously, if they hadn't used busted components, it probably would've been my favorite phone ever.

Lol, well I won my G4 so I have less to complain about. It did get replaced for bootloop and the WiFi and BT are not stellar compared to my G3. Yah the G4 is wonky but most of the time it works and the camera is stellar. Still, having no installment plan on my phone to pay or pay off, makes it very tempting to get the V20 or Note 7. I have not had an "ooh shiny" moment with a phone for a while now.

The might have issues every now and then but when it is running like it suppose to it is still one of the top phones you can get Posted via my LG G4

Oh I agree. I'm pretty firmly in the LG Fan camp. The wonky stuff with my phone is not enough to make it unusable. I use my phone all the time all day, and the majority of the time the G4 does all the things I need it too. I just wish the music wouldn't stop when you open the camera. I listen to music when I walk or ride my bike; I like to stop and take photos of where I am for Google Maps Local Guides and Strava but when I open the camera, the music stops. Just annoys me. Things like that have me considering getting a newer phone.

Ya, I have flakey BT and wifi as well on my G4. Posted via the Android Central App

LG G4 is not a bad phone!!! Camera is many times better than S7 edge! Posted via the Android Central App

That's just it, it's a good camera, but a **** phone. Posted via the Android Central App

I think there are many, many who will (and should, like me) disagree with you.

The G4 is a great phone -- when its motherboard doesn't fry up and die. I have had two of them, and both are now in the trash. Better an HTC that does all things well than an LG that does only one thing great.

I don't get the point of this comment? The phone is great, have it for about 1 year and 2nd er had an issue, camera is one of the best on the smartphone market, screen is gorgeous, specs are good, NFC and QI charging, it's fast, it was updated to 6.0 fast enough, the leather back makes it a absolute stop and stare beauty (it ages like no other). Really don't get the frustration...
If your are pointing the problems it had with bootloops and other stuff... Then state it! Because that phone was one of the best in 2015.

I had the g4 with the tan leather also. I didn't have any real issues with phone itself. The plastic cover that the leather was attached to was cheap, after replacing the battery several times the plastic case began to gap.

You're repeating yourself.
Time for another dose of your Parkinson's meds.

Note 8, you mean. The Note 7 is recalled and illegal to sell.

Blackberry priv & dtek 50 would get updated too. Don't forget them, they got one of the best tweaks to stock android. Posted via the Android Central App

The Priv didn't get Marshmallow until like 9 months later, so there's no telling if Blackberry will invest in Nougat for it

While it did take a while to get an OS update, it was the first Android phone BB put out. While this doesn't fully excuse them, I would expect them to be faster this year. At least BB is consistent with monthly security updates, one reason I have actually given then a look, hopefully the Priv successor will fix some of the problems with the original. Still, it will have to be really good to make me get it instead of the new Nexus. Posted via the Android Central App

Yeah, but Blackberry has been dealing with Android for years, it's not exactly new to them. Remember, the Playbook supported Android.

The Playbook wasn't full Android. It was a half baked OS that eventually morfed into BB10 with an Android Runtime to run apps. It's not even close to the same thing.

Agree with mikep. Android is the way to go for BB & they would ensure a much faster update release this time around. Posted via the Android Central App

How many devices besides the Nexus line had MM within that 9 months, that didn't launch with it? Not many. And what was the percentage of Android devices that had MM installed at the 9 month point? Less than 6%. What is it now? Not that much higher. Around 15%. Point is, most people didn't care about MM, and most still don't. Just a small percentage of us that want the latest and greatest care. Very small percentage. That's why most vendors don't care to update their devices at all. Edit: but BlackBerry will update eventually. It's what they do. Posted via the Android Central App

Dtek will have it and so I don't see why Priv wouldn't. Shame it was missed in the article. Big oversight in my opinion. BlackBerry android is a pleasure to use in comparison to bloat versions from the "others". Posted via the Android Central App

Also the Blu R1 HD is suppose to get Android 7. I hope so at least, just had my sister pick this up for herself. http://www.androidcentral.com/blu-announces-r1-hd-starting-just-100-unlo...

Dude it won't Posted via the Android Central App

I don't think blu ever updated any of their device's. Especially 50$ throw away devices. Posted via the Android Central App

Ted Turner...don't count on it. The company is garbage and the phones are OK low end phones Posted via the Android Central App

Are you seriously expecting Android N on your Blu R1 HD or were you being sarcastic?

No love for the LG G3? I'm pretty sure the phone is capable of running Nougat.

You mean in the same way these phones are capable of running 7.0 and may not get it (either timely or at all?) - Droid Turbo (and the Moto Maxx/Moto Turbo as international variants)
- Droid Turbo 2 (Moto X Force international variant)
- Xperia Z2
- OnePlus One, OnePlus X I mean, we can do this all day and add more phones to the list, but updates by OEMs are driven by sales numbers... Posted via Xiaomi Mi 5

Plus the Nexus 5 and even Nexus 4 (yes it could). You're completely correct, is my point. From the OEM standpoint, the only reason to update these old devices is basically goodwill. Posted via the Android Central App

It's sad that it's that way. I'm fairly certain that when Android O is released that my Nexus 6 will be probably be capable of running it, but it won't get an official update. The Nexus that will be released in 2017 will be my next device. I wish that these devices were supported longer.

At least, you have a Nexus.

The plus side to that is the custom ROM support, my Nexus 5 will live on thanks to custom ROM's.

Yep Posted from Moto X Style

Unfortunately it doesn't matter if the phone is capable hardware-wise, if the company doesn't see it as profitable, it won't update it. LG probably wants to focus on, like most other companies, its flagship phones and getting it up to date. It sucks, but that's how it is most days now unless you buy a Nexus. Posted via the Android Central App

All phones made in the last three years are likely capable of running Nougat. The issue is that it isn't in the interest of either phonemakers or carriers to go through the hard work of updating these phones, especially when you can buy new ones on or off contract. If you want the G3 to run Nougat, you'll have to get custom ROMs off the usual suspects and make them work.

It's not only a matter of weather it can handle it or not. It's how popular the device was and weather the manufacturer and carrier are willing to spend the time and money on it. And even if the manufacturer makes the update, the carrier may drag their feet or just plain decide that they don't want to deal with it.

My v20 will have it out the box lol Posted via the Android Central App

Lol, it'll sell a few thousand units if that then get abandoned. LG is a joke to anyone who is paying attention. If the main board doesn't die in a month LG will drop support because no one bought it.

You already have a v20 but it's still in the box? I mean you couldn't have decided to buy a phone that hasn't been announced yet...right?

What redmi and mi series???

Most likely Xiaomi starts with the Mi 5 and Mi Max and works it way backwards. Remember, MIUI takes longer to update because they skin a wider range of hardware... Posted via Xiaomi Mi 5

As part of the open licence agreement for Android, there should be a clause that stipulates that handsets or tablets should receive updates for a set amount of time (e.g. Two years). Posted via the Android Central App

Wasn't it supposed to be 18 months?

They did that back at google io 2011. Nobody followed thru. Even google reinterpreted the 18 month update cycle promise from a minimum requirement to 18 months maximum.

Gah if Nougat comes out and Rogers doesn't provide anything for the S6 Edge I'm going to be a bit disappointed. Posted via the Android Central App

I am still waiting for the Droid Turbo to get Android Marshmallow.

If you got the turbo expecting updates I don't know what to tell ya. Posted via the Android Central App

Well, at the time when I got it, I didn't think anything of it... Perhaps a mistake Posted via the Android Central App

Buying a Droid, a Motorola device, that is only on Verizon and expecting updates is like buying a Yugo and expecting a good car. In the beginning all is well, then slowly things get bad until the whole thing sh*** the bed and you are left with a heap of car worth $37, or in this case, a Droid. Posted via the Android Central App

I think you're wrong about the sequence on HTC handsets.

HTC advertised the A9 to get updates within 15 days of Google devices. I think that's what he meant. Posted via the Android Central App

That'll be the only drawback to owning my S7. But if you don't own a nexus, just gotta stfu and deal with it. But this is the first Android I've owned that was so awesome, I literally don't care when we get it. And that's DEFINITELY a first for me Posted via the Android Central App running on my Galaxy S7

Jerry how does API level 25 fit in to this narrative?

I can't say anything about that.

u can't update android yourself. you need oem unlock and u need to build a rom and patch it. Android is not even close to ubuntu. it is just a messy os.

Abdul...you sound like an iPhone user. Posted via the Android Central App

Why are you here, man? Posted via the Android Central App

To tell you about Ubuntu.

#Ubuntumasterrace? Posted via the Android Central App

Do you have a minute to talk about our lord and savior Linus Torvalds?

Dammit u best me to it... Posted via the Android Central App

LG should be ashamed of themselves..give all the phones an update!! Posted via the Android Central App

It all depends on how nicely Nougat plays with carriers and the manufacturer's software. I dig Jerry, but you may as well try to guess what the weather is going to be like on May 12, 2017.

Sunny, 72° with a moderate breeze. Posted via the Android Central App

Will my phone get updated to Android Marshmallow? :) Posted via the Android Central App

Curious to see if samsung will update Touchwiz too to the Note 7 or if they just do a under the hood update of Nougat and leave all the UI as it is. (Which is very disappointing then)

I will be incredibly impressed if the original Shield Tablet gets Nougat at all. That thing came out two years ago and debuted with Kit Kat.

I agree, however they do have a relatively small number of devices to manage. The hardware won't be the hurdle, obviously. I have the LTE model, so I'm afraid AT&T will be my roadblock, if Nvidia does update it. Posted via the Android Central App

Not to mention that the K1 inside is only 32bits

My 5 year old HP tablet was updated flawlessly to Windows 10. I know and realize development in mobile is happening at a quicker pace but in reality shouldn't all '13 and newer devices get the update? Pisses me off until no end that I have 4 Samsung Tab Pro tablets stuck on KitKat and they are perfectly capable, hardware wise, of being updated. I know for certain which tablet I will upgrade too in the near future. Mobile devices should not be as expendable as they are in this day and age of being or professing to be "green" and environmentally conscious. Posted via Android Central App

Completely agree. I also recently updated a 4 year old laptop to Windows 10 Anniversary without issue.
Unfortunately for mobile, especially in the US... Carriers have the most power over this.

rockin my N6 for 1 more year, then hoping for a LARGER than 5.5" 2017 nexus, running out of options in the big phone and sammy putting the damn "edge" on everything throws them out of contention for me.

Have to wonder about my Galaxy A5 (2016). I just got Marshmallow (6.0.1) last month.

ZTE struggles to meet their aspirations in the update department, but at leats they have them.
What are ' leats ', something you made up?
No one does any editing of their blogs on AC? You don't know any of that, speculations from you are not something I would invest in.
My Axon Pro had Marshmallow in February, way before many others, including the failed Oneplus company.

It says right in the article that they are "educated guesses". Given that people always, and will continue to, ask if their phone will be updated, it's reasonable to write a post answering that very question. Posted via the Android Central App

Sorry about the typo. When you write millions of words per year some of them will have mistakes. In fact, it only took you eight words to make one of your own :) As far as ZTE ... you're basing your assessment on one phone out of 47 that took six months to receive a promised update. And when you have to compare any company to OnePlus, you've no argument.

Could you be more specific, eight words?

Should be: What are "leats"? Something you made up? But you see....before you speak about someone else's mistake, please make sure you're perfect first.

It's knot just him, I sea it every wear. Know one reads what they right. All they do is run it threw a spell chick and if know errors are found than it's good to go. My spell chick seas nothing wrong with what I'm righting.

Well, it's very evident, or you purposely did it, that your post is full miss-spellings and wrong word usage.
But you see, there is an option called "edit", that anyone can use to fix all the problems.
Most though, just don't give a damn, and expect people to overlook their mistakes.
It's those people that are dumbing down normal conversations, making everyone sounds like idiots.

Whether I use single quotes or double quotes, they are still both right, and up to the person which are used.
I was not questioning his punctuation, but the spelling of the word.
Evidently you can't see that, as it's too hard for your brain.

Also, why can't you go back and edit the article to correct the spelling of the word?

Very happy that both my Nexus 9 and my Moto X Play made the cut!

I give up, next time it's a Googleized phone for me.

I'm still surprised that my S6 is running 6.0.1. with the latest security patch. My S6 runs crazy smooth. Hopefully Android N don't destroy it. I might hold off on the update until all the bugs are worked out. Posted via the Android Central App

Well AT&T Marshmallow was only recently released to their note 5.. Our Nougat should be released next July.. Lol.. Possibly they knew the note 7 would need updated to nougat? Posted via the Android Central App

I already have it. Android N is pretty much touchWiz with less features lol S7 edge...Soon to be Note 7 edge

Hilarious Posted via the Android Central App

Now there is only 25,000 phones left that need an upgrade .... Posted via the Android Central App

I was really expecting an update for my V10. I've only had it since December and considered it a flagship with 2 years of updates. But with this information that it was a limited release where resources might not be spent and seeing as the V20 looks to be very different, my hopes are dashed. Looks like I won't be getting Android N until my V10 craps out.

I wont hold my breath for it on the Note 5 I got from AT&T. Hell, we just got MM so late I nearly forgot about it even being a thing.

Is this list confirmed or is just guessing by author.
I wonder if moto g3, moto x play, and moto g4 play will be updated too or only the main devices.
This will be the deciding factor to buy a moto g4 play to my family.
If not i will get them iphone SE, and no guessing about updates anymore.
Perfectly capable devices being fogotten by own OEMs.

G4 will definitely get the update. X Play most probably will. And nada for the G3.

I will be very very sad if my trusty HTC One M8 dosent get updated. It´s the best smarphone I ever owned and it still rocks in terms of performance. I will have a very hard time to let it go, to be honest and I am sure it can take the Android Nougat and still be smooth as butter.
Is there really ZERO chance HTC updates it?
What about the Samsung S6 Active, any clue? Cheers

One M8 is quite old now. I think it got 2 platform upgrades, no? It won't get Nougat, sadly.

:( Sadly indeed. To me it still feels very new. It's smooth and fast, just as it was when I bought it. The best smartphone I ever had, period.
When Viper Rom gets a stable release with Android Nougat I will try that, then.

I hope my moto g 2015 gets updated... Posted via the Android Central App

LG sold a lot more G4's than G5's so I can't see them updating the G5 while neglecting the G4. If they didn't update, they would have millions of LG owners who will never touch an LG phone again. Posted via the Android Central App

Yeah I think my V10 is the last LG phone I'm going to have. Posted via the Android Central App (V10 or Nexus 5x)

It doesn't work like that. Newer flagships always get priority.

What about the Priv? The best selling phone of 2015. Posted via the Android Central App

http://itechify.com/2016/08/09/list-devices-getting-android-nougat/ They completely stole all of Jerry's post. Word for word.

Well S7 has a long wait! Posted via the Android Central App

"Pokemon Go will be updated to take advantage of Android 7.0's battery and data saving features. Bam. It had to be done." - good one, I liked it...:)

I am really upset that the HTC Dream is not getting Android N. Google is really slackin on these updates as of late. This is an OUTRAGE!!!!

how is it Google's fault?

Not Google's fault. Blame HTC

Are you saying that Moto G3 won't get N??? That's pretty ****** considering that the phone is only about a year old Posted via the Android Central App on Moto G3 16/2 on $35 Cricket wireless plan.

Yeah LG G3 updated up to marshmallow but G4 cant step up from lollipop to nougat. Weird. Posted via the Android Central App

Sometimes updates can ruin a phone. I have an original Moto E that came with KitKat. Being one who always updates to the latest software I updated it to 5.1. When I first got the phone I installed several apps. Since the update I have gradually had to keep removing apps just so I can update the stock android apps. I now have just two apps that didn't come installed on the phone AC and the Android Authority app. Now I cannot even update any apps because of lack of storage, even though all my media is on the SD card. Posted via the Android Central App

No mention of zenfone 3 because AC knows that its never gonna receive the update.....

T-Mobile should roll Nougat about 5 hours before Oreo gets released.

For those who know more about security and follow carrier updates . Do you think Tmo would keep the Note 7 reasonably up to date on security patches for a year?

Nuget will come to to S7 in Canada as soon as Oreo is released Posted via the Android Central App

That's how passionate we are about our updates.... only 1 commenter (now 2) replied to your pokemon go reference...awesome btw. Once I get glance on the Note 7, I will be all good, pokemon all the time.... running so much of my battery, I'll have to be plugged in and start calling my wireless device..wired. Seriously .. calling my shot, AT&T note 7 nugat... June 2017, at best. God I hope I'm wrong... but I likely won't be.

Any idea on the priv? Posted via the Android Central App

And Nextbit? Or did Robin lay an egg? ...Joe K.

Nextbit already said Robin will get Nougat.

Wondering if the Note 4 will get N. Posted via the Android Central App

Nope unfortunately..would like this to happen to, but Sammy apparently doesn't like for our phone (or carriers for that matter) have a removable battery to update to N, so there ya go..which sucks..ugh!

I would say the s5 will probably get it eventually. Even my at&t s4 got lollipop and at&t and samsung have been a lot better with updates lately Posted via the Android Central App

I'll add my hope to the list: Moto X 2014 Pure Edition. Runs great on MM! Posted via the Android Central App

Hmm, consensus here is that popular or in demand phones in general will get updated. Looks like the OnePlus X is not likely to get this update. Truely sad.... Good looks but.... Posted via the Android Central App on my classic Nexus 4, newer battery and back cover.

Why do a lot of phones get left behind?, Mine has 1.5gig ram would run Nogart fine, they should follow what Windows phones do, if u have the specs update it.!!!! shouldn't have to buy new phones

Because ALL Windows phones are basically Nexus, running the stock OS. There's no comparison here.

HTC he'll yeah! Too bad the LG V10 might not get updated because it's such a great device. This could actually hurt their sales if they don't update it.

While I would like to see 7.0 on my 2014 Moto X PE, it'll be two years old next month. At that point, I'm happy that the phone still works well, and mine runs great on 6.0. Besides, its already gone through three updates in its lifetime (4.4 to 5.0, to 5.1, then to 6.0). At some point, companies have to make the break, because they don't make enough on the phone to justify updates for longer than two years. Which really makes Samsung look like crap when they charge $750+ for a phone, and then take almost a year to update those same phones. Posted via the Android Central App

So glad I finally went with a nexus. Even the beta is much much better than 6.0.1. Battery life is just about double for me,and everything else is great. The only thing different that kinda got me at first,is I just turn off my mobile data when I'm not using it,but since I updated,if I turn off the data I lose service altogether. Posted via the Android Central App

My honor 5x will get it ? That's refreshing Posted via the Android Central App

If you're using a flagship from a big named brand from 2016 or 2015, then you'll likely get nougats to eat this year.

I live in Indonesia where most phones and tablets are not tied by contracts. And I had own more than 20 android phones and tablets since 2010. From all global brands. Except Motorola because their flagship do not officially available in Indonesia. And HTC too, they always late to come here. The longest time I had use a phone was when LG G2 rocks, 6 months full of happiness. Nothing comes close, there was only Galaxy S5 at that time. Ever since I use G3, my expectation for LG dropped. Aaaand when I had G4, I swear I wouldn't buy another LG before they prove their quality again. Well, looks like they failed again this 2016 with G5. From my experience, only Samsung who is giving update for their flagship, even after 2 yrs. Posted via the Android Central App

Android 7 update on Lenovo/Motorola phones is very specific to the Moto X series. Many people with moto X 2014 were reluctant to upgrade their devices to moto X style series, or they moved to other brands or models. I hope that is not the case with older phone lovers and they get later updates for android N. Also, I don't seem to find any hardware requirements for Android 7 platform which could elaborate to the people about what to expect for.

No because I still wait for Marshmellow

Hopefully, Moto will release Nougat soon (in 2016) for the X Style.

Android 7 Nougat? Dumbest name ever! Nutella sounded better. Will your phone get updated with this new flash in the pan update? Yes for 3 months Nougat will be relevant, but then you gotta update to Android Oreo. Yeah, just when you got used to Nougat here comes another update.

I really hope Sony will step their game up. I really love my Xperia Z2 but if it won't be updated (because marshmallow took forever) I'm going to buy a new phone and I want a brand new Sony. Hey guys, how about a mention of Sony on the next podcast? Posted via the Android Central App

Nougat? Still waiting on the promised Marshmallow from Verizon for the OG Droid Turbo. No hope for A7. Avoid the (VZW) Droids!

What about the Blackberry Priv. Here's the issue: The phone is an unlocked ATT Priv. I am running on Telus. It is currently running Android 5.1.1. Should I (optimistically) hope that it will be updated to 6 let alone 7.

Will the Samsung S6 Active be getting the Android 7 Nougat? Hope so

"subject to carrier" .... yeah, not holding my breath with Verizon

Really not wise to buy a carrier phone from big Red. There are a few good unlocked options if you must use that abomination of a company.

It's all very well to chat about updates, but these are tailored to suit the hardware of the device. My mate got marshmallow on his sgS5, but it only has some of the features my S6 & S7 has....

What about Note 4?
But I don't expect too much.
:-(

Nope...sorry buy the update you are currently looking for is unavailable at this time..please get a new phone and try again...

I think the whole point is that this really shouldn't be a question. If Google were serious they would make the whole will-i-be-updated a little less , well if you were born in an odd month , in the period of a full moon. Then yes you may get the latest version of the OS. It needs to be much more like apple's update regime. When the update is released, your phone gets it and runs what ever features it can support in the new version.
It does no customer any good what so ever to buy a phone and put the update cycle in the hands of some Telco provider, who really don't care and have zero interest in providing updates. I want to know that my phone is atleast getting regular security updates , or there really isn't much point in me using it for things like internet banking, or android pay or anything like that.

I agree. But its pretty hard to require everyone across the board to upgrade a device. I can see pushing the flagships to offer at least two OS upgrades but then you have all the budget phones that could never afford to spend the time upgrading. However, I definitely think Google should start forcing ALL manufacturers to provide security fixes. And if they don't, they should disable the option to download from third party sources for apps outside the play store. Then you got market forces that have a play in things. The new Google Pixel XL 128 GB model is sold out. Demand for that is through the roof. And a big reason for that is users know they will get extended support and quicker updates. That will put pressure on the others to follow suit. At least with the Flagships. LG may consider not updating the G4 but that will send a message to their users and it may cost them dearly in future sales. So I see market forces putting pressure on oems and carriers as well. If a carrier fails to update their devices the customer may buy an unlocked device and bypass their little retail store altogether.

You guys don't have the 2015 Moto X Pure Edition listed here, but Moto said it would get the update.

I have the Moto G4 that you say is going to be updated to N7. Will Android Auto have any weird issues with the update?

I have a One plus One and I am dead sure that I will get Android N ;) Posted via the Android Central App

i expect my moto g4 plus to have it by xmas or new years.

I really hope my G3 will have update, currently running 6.0.
I bought this phone like 4 months ago. But I don't really mind if they don't give it an update as being 2014 phone. Posted via the Android Central App
for LG G3

The G3 of LG will not get upgrade at all, sadly.

How you know that are u sure??

Are you sure......how you trust

Its over 2 years old like you say. It shipped with Kit Kat. That means it got two updates already. You can't ask much more then that. That device has upgraded as well as most Nexus devices. Unfortunately, the G4 may not fare so well. I'm having serious doubts as to whether it will get Android 7. Mainly since its first 5 months of production had a faulty main board that led to the infamous "boot loop" failure. It did eventually get fixed and was a great replacement to the G3 being it provided a better display and bump in processing power. But LG probably would rather forget the failures of their last two flagships (G4/G5). The G5 will get it and probably won't be upgraded again. Hopefully I'm wrong. LG needs to realize that users are watching them as far as how long they support their HW. If the G4 falls short of how they supported the G3 then that will send a message to new customers buying decisions.

Yes thanks G-luv, you too! Oh and I found the name...It's called "goStrap". I use it on both my e-reader and my phone, which are both phablet-sized and make them easy to operate single-handedly. It definitely has stopped the dropping problem but probably just as importantly, it has given me back the use of my hand!!! Their website's kind of dinky but you can also get them at Bed Bath and Beyond. Hope this helps and best of luck!

How about the blackberry priv!?

I'm sure it will. I can't imagine BlackBerry abandoning their first Android phone this early. Sent from my Sony Xperia XA

Nuget will be thier last major update for the Priv.

I have an S6. By the time VZW updates it to Nougat, I will be ready for a new phone, if I have not purchased a Nexus phone by then.

Asus? Posted via the Android Central App

Fat chance Posted via Android Central App

My Zenfone 2 didn't even get Android 5.1.

A 3 year old Nexus device isn't getting 7.0. That's damn pathetic.

Two years tops is what you can expect from any phone maker. Your 3 years put your phone out of that time frame

Considering that the iPhone 5, released in 2012, can receive the latest iOS 10 update, why shouldn't us Android users expect the same?

The problem with the IP 5 and IP 6 is they only have one gig of ram. Sure it will run the latest iOS but not nearly as fast as the IP 6S and 7 which have 2 and 3 gigs of ram. Maybe in the future iPhones will be more future proof because they finally started to put in more ram and not be so stingy and cheap trying to keep components costs down. The IP 4 was basically unusable (with no way to roll back) with the later updates to iOS with it's measly 512mb of ram. So yes, Apple will offer updates longer but that is not necessary always a good thing. The biggest reason the the 6S and 7 have better performance is from the increase of memory. Sure the CPU was bumped as well but nothing like ram to boost things up. Especially with the newer versions of iOS require more memory to run fluidly.

Already have 7.0 It's called touchwiz lol Via the great NOTE 7..

BAM Posted via the Android Central App

Alcatel is promising the update for the 4s. Posted via the Android Central App

Already have it on my Nexus 6P. Had beta and seems to be more stable

Damn verizon. Still waiting on Honeycomb or Jellybean for my Droid-X2

XDA got ya back Posted via Android Central App

We should change the site to be called "Jerry Central" and just let Cowboy handle all the blog posts.

Jerry is getting gold Nougat. Posted via the Android Central App

My note 4 still doesn't even have mm thanks to AT&T. This is the last phone I will ever get from them

My AT&T Note 4 is running 6.0.1.

BlackBerry priv? Posted via the Android Central App

The Priv will be getting Nuget. It will be its last major update besides the monthly security updatea

Oneplus 2? Posted via the Android Central App

Still gettin' here with the Nexus 7 (2013) - upgrade it to Nougat, HELL YES ! LG V10 - It's my joy.... please Verizon, do us right and update it..

I'm not worried. I'm sure Sony will update their 2016 lineup to Nougat in a relatively timely manner. Sent from my Sony Xperia XA

Will the update be available for moto g3 Posted via the Android Central App

I do like my G4 - the board never croaked but the antenna failed so I have a refurb replacement; my daughter's G4, 13 months old, is still going strong. But I won't cry if it doesn't get updated... I have not had the problems with this phone that others have had. If this is a bad example of what LG does, I will look at LGs first when it's time for an update.

Just FYI, the first 5 months of production of the LG G4 had the faulty main board. If you still have your box it will be printed on that. The date of production should also be printed under the battery. If it was made between May 2015 and September 2015 it has the defect. And it will mostly likely exhibit the boot loop at some point in time. The general perception is the the LG G4 was a dud because of this defect. Many users moved on to other manufacturers after that fiasco. However, LG did in fact fix the issue in Oct of 2015. I did have one bad device that was made on the last month of the bad batch (September). It was an International model that did not have a warranty (H815). To LG's credit, they did finally start replacing those models as well. But they said they would only send me a carrier unit (H811 t-mobile). I prefer the H815 since it has a FM radio and more radios to work overseas. I used that in the Fiji Islands.. I still have one working H815 so the H811 works well for me in the states. However, the sound started to not work on incoming calls, and texts.. almost dumped it for a Moto Z play. But at the last second my repair guy fixed it in 5 minutes (contacts on speaker were flattened out and he pulled them up a tad). So I'm a bit worried about build; but at this point, everything is still working good. Overall I think the design was excellent on the G4. I love the slight curve and the volume rockers on the back. I think if the G4 did not have such a bumpy start it would have had a good chance getting Android 7. But as it is, I have serious doubts. I for one would like to see LG make this phone again with the SD 625 and a FHD screen and fingerprint sensor. That would be a great device offering 6-7 hours SOT and stutter free performance at around the 400 dollar price point.

It's a damn shame that the LG V10 isn't even a year old and it "might" get updated. That sucks! It's a great phone, with a great camera. You would think that a phone that is your flagship model, that is less than a year old, would be the first on your list to update. You wouldn't abandon it in such a short time, no matter what the reason. We shouldn't have to be forced to buy the new model just to update the OS. Is LG just pushing its users back to Samsung? Not a very good marketing plan. We're gonna really be pissed. I already am pissed that there's even a question about receiving Nougat on the V10. It should be a given. LG, you've lost my confidence.

That is exactly what phone manufacturer's want you to do. Is upgrade your phone. That eqauls more money in their pocket. It's a win-win situation for the manufacturer. They put out a good product, leave some minor details off that will be available for the next model and they figure those people that liked the prior models will run and buy it.

For what it is worth T-Mobile's site indicates that it will get upgraded. Not sure we should put much stock into that.

It's kind of sad that my M8 is barely two years old and won't be receiving any updates past marshmallow. Well, time to move on, I guess.

Ef HTC that's why I dumped them, If you're one day past their 2 year cut off they won't update it. Heck even if your are under the 2 years it's still questionable if you'll get it. Most phones are one and done with updates.

lol probably should take the note 7 off the list.

Anything about the zenfone 2 4Gb/64GB model..

Sadly, unless you own a Nexus/Pixel and maybe a couple other random Android phones, you won't receive monthly security updates. Google needs to add that to their requirements to use Android on a manufacturer's phones.

I've been getting monthly security updates on my S7 edge for almost a year now.

My Note 4 receives the monthly security updates every month.

S6 Edge Plus received all monthly security/performance patches, thank you for being concerned!

What about Asus? Z3 will get but what about Z2?

There's a good chance any of the Z2's with the Intel chip won't get an update. The non Intel Z2's probably will get them.

Anybody know when (unlocked) moto z getting 7.0 update??

A co-worker of mine has a brother who has a friend who works with this kid at Baskin Robbins. Apparently his dad knows one of the engineers who works at Motorola. He says the update will start rolling out on January 6th at 3am. But you have to be first to be "checking for updates." I'd advise you be up at 3am hitting refresh if you want it first.

At this stage, I don't even care when new updates come to my phone. The experience has already been smooth and efficient for the last couple years.

Bingo. I actually had to go look to see what version of Android my phone was running (6.o BTW). I literally do not care. If I did, I'd probably plop Cyanogen on it and be done with it, as I prefer that experience anyway. Two years ago, I was the king of rooting/romming too. I ultimately came from the Samsung Moment (Blech), so had the practice in my blood. But since I got my G3 (And now my G4), I haven't felt the need to do anything more drastic than pup Nova Launcher on it.

Sadly my nexus 6p died (endless bootloops) with nougat 2 days before Christmas. Running the HTC 10 while I get my nexus repaired.

One plus 3, honorable mention....Lol, there we go exactly. Finally they got it right

"The Galaxy S7 and Galaxy S7 edge will be upgraded."
. . . [and} three-to-six months later, the forgotten Galaxy S7 Active probably will see it the upgrade as well ;-(

The HTC one m9 already got nougat. I'm impressed.

I wonder if Motorola will really update the Moto G4.

It updated the Moto Z (most variants) so I think it will. It's post Lenovo acquisition. All previous versions are DOA though, most likely.

Just get a google pixel that answer it all.....

You mean Google Assistant? What answers are you looking for?

I warn you, HTC, if you do not update my One M8 to Nougat, I will buy a new smartphone (HTC 10 or 11)! That will teach you!

When is android nougat for Moto X Play ?

Sounds like AndroidCentral's competition has a different idea for the Axon 7. http://phandroid.com/2017/01/04/zte-axon-7-android-nougat/

What about Galaxy tab s2?

I can't wait to get this update.

Isn't it time for Android devices to get updates like Apple devices do? I hate when AT&T and other carriers hold off on updating devices until they fill them with their bloatware and BS! Apple has a beta program where any user can get into at any time not like samsung with the noughnut beta for s7 devices where is was limited for a period of time. They must be making money somehow when they make us wait!

It's just not possible. With over 13,000 different devices (which means nearly that many different hardware configurations) it'd be nearly impossible to update every single device on day 1. Also, because of the varying hardware configurations, the update is in the hands of the device manufacturer to make sure the OS build works on their device. The device manufacturer then has to rely on the part manufacturer providing support for the new OS. Take the Nexus 5 for example. Qualcomm will not support Nougat on the SoC used in that phone. As a result - no official update. There are some phones released more recently that still used that SoC, that means THOSE can't get it either, even though they're less than 2 years old.

I usually get flipped off no matter which phone I buy.
In this case the Axon 7
Honor swears 7 will hit the 8 next month.
I don't even care anymore...

How about the Motorola Moto X Pure Edition? This was their flagship phone when I bought it a little over a year ago. At one time, Motorola promised a Nougat update by the end of 2016, but my hopes are growing dimmer and dimmer with each passing week. Now it doesn't even make your list. Motorola used to be right on the ball with updates, but apparently now they're only interested in selling you a new phone if you want an update. In fact, us Moto X PE owners are still on the May 2016 Android security update! I can tell you one thing: no Nougat, no more Motorola for me. OnePlus and even Sony beat them to the punch on updates. This whole Android update and version mess is absolutely ridiculous, it's enough to make me want to jump ship to Apple and so far I've never owned an Apple product in my life. H

Its a shame what happened to Motorola, they were once on top of the field with updates. But that is not the case anymore, I wouldn't expect any updates beyond what they've updated with there more recent phones.

My Moto Z has Nuget already, so their updating things fine.

The Pure edition is a year and a half old and won't get anymore updates because it was launched before the Lenovo acquisition. They needed to cut the cord somewhere and that's what they chose. It wasn't that popular among the mainstream so there's no financial incentive to update it.

I still have some Android devices, but even wondering if it will get updated is why I switched my primary smartphone to iOS. Sure, not every device gets all the same features, but at least they still care about phones older that 2 years.

Google does as well. That's why the most important fixes and changes are pushed through the Play Store instead of in iterative version updates. As long as your device is new enough to have version 4 on it, you're covered.

"the LG G5 was updated November 2016" . Except of course If AT&T was your carrier.

"With an updated V model coming shortly, will LG and the carriers want to spend the time or money to update the V10? I don't think so." Ummmm....is this a fake news site? Because (a) T-Mobile already announced that 7.x is coming to the V10, and--most importantly--(b) THERE IS NO UPDATED V MODEL COMING SHORTLY. LG *already* released the V20 several weeks ago, AS POINTED OUT IN THE ARTICLE ITSELF. Are any adults in the room with these writers??

I think it's enough with the updates already, we're at a point where even after you get your update you don't really notice much difference. The same thing has been happening with PC's. The OS is good enough, MAC OS Sierra is barely any different from El Capitan or Mavericks or even back to Leopard. Same for Windows 10, it's basically a glorified Windows 7. I really like the fast boot speed, but other than that it's not much better. Everyone should just concentrate on security patches and if there are genuine improvements to be made to the OS that will dramatically make a difference then fine. Like if they can get some serious battery improvements or something functional. But otherwise like the song goes don't worry be happy.

I have the LG G5 from ATT and I still don't have the Android 7.x Nougat

So the OnePlus happens to be a sub-brand of OPPO electronics, OPPO devices are yet to receive any updates past Android 5.1 which is now quite out-dated, being the parent company of OnePlus I believe that new updates should be rolled out to these phones, (any phones running lollipop and marshmallow)

What the hell google all u do is focus on pixel and Nexus devices rest devices are updated at a very slow rate u should globally launch updates for all devices

Well i reside in Australia and neither my samsung tab or my samsung galaxy 6 edge have recieved the update as yet !!!

Ok, Jerry.... you've kinda missed the mark on something. Nexus is all well and good. But Google's Pixel and Pixel XL are quite arguably one of the most popular, if not THE most popular and desired Android phones out there. I know that both are going to be getting the update, because i own a Pixel XL and I already have the Beta of Nougat, as I am part of the Beta Testing Program. Why not mention them? The only question is... WHEN will the full update be rolled out for the Pixels? Huawei? Really? C'mon Jerry. Who owns a Huawei?

A lot of people own Huawei actually!

I know a LOT of people with smartphones. Not a single Huawei. Before the end of this past year, I'd never even HEARD of this company. It's not as popular as you think.

the Honor series and the Mate9 are all pretty popular. Not trying to argue, just saying, I've heard a lot of good things about the brand lately.

Ok, so I have a question! I know that updates roll out by carrier... I have a Note 5 from AT&T, but I'm using it on Cricket, so which carrier would mine fall under when it comes to a timeline on updates? Cricket SUCKS at getting updates out!

I have a Samsung 7 Edge from Tmobile and a Nextbit Robin . The edge has 7.0 Nouget I'm expecting the Robin to get 7.0 . I'm still bummed Nextbit got bought by Razor , but oh well.
I think the Robin is a much better deal then the new Motorola 5 plus. 149.99 for the Robin and it will be even more so when it gets Nouget. I am fairly disappointed in the downsizing and the uninspiring features of the 5 plus.
I was going to get the Zte Axon 7. Though Tmobile dropped the price on the LG v20 to 480.00 I Picked one of them up its a really great phone just not for me.if you are into cameras and DACS get the V20.
I have limited use of my left arm so dealing with a fingerprint scanner on the back is hard. Also trying to hold the phone and take a picture with one hand is hard also. The wide angle lens on the v20 is the bomb though. Anyways I traded my LG V20 for a Samsung 7 edge which is also 480.00
Why? Screen is much nicer on the Samsung. One feature on the Samsung that I havent found on other phones that makes my life much easier the ability to say shoot or cheese to take a picture. I know for most this is a gimmick, but for me it allows me to get the shot i want. On other phones I'm fumbling round trying to hold the phone and hit the camera button on screen. Half the time the shot is gone by the time Im ready.
Seems I strayed off topic , woops.

Off topic, I had the Axon 7 and it's a great phone! And it got the update for Nougat.
Android Central Newsletter
Get instant access to breaking news, the hottest reviews, great deals and helpful tips
Thank you for signing up to Android Central. You will receive a verification email shortly.
There was a problem. Please refresh the page and try again.