Will every PS4 game be backward compatible on PS5?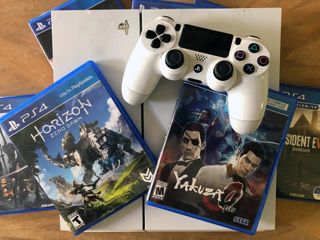 (Image credit: Android Central)
Best answer: Sony has stated that 99% of PS4 games will be backward compatible on PS5. Only a very tiny handful of PS4 games are not playable on PS5.
PS5 backward compatibility What is backward compatibility?
Backward compatibility is a process that allows older legacy content to be supported on newer systems. On Xbox and PlayStation, this means that you can pop in a disc originally intended and developed for an older generation console and play it on a newer model, like using an Xbox 360 game in an Xbox One — thanks to an emulation process in Xbox's case.
Will every PS4 game be backward compatible on PS5?
Jim Ryan, President, and CEO of Sony Interactive Entertainment told the Washington Post the PS5 will be backward compatible with 99% of PS4 titles.
Only the following nine PS4 games won't be backward compatible on PS5:
DWVR
Afro Samurai 2 Revenge of Kuma Volume One
TT Isle of Man - Ride on the Edge 2
Just Deal With It!
Robinson: The Journey
We Sing
Hitman Go: Definitive Edition
Shadwen
Joe's Diner
Shadow Complex: Remastered was initially not playable on PS5 but has since been patched by the developers. This is a big change from the PS4, which didn't offer native backward compatibility. The only way to play PS3 games or older on your PS4 was to purchase a digital version separately, and even then, not all PS3 games were available digitally.
How do we know games will be backward compatible on the PS5?
According to lead console architect Mark Cerny, the PS5 will be backward compatible with PS4 games because the next-gen console is based in part on the PS4's architecture. This means that those games you love right now should still be playable on PS5, so don't throw out your old discs just yet.
Shortly before E3 2019, Jim Ryan also confirmed to CNET that PS5 would be backward compatible with PS4 games. The company also plans to offer cross-generational play, meaning that in theory, you can start a game on PS4, continue playing that same save and progress on PS5, and even go back to PS4. Your save states would be preserved in Sony's servers.
"Whether it's backwards compatibility or the possibility of cross-generational play, we'll be able to transition that community to next-gen," he said. "It won't be a binary choice about whether you have to be either on PlayStation 4 or next-gen to continue your friendship."
Jim Ryan reiterated that the PS5 would be backward compatible with the majority of PS4 games in September 2020.
PS5 backward compatibility Why should I care about backward compatibility?
Ask yourself if you want to keep playing your old favorite games. Now, ask yourself if you like saving money. If the answer to both of those questions was "yes," you should understand why backward compatibility is important. You'll be able to play your game collection on a better console without needing to shell out for a remastered edition (though you can if you want to) or buy it again digitally if it is offered that way. You'll be able to get rid of your old PS4 if it's just sitting there taking up space.
Backward compatibility also benefits game conservation efforts.
PS5 backward compatibility What is the PS Plus Collection?
During the September 2020 PS5 games showcase, Sony announced an new enticing program called the PS Plus Collection. This gives PS Plus subscribers on PS5 access to a collection of PS4 games, giving a nice launch library of titles you might've missed out on.
PS5 backward compatibility What about backward compatibility for PS3, PS2, and original games?
According to Jim Ryan, the PS5 is not backward compatible with the PS3, PS2, or original PlayStation games.
The PS5 is now available worldwide, though finding a console in stock is extraordinarily difficult for the time being. If you want to buy one, don't hesitate whenever you see it in stock.
Exclusive masterpiece

You're doing yourself a disservice if you haven't played God of War yet. It instantly became one of the best titles on PlayStation 4 and, thanks to backward compatibility, should still play great on PS5.
Buy anything
PlayStation Store Gift Card
So many choices
You may not be able to use a PlayStation 5 just yet, but get yourself prepared with a collection of games that you can start playing now and continue playing for years to come.
Already sold out
Keep checking for more chances to buy
PS5 preorders unexpectedly kicked off Sept. 16, leading to a frenzy of buying that crashed websites and depleted inventories almost immediately. Hopefully, more units will be available for sale soon. In the meantime, you can consider which version of the console you want and browse launch games and accessories.
Get the Android Central Newsletter
Instant access to breaking news, the hottest reviews, great deals and helpful tips.
Games Editor - PlayStation, Android, VR
Jennifer Locke has been playing video games nearly her entire life. You can find her posting pictures of her dog and obsessing over PlayStation and Xbox, Star Wars, and other geeky things.