Wifi-only Galaxy Note 10.1 gets Jelly Bean, starting in Germany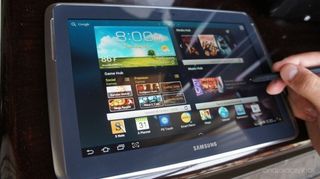 Hot on the heels of the Wifi and HSPA+ Galaxy Note 10.1, the Wifi-only model (GT-N8010) is today receiving its update to Android 4.1.1 Jelly Bean. The over-the-air update package, which tips the scales at around 300MB, is now rolling out to Wifi-only Note 10.1 tablets in Germany. As is always the case with Samsung updates, other territories are likely to follow in the days and weeks ahead.
The Android 4.1.1 update for the Note 10.1 introduces well-known Jelly Bean features like expandable notifications, Google Now and "Project Butter" performance tweaks, along with "Premium Suite" enhancements from Samsung. These include a re-vamped multi-window feature with support for windowed apps, as well as "easy clip" for capturing areas of the screen, and a redesigned S Note app.
If you're seeing the update notification waiting on your Galaxy Note 10.1 this morning, hit the comments let us know how the upgrade's going for you.
Alex was with Android Central for over a decade, producing written and video content for the site, and served as global Executive Editor from 2016 to 2022.
I want this on my note 10.1 already. ..

Got it this morning :) finally

Hi Do you have the GT-8010 and did you get this update OTA or did you manage to find the download? I can't find it anywhere ;o( Thanks and Merry Christmas!

No news about GN 10.1 8013 ?

Mod's - can we remove or block these spammers? This is the 2nd person with this message in the forums and comments, and 100% of his/her comments are this same piece of spam.

Wow Samsung....you guys are pushing for these updates hard eh?

Other territories will soon follow? I have been waiting since Nov. 23 for the U.S. I rollout for the Tab2 7 inch. Rolled out everywhere else. I still waiting....

I really hope this hits the N8013 (US WiFi version of the Note 10.1) soon -- it feels like I've been waiting forever for the updates to the multi-window features (among other new features/changes). I have never regretting buying the Note 10.1, and it's been a far better overall experience than the original Asus Transformer was for me (a lot less frustrating, too!), but damn, it's been painful watching the european versions get the updates for so long (including the Tab 2 7 inch in the UK) before the US. Is it too much to wish for simultaneous rollouts around the world? Neverminding server load -- I sort of prefer the way Google rolls out OTAs for nexus devices -- at least you know it's there... taunting you (but you can't get it yet)! =P

In the United Kingdom: At around 13:00 my Galaxy Note 10.1 of its own went into some sort of system update mode. It said "Update in progress!! Don't power off the target" (or something to that effect). Almost 2 hours later it still said the same (no progress bars, not "loading" message). We checked that there was no I/O to the device at our firewall and then (with some trepidation) I switched off the damn thing! It reverted to its previous state (Android 4,0,4) and when checking if an update was available in "Settings", it says "No Update available"! Oh well, I will have to wait a little longer but at least disconnecting it didn't "brick" it!

Can't wait to get this update on my Note 10.1,Sammy is making this updates very desirable with all those amazing features, TouchWiz is superlative.

Been holding off on CM10 for this. Can't wait to try the Premium Suite when it hits the US.

This is the first Android device that I have been so happy with I have not customised or even rooted. I bought mine in the UK and took it to Australia (GT-N8010) So hopefully I will get it on the UK release as Australia are often late. I miss Jelly Bean about my Nexus 7 but not much else. But, if it's not here by the end of tomorrow Im going to Odin it and be real pissed off when I lose my data. So I hope to god it comes, I know what I'm like! GT-N8000 users had it ages and they have to be carrier network authorised, this to me seems backwards and retarded. If this is bypassed by not having a SIM, why the hell wasn't it first?

When does it arrive in Latin America?

Well, its 2013. Happy New Year! I really need that Jellybean update

I live in Manchester and I have just updated my Samsung Galaxy Note 10.1 GT-N8010 to Jellybean 4.1.1 at 9am 3/1/2013

Jellybean is fantastic runs fast and smooth. Just checked benchmark it has gone from 5400 to 6000 used Quadrant Standard Edition. Opens many pages at once. Very pleased so far.

London, UK. Official OTA update downloaded and installed this morning on my my GT-N8010. I was getting real tired of pressing the software update button. Loving my now Jellybean enabled note 10.1. New S note is very good and multi window is miles better than before.
Android Central Newsletter
Get the best of Android Central in in your inbox, every day!
Thank you for signing up to Android Central. You will receive a verification email shortly.
There was a problem. Please refresh the page and try again.