Why you should buy the Amazon Fire HD 8 Plus instead of an Echo Show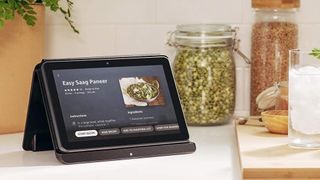 (Image credit: Amazon)
I've written quite a bit about how much my family and I love and rely on Amazon's devices and services, especially the Echo line of smart speakers. In addition to several "regular" Echo and Echo Dot speakers, I have an Echo Show 5 in my office. It's one of my favorite gadgets in the house because it continuously scrolls through my favorite photos, gives me news and weather updates at a glance, and lets me watch videos or see song lyrics while I'm working. It's a fantastic gateway to Alexa, and it allows me to control my smart home devices with my voice or on its touchscreen.
As much as I love my Echo Show, there's one significant drawback to it — it's stationary. I can't pick it up easily and move it from room to room without unplugging and replugging it, and don't even think about taking it outside of the home (not that we are leaving our homes all that much right now anyway).
Enter the Fire HD 8 Plus tablet. This device (when paired with a proper dock or case) can serve as a smart display. But what's really neat is that you can also pick it up and take it with you, wherever you want, to do tablet-y things like play games, watch videos, or read a book. You can certainly argue that multitaskers aren't always better than unitaskers. For example, I still prefer to read books on my Amazon Kindle, or you know, a physical book, to a tablet or phone. However, when multitaskers are priced competitively, it's hard to argue in favor of the less functional device.
Side by side
Since there are three different sizes of the Echo Show — the Echo Show 5 (2nd Gen), Echo Show 8 (2nd Gen), and Echo Show 10 (3rd Gen), I've opted to compare the Fire HD 8 Plus with the wireless charging dock to the closest in size, the Echo Show 8.
Swipe to scroll horizontally
Header Cell - Column 0

Fire HD 8 Plus (2020)
Echo Show 8 (2021)
Display
8" HD
8" HD
Resolution
1280 x 800 (189 ppi)
1280 x 800 (189 ppi)
Storage
32/64GB
Expandable up to 1TB
N/A
CPU
MediaTek MT 8168
MediaTek MT 8183
Ram
2GB
N/A
Charging Time
4 hours
N/A
Wireless Charging
Yes
No
Cameras
2MP front and rear
13MP front only
Physical camera cover
No
Yes
Speakers
Dual speakers
2 2 x 2.0"" @ 10W per channel
Portable
Yes
No
Weight
12.5 oz
36.6 oz
Dimensions
8.0" x 5.4" x 0.4"
7.9" x 5.4" x 3.9 "
Price
Starting at $110
Wireless charging dock $40
$130
The first thing you'll notice on this chart is that both devices essentially have the exact same screen. Both also have dual speakers, but the ones on the Echo Show 8 (2nd Gen)are substantially better (it's a dedicated speaker for crying out loud). The Echo Show devices only have a front-facing camera as opposed to the front and rear cameras on the Fire tablets. The resolution is much higher on the Show (13MP vs. 1MP), and it features a physical camera cover for additional privacy, whereas the Fire HD 8 while in Show Mode does not.
The Echo Show 8 (2nd Gen) is usually retails for $130. That means that if you were to buy the base storage Fire HD 8 Plus plus the wireless charging dock, you'd be all-in for the same price of $130. Pretty apples-to-apples if you ask me.
Why I love the Echo Show
I've already mentioned the two most significant drawbacks to a dedicated smart display like the Echo Show when compared to something like a tablet. 1) it is basically stationary, and 2) it can't do quite as much. That being said, smart displays are still a worthwhile investment for specific use cases.
Most people that I know who own an Echo Show (or a Nest Hub or similar device) tend to use them in one of three places: the kitchen, the office, or the bedroom. These are all places where it can be beneficial to have a stationary utility and entertainment device for things like alarm clocks, updates, photo slideshows, and video guides (like with Amazon's Food Network partnership). In these cases, you may not need (or want) to touch the device continually, as the vocal and visual interaction with Alexa is likely sufficient for your needs.
The Echo Show is available in three sizes: 5-inch, 8-inch, and 10-inch. For help deciding which size/version is right for you, be sure to check out our comprehensive Echo Show guide.
Why the Fire HD 8 Plus setup is a better solution
As fantastic a device as the Echo Show is, it's essentially like your TV or desktop computer. It's staying put where you plug it in, and it's not going anywhere. That may be fine if you've got loads of disposable income or if you're a tech reviewer, but for most folks, that kind of setup is a luxury.
Amazon's Fire tablets have always been an excellent value for those who just want a tablet for content consumption. Since 2012, the company has been regularly iterating on this idea, eventually expanding into a product offering spanning multiple sizes and capabilities. There are now four models of the Fire tablet, including the Fire HD 8 Plus, Fire HD 8, Fire HD 10, and the entry-level Fire 7. That's not counting the three models of Fire Kids Edition tablets that mirror the "regular" versions but add Amazon Kids+ for parental monitoring and age-appropriate content, as well as kid-proof cases to protect your investment.
I recently reviewed both the Fire HD 8 and the Fire HD 8 Plus and came away convinced these are still the tablets that I'd recommend for most people. They come in at hundreds less than even the entry-level iPad or Galaxy S tablet and deliver surprisingly similar entertainment experience to those more premium devices. And as I mentioned above, Amazon Fire tablets (not just the HD 8 Plus) can be placed in Show Mode, which turns them into fully-functioning smart displays.
Show Mode works for any modern Fire tablet in any kind of stand or case. The great thing about the Fire HD 8 Plus is that with the optional wireless charging dock, you can quickly and easily pick it up and put it back in tablet mode automatically when you want to use the device as a tablet, and then just place it back on the dock to charge when you're done with it. The Fire HD 8 Plus has Show Mode enabled by default, so as soon as it goes back on the dock, you'll have a smart display. There's no fussing with wires or cables. It's such a handy feature!
This is a great option for those with limited resources, limited space, or who just don't feel the need to clutter their life with superfluous gadgetry. But it's not a perfect option; there are still some areas where just having an Echo Show wins out. For starters, price. You can get an Echo Show 5 (2nd Gen) for around $85, or even an Echo Show 8 (2nd Gen) for $130.
The other drawback to the Fire HD 8 plus wireless charging dock solution may be privacy. You see, unlike the Echo Show 5 (2nd Gen) and Echo Show 8 (2nd Gen), the Fire tablets do not have a physical camera cover. This means that anytime you have the tablet in Show Mode, the camera is technically open. Yes, you can tell Alexa not to listen, or to erase recordings, but there is no indicator light telling you the camera is in use. If this is something you are sensitive about, you may think twice before putting it next to your bed or work computer.
On balance, you're going to get more functionality for your hard-earned dollar with the Fire HD 8 Plus and wireless charging dock. It recently went on special, and I'd expect to see deals on the pair if and when Prime Day 2020 eventually happens, or at least by Black Friday and Cyber Monday. You'd do well to pick the set up for yourself!
Charging ahead
Amazon Fire HD 8 Plus with Wireless Charging Dock
Better together
The Amazon Fire HD 8 Plus offers more memory and faster-charging capabilities than its cheaper sibling, but where it really stands out is with the optional wireless charging dock. Together, they give you a smart display and a portable tablet in one device.
Sign up for Black Friday email alerts!
Get the hottest deals available in your inbox plus news, reviews, opinion, analysis and more from the Android Central team.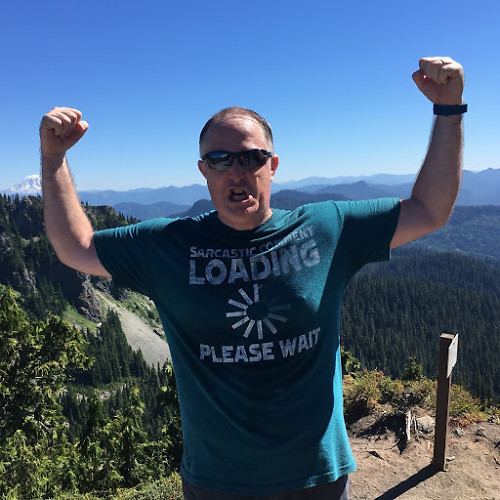 Jeramy was the Editor-in-Chief of Android Central. He is proud to help *Keep Austin Weird* and loves hiking in the hill country of central Texas with a breakfast taco in each hand.