Here's why Google isn't launching the Pixel 4 and 4 XL in India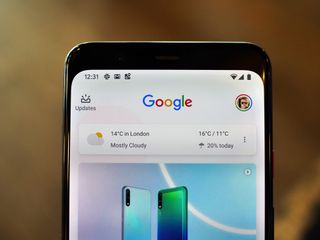 (Image credit: Android Central)
After endless leaks and rumors, the Pixel 4 series series is now official. The Pixel 4 and Pixel 4 XL bring interesting new features, including a 90Hz display, Soli radar hardware with Motion Sense gestures, and a secondary camera at the back.
While the changes are exciting and push Google's hardware ambitions forward, there is a low point: the Pixel 4 and 4 XL will not be launching in India. Google is citing Soli as the reason, with the radar hardware not meeting the requisite guidelines for use in the country. Soli does more than Motion Sense gestures — it works in conjunction with the facial recognition system, which is as secure as a fingerprint reader. It needs to be, because the Pixel 4 doesn't have a traditional fingerprint sensor or an in-screen solution; the IR-based face unlock is the de facto biometric authentication system for the phone.
As Soli is necessary for face unlock and there's no other biometric authentication method available, Google had no recourse but to abandon its launch plans for the Indian market. In a statement, a Google India spokesperson said:
The crux of the issue is the 60GHz frequency that Soli is based on. The Indian government doesn't allow public use of the frequency — unlike the U.S. — effectively preventing Google from launching the phone in the country.
Every Pixel launch was followed by a string of issues — the Pixel 2 XL launched with a terrible display, and the Pixel 3 series continues to have memory management issues. For this generation, it's the fact that Soli doesn't work in all countries. Google failing to realize that a marquee feature like Soli won't work everywhere once again shows just how incompetent the company is at hardware.
All phone manufacturers test their products in launch markets to ensure core features work as advertised, and for Google to miss this is inexcusable. Combine that with the sheer volume of leaks around the Pixel 4 and 4 XL and it's easy to see that Google still has a long way to go before it stops making amateur mistakes.
Then there's the fact that Pixel phones haven't really set sales figures ablaze in the first place. Android is dominant in India — with over 98% market share — but the Pixel lineup hasn't taken off in the country. That's understandable when you look at the pricing: the Pixel 3 XL debuted in India at ₹83,000 ($1,165) (opens in new tab), and the Pixel 3a line started off at ₹39,999 ($560) (opens in new tab). When you consider the fact that there are dozens of phones that offer much better hardware at significantly lower prices, it's easy to see why the Pixel brand is still limited to a niche audience.
The high markup is on account of the fact that Google imports its devices into India, which attracts a hefty 28% tax. Google isn't alone in this — iPhones sold in India are also imported — but because Apple has a better brand cachet, it is able to command a premium for its products in the country. Even then, Apple is looking to local manufacturing as a way to bring down costs.
The fact that the Pixel 4 series isn't launching in India opens up speculation around the Pixel 4a. We haven't heard anything yet regarding the mid-range Pixel series, but it is possible Google will be looking to accelerate the time-frame of the Pixel 4a. And seeing as how it was Soli that prevented Google from launching the Pixel 4 series in India, it is a guarantee that the 4a series won't feature the radar hardware.
That means Pixel 4a users will miss out on secure facial recognition, with Google instead looking to offer a traditional fingerprint sensor or an in-screen module. We'll have to wait and see what the Pixel 4a has to offer, but for now, it's a real shame that Google isn't launching the Pixel 4 and 4 XL in India.
Get the Android Central Newsletter
Instant access to breaking news, the hottest reviews, great deals and helpful tips.
Harish Jonnalagadda is a Senior Editor overseeing Asia at Android Central. He leads the site's coverage of Chinese phone brands, contributing to reviews, features, and buying guides. He also writes about storage servers, audio products, and the semiconductor industry. Contact him on Twitter at @chunkynerd.
What if my friends buy the device in the USA or Germany and courier it to me? Will that be illegal?
Is there any way we can buy/use Pixel 4 in India??

Could run into issues with customs over here.

So, there's no way we could have Pixel 4 here, that's so sad :(
I was really looking forward to it :(

What about I bring the phone from US or Europe myself? Will the Indian SIM cards work with it? Or is there a directive from the govt to completely ban the phone in India

It'll work just fine if you bring it over from another country (I'm going to do that). It's just that the phone won't go on sale officially.

Will all the features except project soli work in India if we do so? For ex: face unlock works in combination project soli so would that be working?

well even soli will work in india but since it not allowed Google can't officially sell it. you will still see people importing them and using without issues. Customs wont care really.

If Global Pixel sales don't pick up there may not be a Pixel 5.

I think it will sell well, its looks way better than pixel 3, hopefully wont have any hardware issues as earlier versions. wider carrier availability will help too.

OnePlus be called Indian 'Nexus'! Sure it doesn't have all the machines learning wisdom, dedicated chips for Camera and radar to detect incoming enemy fire but it IS available in India and that too at reasonable price. The Oxygen OS is actually good and the phone doesn't cost a small fortune (compared to Pixel 3 launch price). Google's lose will be OnePlus Gain

It's not uncommon for certain radio frequencies to be blocked off by countries. The frequencies used by different countries for mobile phones for example can be wildly different. Different countries allocate spectrum frequency differently and finding a suitable frequency that is free for everyone can be tricky. It looks like India lucked out on this one but don't forget that similarly, the WiFi channels 12, 13 and 14 are barred in the US so it's not a one way street. Let's hope either their government can make some accomodation or that some other frequency might be available a little further down the line.