Which Kingdom Hearts bundle should you buy?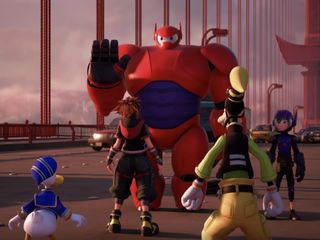 Best answer: For fans of the series or those looking to experience everything, the All-in-One Package is the way to go.
PlayStation: Kingdom Hearts: All-in-One Package ($100)
What are my options?
There are quite a few Kingdom Hearts bundles out on the market, but the ones most relevant are The Story So Far and the upcoming All-in-One Package. Though you do have the option to purchase a bundle of Kingdom Hearts HD 1.5 + 2.5 ReMIX for $20, it's an older bundle that contains less content.
Why not purchase The Story So Far and Kingdom Hearts 3 separately?
The simple answer just comes down that it won't be worth it to most people to buy them separately. Whether you decide to purchase The Story So Far and Kingdom Hearts 3 or go for the entire bundle in the All-in-One Package, you'll be paying the same price of around $100. There's no price advantage either way. The biggest difference is the convenience of purchasing one package. Why bother buying multiple items when you can get them all in one place?
Kingdom Hearts: All-in-One Package gives players instant access to Kingdom Hearts HD 1.5+2.5 ReMIX and Kingdom Hearts HD 2.8 Final Chapter Prologue since its a digital package and tied to your PlayStation account. If you needed to wait until Kingdom Hearts 3 released to access them, I'd say pick up The Story So Far instead in a heart beat. But since you can jump into the older games right now if you pick up the All-in-One Package, there's no drawback. Plus the All-in-One Package also includes an exclusive PS4 theme and PS4 keyblade for Kingdom Hearts 3.
Is there any reason to purchase them separately then?
Sure. Buying them separately is absolutely still a viable option without any major drawbacks. Not everyone's financial situations are the same, and you'll know what's the best purchase to make depending on your individual circumstances. If spending $100 all at once on a pre-order is too much, or you decide that you want everything included in The Story So Far but also want the Deluxe Edition of Kingdom Hearts 3, you're better off buying them separately.
Or maybe you've never even played the series and aren't sure if you'll enjoy it. Pick up The Story So Far to give it a shot. If you aren't happy with it, you can always return it or trade it in depending on where you bought it. You won't be stuck with the knowledge that you paid an extra $60 for Kingdom Hearts 3 when you won't end up playing it. Think of The Story So Far as a way to test the waters.
Our Pick
Kingdom Hearts: All-in-One Package
The best there is
This is by and large the best bundle that fans can pick up. You get instant access to remastered classics and can jump into Kingdom Hearts 3 right when it launches in one convenient place.
An alternative
Kingdom Hearts: The Story So Far
An appealing bundle
This bundle contains won't get you access to Kingdom Hearts 3, but it's perfectly suitable if you're looking to test the waters to see if you'll actually enjoy the series.
An alternative
The next chapter
Kingdom Hearts 3 is the much anticipated entry in the acclaimed franchise, and it's better to get it with the All-in-One bundle unless you're looking to buy a more expensive edition of KH3 separately.
Get the Android Central Newsletter
Instant access to breaking news, the hottest reviews, great deals and helpful tips.
Games Editor - PlayStation, Android, VR
Jennifer Locke has been playing video games nearly her entire life. You can find her posting pictures of her dog and obsessing over PlayStation and Xbox, Star Wars, and other geeky things.