Which Google Wifi bundle should I buy for my home?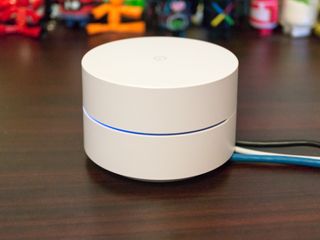 (Image credit: Android Central)
Google Wifi 3-Pack
The Google Wifi 3-Pack is an excellent bundle for anyone who needs consistent Wi-Fi coverage and speed across a large or multi-level house. Having three identical units gives you the freedom to place them where they're needed most, and the software handles the rest. You also get a discount per unit by buying as a set.
Google Wifi 3-Pack
Excellent coverage, even for very large or multi-story houses.
Savings on each unit by buying three together.
Unnecessarily expensive bundle if your house only requires two units.
Google Wifi
The single Google Wifi router is great for small single-level homes and apartments, with a rated coverage of up to 1,500 square feet. The small and simple unit gets out of the way and provides good coverage and speeds. Unfortunately, it only has a single ethernet out port, which adds complication for those who have more advanced wired network needs.
Google Wifi
Good coverage and speed in a small package.
Enough for an average apartment or single-level home.
Limited ethernet ports can be an issue if it's the only router.
Not enough coverage for a large or multi-level home.
Each Google Wifi router is the same no matter how many you buy — the only question is how many you really need, and whether it then makes sense to buy them one at a time or in a 3-Pack.
How much Google Wifi coverage do you need?
The standard Google Wifi router is small, but it's powerful. Google rates it at covering a home up to 1,500 square feet, meaning it's a perfect choice for anyone in an apartment. Initially, you'd think it would cover most small houses as well, but remember that there are more factors that go into Wi-Fi coverage than just raw square footage. If you have a 1,500-square-foot house that's spread over two (or even three) floors, or you want Wi-Fi coverage in your basement or backyard, there's a good chance that a single Google Wifi won't be able to cover all areas adequately.
That's where Google Wifi's multi-unit mesh capabilities come in. You can buy additional Google Wifis and they will work as a repeater from the main unit — picking up the Wifi signal and re-broadcasting it. All of your devices will see either router as the same network and connect seamlessly. These extra units can go on a different floor, in the basement, or at the opposite side of the house from the main unit to provide better coverage outdoors. Google Wifi handles all of the configurations automatically, so you don't have to worry about much other than finding a good place to plug in extra units.
This is why Google offers a Google Wifi 3-Pack. If you know from the start that your home is larger than 1,500 square feet, has a more difficult-to-cover layout with multiple floors, or you want coverage outside the home, you'll want to buy the 3-Pack from the start. By buying the 3-Pack, you save on each of the three units — about $15-30 each, depending on pricing fluctuations.
Even if you expect to only need two Google Wifi units, you should really consider spending the extra money to just buy the 3-Pack instead. Buying two standalone units gets you so close to the price of the 3-Pack already, and if you know you need two, you can definitely benefit from the extra coverage options of having three.
Full home coverage
No-compromise Wi-Fi coverage in multi-story or larger homes.
One Google Wifi is great, but three is oh-so-much better — and in many cases, necessary. If your home is multiple stories or over 1,500 square feet, you'll need more than one Google Wifi — and the 3-Pack gives you a nicely discounted price on three for full-home coverage without issues.
For apartments
A fantastic little router that can stand alone.
A single Google Wifi is a great router choice for anyone who is living in an apartment or a sub-1,500-square-foot, single-level home. The speed, coverage, and features are great as long as your coverage needs are simple.
Get the Android Central Newsletter
Instant access to breaking news, the hottest reviews, great deals and helpful tips.
Andrew was an Executive Editor, U.S. at Android Central between 2012 and 2020.