Where to buy Google Cardboard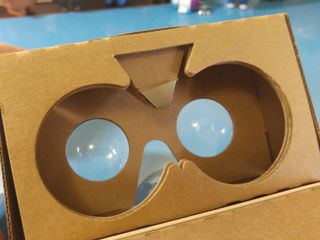 We've been getting this question a lot as of late. We talk about Google Cardboard, the cool stuff you can do with it, and speculate on Google's future plans for the platform. People want to use it, so they need to know where to get it into their hot little hands.
Google isn't selling the new version 2.0 Cardboard viewers themselves. They never sold the original, so that's not surprising. And version 2.0 is what you want if you already don't have a viewer — it works for larger phones like the Nexus 6 or Note 4, and the new "input" method of a small capacitive tape-covered lever means it works on phones that didn't support the magnetic slider-switch like some from Sony or LG.
Let's see how you can get yourself a new Cardboard viewer.
For starters, you'll want to vists the "official" Google Cardboard site. You'll find all the information about supported viewers, how to make your own, and links to buy from various vendors.
Some vendors have Cardboard 2.0 in stock, some have running pre-orders, and some are "coming soon." It's not the most complicated tech in the world to manufacture, but it's a new version and folks building them need time to switch over.
You'll also find some "think different" styles, like aluminum versions of even versions built from colored EVA foam. There's some really cool stuff in this space.
I Am Cardboard is where we bought ours
Our recommendation? Buy your new Cardboard 2.0 viewer from the folks at I Am Cardboard. They have the 2.0 version in stock for $20, it comes in six different colors, and most importantly, they have been building Google Cardboard-certified viewers since the platform launched. They know what they are doing, and can provide an easy to assemble and easy to pair viewer for folks who like easy. I like easy. I know plenty of you folks like easy, too.
We have a feeling that Google wants to push the Cardboard platform in a big way. It's already a success with working hardware and software, but big plans means more features and random cool stuff from the minds at big G. Getting a viewer for $20 is a cheap way to be sure you're in on anything that gets released.
Senior Editor — Google Ecosystem
Jerry is an amateur woodworker and struggling shade tree mechanic. There's nothing he can't take apart, but many things he can't reassemble. You'll find him writing and speaking his loud opinion on Android Central and occasionally on Twitter.
I second I AM CARDBOARD. I purchased the I AM CARDBOARD® VR KIT WITHOUT NFC (BLACK) for $15 when it was available. Not planning on needing the 2.0 as I'm not a fan of huge phones, but the OG VR KIT has been a lot of fun for $15.

I'd recommend anyone interested in a I Am Cardboard kit look at and buy their EVA Cardboard kits (they're made out of foam) over the regular "Cardboard" ones if you own an Android phone as it'll: 1) last longer and 2) is WAY more comfortable to wear for extended periods of time (like say more than 5 minutes) as the ones they sell that are made of cardboard can quickly start to feel like they're cutting into your face pretty quickly. If you can wait a few weeks to buy one, I'd suggest buying their Xin Gear VR instead as well once they become widely available on their website. I think they're trying to finish them now, and once they've fulfilled their kickstarter's backers orders (I backed and think they're shipping them mid-week next week I think). Not only do they make the best VR kits on the market IMHO, as mentioned by Jerry above, they're also super nice people! They even sponsored my proposal to my girlfriend! Check out the video I made of the proposal using their EVA Cardboard kit below! https://www.youtube.com/watch?v=LV7Lzoovrek

Are you the guy they mentioned last week at Google I/O???

Yes, I worked with the cardboard team on my proposal.. Very cool and nice people!

That's awesome, and congrats!! :)

Thanks, sincerely, it was a once in a life time opportunity. I had a blast planning and making it for her, and in turn she loved it all. I couldn't have done it without Google's help, and as a result got to propose to my fiance the way I wanted to in a grand gesture of love for her, something I know she'll never forget. It was/is my love note to her.

Stupid question but does it work with the S6? Posted via the Android Central App

It works with any Android phone up (and iPhone too, apparently) to 6".

you can get em under 5 bucks with free shipping if you look around

Thanks. I needed this explained to me. Posted via Android Central App on The Nexus 5

I am cardboard has glacially slow shipping from China. Ordered my 2.0 the day after the announcement and still don't have it. Also ordered a Dodo one thinking it would ship faster. Nope, takes like a month to be "hand built" lol. Ah well. Live and learn...and wait I guess. Posted via the Android Central App

ordered v2 off amazon for $24.95 and just received it today. it's not colored but it got here in 2 days and i just ordered another via prime.

I can sell you a rock in a box for $29.95 while your at it.... Posted via the Android Central App

tards still correct your variations, lol

Got one on Amazon months ago that works with the Note 4. Not Google certified I'm sure, but works just fine. Like $10 or something ridiculously cheap. Posted via Android Central App

I ordered one in February from Knox labs still never got it. Got twenty different emails saying it's shipping tommorrow or on Friday though but it never did ship. If u want one in a timely fashion, don't use Knox labs. Posted via the Android Central App

Wow I didn't know it was so cheap. I'll have to order one now. Posted via the Android Central App

How much did you expect to pay for a piece of cardboard? lol

Got myself a $2.99 eBay OG knock off with free turtle delivery. Works fine. Pitty my nexus 5 has a cracked screen and I'm not eligible for the free screen replacement :(

$20 for cardboard? PT Barnum was right, there is a sucker born every minute... Posted via the Android Central App

Yeah, I'm selling bags of air for $25 Posted via the Android Central App

Air? I thought it was sail boat fuel!

I will admit this was also my first thought. But when I looked and saw the cardboard frame was merely just a frame and had little to with how it works I was much more intrigued. You're not paying $20 for just cardboard. I know there are some Velcro pieces and a rubber band too that are minuscule in cost. However, I would imagine that the price you pay is mostly for the correct magnets and the specialty lenses which I found ranging from 4-18 bucks a piece with many of them having amazon shipping in "2 to 4 months". If you buy it all individually and then ship it I am not sure you could get the exact pieces you need for the $20 price. Granted you might have scrap things laying around to make building it cheaper but the cardboard itself I highly doubt is much of the cost you pay.

I got mine from some small place for like $10 too. Sadly when lollipop came out for my GPE M8 the magnet didn't work any longer. I wonder if it can convert to the lever? Posted via the Android Central App

I got the first version from Google themselves.. White with green android on it.. Vip.. And free! Lol Posted via the Android Central App

Does it matter it doesnt have the Works with Google Cardboard badge??

Any reason to get Cardboard with NFC? Or is that v1 specific?

The NFC opens the app, thats it
Pointless Posted via My G2

Hi, I'm a teacher and for handicraft I'm planning to create Google Cardboard from scratch. Can someone tell me where to get the lenses? I need lots of them...

If you follow the link provided, there is a set of instructions on building your own.

Did you carefully read what the OP requested, and check your information on the site before verifying as fact? ...I just left the site. Perhaps you should check again.

I know... IT'S RIDICULOUS!!! They give links to stuff we could get at Wal-mart for framing and generals, but NOTHING on lenses. They may as well give links to car parts for a self-build without links for engines or transmissions.

Im new to this, but I have seen models, where you can access the camera, will that be needed or is it just a cool feature? I mean, is there apps where you need to use your camera?

Are there any hands-free Cardboard options out there?

They are not promoting a hands free option. It is said that you can get sea sick from turning your head to fast, So the use of your hands is used to to slow your head motion down.

Has anyone received the Cardboard 2.0 unit from I AM CARDBOARD? I ordered mine about on June 3 and I was wondering about the actual shipping time to the US.

I order mine on the same day you did. The receipt states 7 to 14 working days shipping. Email yesterday states it shipped out on the 10th. So we still have a good wait on a overpriced item that for some reason I wanted to try. Also it seems that our 7 to 14 working days started yesterday! I just wonder if it is coming across the pond from China on a boat or a plane.

Thanks frenchfry! I was hoping (unrealistically ) that the 7-14 days started when the order was placed. :-/

Hey frenchfry I just got a text from usps tracking saying that my unit has been processed in San Fransisco! I'm guessing that it will be here with me in Dallas soon!

Does anybody have any recommendations for where to buy the new version of cardboard in the UK? Posted via the Android Central App

anyone know when version 2.0 blueprints will be released?

I just bought this one here : https://www.youtube.com/watch?v=yPD6P0mBwzs Hope its not a dud, seems legit though, even has the magnet "button" on the side! Not bad for $12.xx

I bought a New York Times version off eBay for $6.99. It works well with the LG G2, Note 4, and Note 5.

Our shop has it's own iteration of Google Cardboard that doesn't require assembly and you can design it however you want. Prices start from $5 forward.
Check it here. http://www.viarbox.com/

Got mine from ZAAK, it's a V2 called Dark Shader UV-2. Love the design and quality as well they're from europe (germany I guess). Shipping was six days or so. Seems they also have some really nice looking V1 stocked.

Personally,I am not worried about where to find the really new but cool affordable 3D vr glass any more until I came across a pretty useful blog at blog.onu-mall filled with tons of useful publications including how to pick a right 3D box helmet by googling how to pick a quality cell phone VR case,tracking the blog,i was surprised by a online shop with huge selections of various latest VR cases, i bought a really fashionable amazing 120 Degree Field of View Original Xiaozhai BOBOVR Z4 3D VR Glass Box Headset with Headphone, I am so impressed with the vr box coming with Japanese imported PMMA lens and 35mm focus showing a real view unique 3D 120 degrees large field of view, It is worth mentioning that 40mm diaphragm adopts PET material contribute to more powerful sound and it support one key answering phone calls and volume controlling,as for your question,you could find the affordable google cardboard on the store online, i am so happy getting the awesome stuff and would like to share the online store named ONU-MALL ONLINE STORE!

Well, I've been writing this comments so ... late. Now, you can buy it anywhere, at unbelievable low price. As a professional (yes, we are manufacturer of Google cardboard V2: http://adcardboard.com ), my suggestion is that, if you need a "usable", i mean with which you can get VR experience as you expected, BE cautious to buy those cheap China products from Amazon or ebay, you get what you paid for. If you want to buy bulk quality cardboard V2, contact me for suggestion.
Android Central Newsletter
Thank you for signing up to Android Central. You will receive a verification email shortly.
There was a problem. Please refresh the page and try again.