WhatsApp now lets you delete messages so recipients can't see them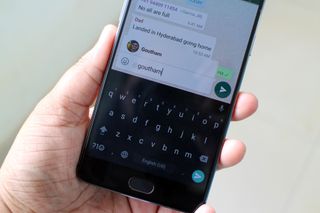 We've all been there before: maybe you made a typo, perhaps you sent a text to the wrong person, or maybe an adult beverage encouraged you to send something you shouldn't have. Whatever the case, there are situations throughout life where being able to recall and delete a message that you sent to someone would be extremely useful. Thankfully, WhatsApp will soon allow you to do just that.
You've been able to delete messages in WhatsApp for a while now, but doing so would only delete it on your end. With this latest update, you'll now have the option to delete a message either just for yourself or for you and the person it was sent to.
With the update, holding onto the message you'd like to delete and tapping the trash icon near the top of your screen will showcase a few different options – Delete For Me, Delete For Everyone, and Cancel. When choosing to delete a message for everyone, the message on your screen will be replaced with "You deleted this message", whereas your recipient's screen will show the text "This message was deleted."
This will likely be a very welcome addition for a lot of users, but there are some things to keep in mind. For starters, WhatsApp only gives you seven minutes to delete a message after you've sent it. Once those seven minutes are up, the person you sent the message to will be able to see it until the end of eternity. Additionally, WhatsApp doesn't give you any sort of notification if you were able to successfully delete a message or not.
I'm currently running v2.17.400 of the WhatsApp beta, so it appears that the rollout is a server-side thing. The feature should be making its way to more and more devices over the next couple days, however, so keep checking now and then to see when it lands on your phone.
Get the Android Central Newsletter
Instant access to breaking news, the hottest reviews, great deals and helpful tips.
Joe Maring was a Senior Editor for Android Central between 2017 and 2021. You can reach him on Twitter at @JoeMaring1.
BBM has had this ability for ages now. I don't understand why more people don't embrace it.

True, but maybe it's become a dinosaur now?

It was hard enough to get everyone on board with whatsapp. Never mind trying to get everyone to BBM.. Plus, Blackberry sat on BBM while the writing was on the wall. The only one who take over messaging now is iMessage if Apple releases it on all platforms.

Can't stand all the ads on BBM

BBM also had video chat before WhatsApp. They also had location sharing and secure PIN invites instead of phone numbers but alas WhatsApp reigns king.

Is BBM still even a thing now though? I don't think anything can compete with WhatsApp now unless iMessage went cross platform.

That's the only messenger I would switch to at this point. Whatsapp works well and nearly everyone I know uses it, there is just some iOS friends who are holdouts because no reason but stubbornness.

Ha BBM. I remember that! Yeash!!

Bbm all the way, lmao they've had this feature when, I last fell of my dinosaur lol

Now that's a much needed and late feature

So that gives Facebook... ahem! Whatsapp the ability now to officially "store" our messages on their servers for a good 7 minutes so that we can go out and delete it 'just in case'.
So much for the charade of "We encrypt your messages end to end and do not store them on our servers"

7 minutes is more than enough time to get a screenshot. Useless feature to delete.

In other news, what's up with those creepy new emojis in the new update?

BBM rocks, it's had this feature for a long time!!