WhatsApp now has a Chrome web client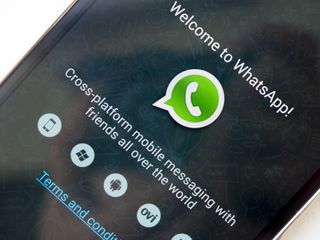 (Image credit: Android Central)
About a month back, there were rumors that the Facebook-owned and very popular messenger service WhatsApp would soon be available on your computer via the web. Today, the folks at WhatsApp have pulled it off.
The new web client is an extension of the data from your phone, displayed in a Google Chrome page. It's simple to set up, and as long as your phone has a data connection you'll be able to send and receive messages via the WhatsApp service right from your PC.
Unfortunately, there's no web solution at this time for iOS users because of limitations of the platform.
If you're using WhatsApp, give this a spin and let us all know how it went in the comments!
Source: WhatsApp
Senior Editor — Google Ecosystem
Jerry is an amateur woodworker and struggling shade tree mechanic. There's nothing he can't take apart, but many things he can't reassemble. You'll find him writing and speaking his loud opinion on Android Central and occasionally on Twitter.
So I have to keep my phone connected to the internet in order to do this? I can use Hangouts just fine on my computer without having my phone on the internet. Fail.

Yeah, it seems kind of weird, but I doubt it will be practically limiting for many people. I don't know about you, but my phone is pretty much always connected to the internet. I'm just curious about why they chose to (or had to) set it up this way.

It's simple, actually. They don't want our stuff to be anywhere else but the device where Whatsapp is installed... If they started to store contacts, conversations, settings and all of that stuff on the cloud, they would have to deal with authentication of users, and they clearly don't want that. Also, moving all that data to servers would need a huge infrastructure upgrade, I guess. I think they only created that web version because of the pressure of (almost all) the other communication services that have a web/PC client. Anyway, Telegram is still better.

Fail. I don't mind my stuff being stored on servers as long as its end-to-end encrypted and I can zap/change the keys/go Peer-to-peer for sensitive information. Telegram gives me that option. Try again WhatsApp.

so... Use telegram then. Whatsapp's team set it up this way to keep the privacy they offer. I don't see the point in calling a "FAIL" I bet you barely make a "hello world" app. People bitch about stuff they barely understand.

Hey jamaalmoose! What's your take? Leave a comment.

If you're at home you can wifi.

Can you use at our mobile phone.
Gegards:- http://bestwhatsappstatus.com/best-whatsapp-status-quotes-on-love-and-life/

One of the best thing about whatsapp is the fact that they don't store your data on their servers. I think this is the reason why they have taken this approach.

I agree, and i love the fact that they keep your private info really private unlike many other apps which will sell your info like crazy to other apps, the guys at http://www.whatsappstatusgeek.com/ have a complete article written on types of apps which will probably sell your private info to other apps.

The fact that it still needs your phone to be connected via Wi-Fi or data. You can read this article that why you should use whatsapp for web http://www.bestvpnservice.com/blog/why-you-should-use-whatsapp-for-web and you you have to scan QR code with the just release Whatsapp update. Works well.

CITIZENKLAW : What phone do you have that you don't keep connected to the internet? Are you keeping it in Airplane mode? I don't understand your issue here ..

I initially felt that was a silly complaint. I'm not used to the idea that people have to worry about their cell phones on the Internet. I'm spoiled in my unlimited. My phone is never NOT connected to the Internet.

It needs a new version of the app, which doesn't seem to be there yet. :-(

If you don't see the option, make sure you updated your WhatsApp, if you still don't see it, back up your messages and then clear data for the app. You should then see the option under Menu. Hope this helps. Posted via the Android Central App

Restart your mobile after the update to get Web option

The should just make it compatible with Pushbullet already!

THIS! Pushbullet integration would be as nice as a web version.

The "New" version of WhatsApp on their Web site is Version 2.11.491. Play store is Version 2.11.498. Neither have the "WhatsApp Web" option in the menu. ????

Install 2.11.498, but you have to reboot your phone. After rebooting, I now have the whatsapp web option in the drop-down menu.

I'm running .498. It wasn't there after I first updated, but after I put my phone down and came back to it, lo and behold, there WhatsApp Web was. Not sure if it's an option that needs to get pushed down, or if you just need to unload/reload the app.

Weird approach, but OK... it's better than nothing. But I kinda get why, since this is tied to your phone number, but oh well, I'm sure there ARE ways to keep this untethered from the phone.

Mine does not work. it says "Cannot start Camera!"
https://15projects.com/projects/cat

Just Reboot your phone , or Re-Install fresh version of Whatsapp. You can read here in detail about how to use whats app on laptop. http://desigadgets.com/whatsapp-web-desktop-setup-features/

Latest version of Whatsapp app on my Xiaomi redmi 1S, twice reboot after update installation.... :-( still error "Cannot start camera"
Could somebody help me?

Yup, mine doesn't have an issue as long as you do have the newest version.

Check permissions for watsapp to use the camera.

So how do you scan the barcode? Or do we need new version of Whatsapp that is still not pushed out?

Update the app, which is already up for download on the playstore.
open app, main screen (showing all threads), hit the menu and there should be a web option! This leads to the barcode scanner screen and its easy from there. On the article : super convenient i love this addition/update

I did all that (had version .498 already but no web option in the menu) but even after a reboot, nothing changed. Still no web option in the menu. Now what ?

Seems I needed to uninstall/install Whatsapp - which at least worked as I now have the Web option. Not impressed with having to do that...............

When you do that, are the existing chat threads still there?

When I uninstalled it, I didn't delete the chat/photos so when it was installed again, it found them all again.....thankfully. However you need to click on all the photos and audio messages to get them to fully integrate so I only went back a few days for each contact to do this.

Thank you. I'll try that... Posted via the Android Central App using my Samsung Note 4

I think this will be very useful for me cause I dont have many friends that use Hangouts, most of my contacts use whatsapp, so it will be nice to have this at work :) Tried to set it up but as others have mentioned, I don't think the latest version of the app is available yet...

That is what I think too. Also they have been cracking down on third party Whatsapp users like crazy. Its a lot that is happening at this moment. In the mean time I just head over to one of the status update sites and change my Whatsapp status.
http://www.whatsappstatusideas.com/

I just got the app update on my phone. The web UI is material designed, it operates and looks great.

If you have .498 already installed. Just uninstall and reinstall from the playstore for some reason that enables it.

Seems like Whatsapp just give to the Smartphones the boost they need on battery performance! Good job Whastapp!!

I just use my phone to call people, kinda why i bought it, because it's a phone...
Pretty amazing. Can't stand Whatsapp or Hangouts.

then why not just STFU? go post in another article that's relevant to you?

Just updated WhatsApp from the play store. Followed the instructions and it works a treat. I think this could be useful but I need a couple of days to evaluate it - thanks Jerry

I updated mine and I still can't find anything that lets me scan the QR code from inside the app. Help?

try rebooting your phone, thats what I did and worked :)

I hope they can do away with the requirement of having your mobile phone connected to the internet. For example, if you've left your phone at home or even turned off. The phone app can just sync up the threads later when it gets back online. The phone is only needed initially so that the WhatsApp account can be related to a particular phone number anyway, though you can actually swap out the SIM for another with a different phone number afterwards.

Finally!!! I've been using WhatsCloud to fill the void left by there being no way of messaging from the desktop....it's been great but because its unofficial it's always had the odd connectivity issue as it's relied on 3rd party servers etc Just started using this and it looks great so far although I'm getting the odd message about not being connected even though I'm on WiFi but when the screen is off which is odd.

Not bad. Posted via the Android Central App

Inside the WhatsApp of the smartphone, the image that comesup to scan alternates with the desktop and superimposed smartphone images, yet does not take the code. Help?

Tried 3 times. When pressing "WhatsApp web" button, another screen shows a white window with a superimposed smartphone image that moves in and out, yet there is nothing that triggers the code to be recorded. Thanks

got same problem.. :( any help please

I think what you're seeing is the first-time instruction pop-up. You should tap on the "OK, got it" on the bottom right corner, then the actual scanner should appear.

Same problem. The QR Scanner is not opening….only showing a white screen with an animation,,,,and with camera open behind it..

I have seen this on a friends phone the first time animation shows but the 'Ok Got it' button which was on my phone isn't there. Seems they have some patching to do for the smaller phone.

go to play store>my apps and update whatsapp
and try

It's pretty neat... works on android tablet as well

To the ones who didn't get it yet - it has to be pushed to your phone by WhatsApp. So just wait for your turn. Posted via the Android Central App

Did you mean I should come back to it periodically, until it "takes"? Thanks

They should have made it like telegram webapp, this version seems kinda lame, but I think it will get better in the future.

This is friggen awesome. Cool!

More distraction from work. Posted via the Android Central App

Woah! This is ptretty cool... except we cant open more than one window from different accounts *covers face*

If you don't see the option, make sure you updated your WhatsApp, if you still don't see it, back up your messages and then clear data for the app. You should then see the option under Menu. Hope this helps you guys. Posted via the Android Central App

No. This app is actually using your phone as a server and the browser as a client. Similar to how DeskSMS and PushBullet route SMS and notifications respectively to your desktop. Which is fine since its usually just text. But forget to connect thru wifi once and watch your metered data get eaten up with being effectively 'double-dipped'. Guys, just use Telegram.org and kill WhatsApp/Facebook already.
*Actual desktop/mobile/web clients--for phones and tablets and PCs.
*Cloud-based so none of this "keep a tab open and phone connected" nonsense. You can turn your phone OFF and still get messages.
*Only needs your phone's SMS for the first time you register or change phone numbers. After that, whenever you log in somewhere else, it sends the confirmation message to your Telegram apps on your other clients.
*never lose your messages or media from chats again. They are end-to-end encrypted in the cloud.
*more security than I have ever seen in my LIFE. The CIA/NSA/ABCD wishes they were this secure maybe.
And it's OPEN SOURCE/FOSS for LIFE. Try it, get your friends on it. Use it. I'm not paid to do this-- its FOSS so of course not. I just know good stuff when I see it.

Problem is nobody I know uses Telegram.

Same here at first. I proved to them how much more convenient Telegram is vs. Whatsapp and won them over. Sometimes you have to play the "all the cool kids have left that app" game to do it though. But you'd be suprised how quick it was to sell the desktop/web app functionality. That part alone got 4 of my old Whatsapp groups to convert.

Same here. I like Telegram and it is an excellent ground up messaging solution as it is secure and multi-platform. But it was hard enough to get people onto WhatsApp and in many ways it is just now getting momentum with folks I know. I think the big problem with getting non-techie folks to switch is that WhatsApp works just fine and continues to get better. The fact that Telegram is better now is simply not enough to make people switch. As a consolation prize, it seems that Telegram is causing WhatsApp to improve e.g. end-to-end encryption.

I tend to force peoples hands and let them know I'm just not on Whatsapp. the very fact that I have to backup messages before I change my sim card which happens every other month because I travel took me off of it. Also I explained to a bunch of IT people that I work with about the p2p messaging that time bombs itself forever when discussing sensitive projects or passing around things like passwords and stuff. Pretty much did the trick for all of my friends to switch over to telegram. Also why in the hell won't they ever release a tablet app? There is another way that you can win people over. How many people do you know that have an iPhone and an iPad, or in our case an Android phone and an Android tablet? It's nice being able to check messages on one and then if someone sends a video I can just use the tablet to look at it on the bigger screen. If somebody sends me a dissertation that I need to reply to then I can just walk over to my laptop and use the bigger keyboard there without having to do any crazy qr-code gymnastics. Simple. Once you explain it like that then a lot of people start switching and will and will at least load the application onto their phone.

All that seems very logical and reasonable. I still think it is an uphill climb. That said, you can add to this list - totally free (I know it is strange but even that .99 a year is a deal breaker) and no Facebook looming in the background.

The QR Scanner is not opening….only showing a white screen with an animation,,,,and with camera open behind it..

I had similar problems. I tried again this morning and it worked without additional input, excpet for "OK, I got it" displayed on instituting the WhatsApp web on the app in smartphone. Good luck

Somewhere I read that this feature requires Android 4.2 and above, whereas I have WhatsApp installed on 4.1.1

Its working fine you need to just follow 3 step :
1. Update the watsup in your android mobile.
2.To go watsuponline site
3.sacn the QR .
For more you cane see this video
https://www.youtube.com/watch?v=FqnxaAfQEqQ

Its taken WhatsApp web client 2 days to correct the QR code attachment to my smartphone WhatsApp app. When I went back to the app and under "WhatsApp Web" (settings), it displayed what it had done before, except this time at the bottom of the white screen it said "OK, I got it". Here I clicked on this and it then displayed the white window without the additional animation of superimposed image of a smartphone as in the past. Now the QR code on my desktop "took" the message and updated WhatsApp to the desktop. I think the webmasters updated this bug.
Now most WhatsApp users should not have problems with this update to show on the desktop

i hope thay bring that material design from web to mobile devices!!! it's very nice!!! Posted via the Android Central App

Great news! I also love Telegram, but all my friends use WhastApp.. So it is difficult to change to another messaging app :-( But I still preffer whatsapp plus (http://whatsappplus-download.com/), dont you think whatsapp has to improve a lot?

Sorry if it's a strange question but does something show on your mobile either on screen, on profile, in account settings or any where to show that you're running the computer what's app web?

My QR code is not displayed in chrome :( help me

its working fine , but i am not able to see images and video on web (google chrome) .
Do i need require some changes into setting . pl suggest

Switched to Telegram a year a go and never looked back to Whatsapp.

things you can do with whatsappweb: http://technofizi.com/things-cant-do-with-whatsapp-web-browser/

For some reason, every time I try to scan the QR code with my phone, the camera seems to refocus every time it gets about halfway down scanning the code, and when it goes up again, it refocuses about halfway through again, and keeps on doing that... And it doesn't function like the camera normally does out of WhatsApp for me to switch off auto-focus... Anybody else maybe had this issue?

How secure is Whatsapp Web? Scenario example: you send in your phone for repair, the repair technician pairs your Whatsapp to his laptop by taking a photo of the barcode using your phone. Now he has full view/access to all your conversations. How to protect ourselves?

Dear Jerry, WhatsApp is not very popular in Ukraine so I study app's capabilities just to know more on what it is. Being a WhatsApp novice user I have discovered that almost all popular World and big local tech blogs (in Ukraine and Russia too) announced simultaneously WhatsApp Web based on Chrome extension. iOS devices users can't use it and as I have understood it's a little bit inconvenient. I have found several alternatives in Chrome Web Store. Amongst them one extebsion called WhatsApp Web for Chrome deserves more attention https://chrome.google.com/webstore/detail/whatsapp-web-for-chrome-b/fpgd.... I did not find that it had limitations for iOS users and it was much easier to use. Could you explore this extension and share your opinion? Thank you!

Well, it also supports mozilla firefox and also other browsers i Guess. Not self promoting, but here is a quick tutorial to get you started with the whatsapp web version https://www.youtube.com/watch?v=9W2oi4Kpt4A

Hi, anyone know where does whatsapp keep my pictures and videos sent to me when I view them under PC ?? When I view under the phone, they are in the phone, but when I view under PC, it not anywhere ??
Android Central Newsletter
Get the best of Android Central in in your inbox, every day!
Thank you for signing up to Android Central. You will receive a verification email shortly.
There was a problem. Please refresh the page and try again.