WhatsApp is unveiling its own emoji, but they look a lot like the iPhone's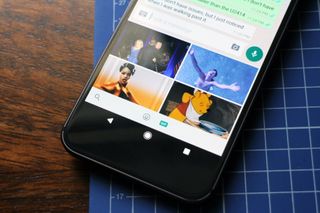 Love them or hate them, emoji are a great way to convey meaning with text messages. With plain text, it can be difficult to gauge someone's emotions. Emoji can be used to better understand the messages intent, or at least make the message prettier. Because of their expressive nature, emoji are often updated to reflect different moods.
Emojipedia reports that WhatsApp has begun using its own emoji designs, after using the same design as iOS devices. The new design still looks an awful lot like Apple's emoji, but they are in fact different. The new emoji design will start rolling out now in the beta version of the Android application, followed by other platforms. For those interested in the new emoji, you can sign up for the beta version of WhatsApp here. (opens in new tab)
Meanwhile, Facebook's other messaging application is losing its unique emoji. Android Police reports that Facebook Messenger will stop using its own emoji designs, and instead use the same designs as Facebook proper. The Facebook emoji set doesn't look very different from the previous Messenger set, they're just a paler shade of yellow. From Facebook:
Are you excited for new emoji in WhatsApp? Let us know down below!
If only you could customize Android (without root) to set emoji systemwide. Why hasn't Google profited on this yet?

Even with root you need separate apps/tweaks to theme each messaging app. Been considering to enable Oreo emojis on WhatsApp but might wait to see the new ones in action.

I actually think they look slightly better than iOS emojis. Small changes, but mainly good ones.

I'm totally fine with that. Most of my friends are iPhone users anyway. There is a few I like however. I will copy and paste them into my snapchat to use before they disappear lol

It would be so much simpler for both iOS and Android to use the same set of emojis.

And they missed the chance to fix that ridiculous water pistol emoji.
Android Central Newsletter
Get the best of Android Central in in your inbox, every day!
Thank you for signing up to Android Central. You will receive a verification email shortly.
There was a problem. Please refresh the page and try again.