WhatsApp drops support for millions of older smartphones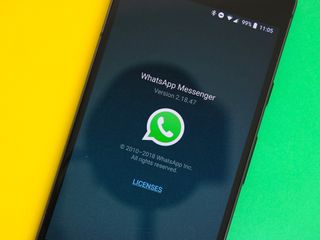 (Image credit: Android Central)
What you need to know
On February 1, 2020, WhatsApp dropped support for Android phones running Android 2.3.7 or below and iPhones running iOS 8 and below.
Users will either need to update the operating system on their phones to a more recent version or upgrade their phone to continue using WhatsApp.
The Facebook-owned app also ended support Windows Phones on December 31, 2019.
WhatsApp is one of the most popular messaging platforms in the world, and one of the most downloaded apps of the decade. However, on February 1, 2020, the Facebook-owned app decided to end support for millions of devices. The smartphones losing support include Android devices running Android 2.3.7 or older, as well as iPhones using iOS 8 and below.
The news may come as a surprise to many users, but WhatsApp announced plans to drop support for devices running older software as far back as 2017. According to CCS Insight analyst Ben Wood, WhatsApp had no choice but to drop support for devices running old and outdated software to ensure the security of its service.
It isn't the first time WhatsApp has pulled support for devices with outdated software, on December 31, 2019, it stopped working on Windows phones. Unlike Windows Mobile users, at least some iPhone and Android users will have an option to update their software to continue using the app. However, if you find yourself using an older device that is no longer eligible for software updates, your only choice will be to upgrade to a new phone.
Another option would be to download the desktop app for either Windows or Mac OS. However, that won't do you much good if you don't have a computer, or for keeping in contact with friends and family on the go.
I don't think that significant a proportion of the populace is affected by this measure. Android 2.3.7 would be Android Gingerbread which I last heard was on about 0.3 % of Android phones. Over 90 % of iPhones are on iOS. 12 and 13. The number of people using iOS 8 worldwide is 1.8% of smartphone users.(9% of 700 million iPhone users out of 3.5 billion smartphone users in the world)

I think you'll find most of the people on those old Android versions most likely use SMS over WhatsApp anyway.

This is sort of click bait-y...Dropping support for Gingerbread and the earliest parts of ICS on Android is not "millions of users", likely the same for iOS 8 and below. Your headline should have been something like " WhatsApp cuts support for older Android and iOS devices. Then, though, I probably wouldn't have "clicked" on it and felt compelled to leave this comment. See what I did there? Looking for writers? I'd love to work in this field, seriously.

Whilst I agree with you that the title is click bait-y, it literally *is* "millions of users". According to Google themselves, the official figures for Gingerbread is 0.3%, and the total number of active users are 2.5billion. So if you do the math, that equates to 7.5million Gingerbread users.
Android Central Newsletter
Get the best of Android Central in in your inbox, every day!
Thank you for signing up to Android Central. You will receive a verification email shortly.
There was a problem. Please refresh the page and try again.