What's your favorite thing about the Galaxy S21 so far?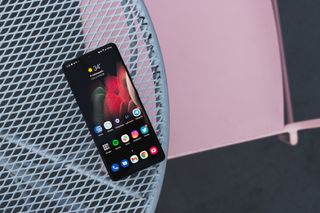 (Image credit: Hayato Huseman / Android Central)
Today is officially Galaxy S21 launch day, but if you were among those that got your pre-order in right out of the gate, chances are you've already received your new phone and have been playing with it for a couple of days.
As you've likely noticed by now, there's a lot to like about the S21. The 120Hz AMOLED display is stunning, Qualcomm's Snapdragon 888 allows for insane performance, and the whole software experience offered by One UI 3.1 is darn impressive.
Taking a look through the AC forums, here's what a few of our members have to say:
Now, we want to hear from you — What's your favorite thing about the Galaxy S21 so far?
Joe Maring was a Senior Editor for Android Central between 2017 and 2021. You can reach him on Twitter at @JoeMaring1.
The price. Telling everyone loud and clear not to pay for tiny year on year iterations, and to wait for the FE option they will doubtless come out with later in the year.

Now that they took away sd card expansion, NOTHING. I'll stick with my ZTE AXON 10 pro. A phenomenal device.

I've been saying it since the s10 year and note 10 plus.....that year was the last good year for phones. Unless you're like oneplus but for the big boys apple and Samsung they have officially gone downhill, especially Samsung. Since then they've just been taking away and taking away....and the price relatively stays the same......why? Nah scratch all that. They can keep their trash.

I'd say the Note 20 Ultra was an improvement but agreed on the S phones. You ran out of ideas after the S10, other than Fast Refresh on the S20. Big deal the S21 has a faster processor, they also took a load of things away too. Waiting for the S22 in the hope they fix it.

I have base model S21. I don't use cases. Feels SO good in the hand. Thin. Quality. Yes, the plastic back still feels like quality. I love the way the back feels. The stainless steel edges.
and it's FAST! wow is this thing fast.
The camera is better than the reviewers pictures I've seen. But, I won't call the camera amazing or anything. it's as good as most modern smart phone cams. iP12 etc
I bought unlocked from Samsung direct. No bloat outside of Netflix app. The software is fantastic, the best UI / software ever from Samsung.
Best phone since OG Moto X
Love it.

Feels so good in the hand is such a silly phrase. Where else would it feel good? Feels good is enough surely.
Android Central Newsletter
Thank you for signing up to Android Central. You will receive a verification email shortly.
There was a problem. Please refresh the page and try again.