What's in Andrew's bag: All the gadgets I need every day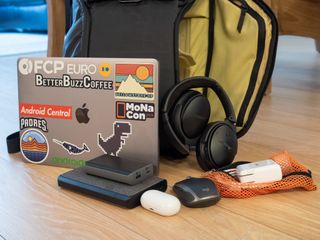 Whether I'm just stepping out of the house for a few hours during the week or heading on a several-day trip, I want to be prepared for anything that comes my way. That means having a bag that's filled with tech and accessories that help keep everything in my life running smoothly, and make sure I can also do my job on the road just as well as I do back at home. With how much I travel, I don't have patience for low-quality or compromised gear; this is everything that I've picked to carry with me with years of real-world use to draw on.
Yup, I carry a lot
If that seems like a lot of gear to carry on a regular basis, you're right — it really is. But I don't carry it all every single time I head out; some things are locked in every time, but others are for specific use-cases.
I'm guaranteed to be carrying my Peak Design Everyday Backpack (opens in new tab), with my MacBook Pro 13 (opens in new tab), Anker wall charger (opens in new tab), Aukey cables (opens in new tab) and Mophie Powerstation battery inside no matter what, plus my Bose QC35 headphones (opens in new tab) on my head. But everything else is situational — my needs for photography, recharging devices and getting work done demand different accessories, and I pack for the day as needed.
Regardless of the exact equipment list in my bag on any given day, one thing that remains constant is that I can look to and rely on all of the gear here — it's what I use and trust the most.
Android Central Newsletter
Get instant access to breaking news, the hottest reviews, great deals and helpful tips
Andrew was an Executive Editor, U.S. at Android Central between 2012 and 2020.
Thank goodness I don't have to deal with carrying around so much crap every day. Just a phone and that's it. Side note: Is AC just basically a giant site disguised as a "news and info" site but with 90% of their "articles" being just fake stories used to sell more crap?

Fortunately the sales articles are pretty easy to identify and if you don't like them you can just not click on them. Also, if you don't like them, you certainly shouldn't comment on them because that just encourages them.

How did you ever survive before all this latest technology? Oh wait, I guess you aren't that old.

Now that's funny... I dunno, maybe being in the tech industry has something to do with it?!?

Who's Andrew and why do we care what's in his bag? Is he really that important that anyone would really care what he carries around with him?

I think they copied it from the Verge. It's really good!

Is your opinion that important that anyone would really care? Judging by your post you're a moron.

If you don't care, I recommend not clicking on the article.

Lots of hate today in the comment section... I enjoy these posts, keep um coming. It is surprising not to see more Chromebooks being carried since there aren't many decent Android tablet options.

So, Andrew, Mac OS is your preferred OS? What about iOS? Are you a secret Apple Fanboy?

So what if he is. Does it harm you in any way? ;-)

I like Android and iOS...I like both, what's your point?

All comes down to preferences! I have a 2012 MBP 13 inch
Ipad
Google Pixel 3XL Do I favor one OS over the other? Since my first smart phone, I have enjoyed android OS.
When I purchased my tablet, I grabbed an Ipad cause it was sturdy, got regular updates, and simply works. It is going on 3 years old and still fits my needs. My guess is that as a tech journalist, he is keeping his options open.

Blah blah blah.......yada yada yada......
Android Central Newsletter
Get instant access to breaking news, the hottest reviews, great deals and helpful tips
Thank you for signing up to Android Central. You will receive a verification email shortly.
There was a problem. Please refresh the page and try again.