What you need to watch live TV on NVIDIA Shield with Plex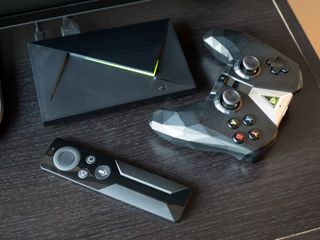 Plex's big recent announcement was that finally you can use it to watch live TV as well as record it. Throw in all your own media collection and you have a pretty complete package.
The NVIDIA Shield Android TV is one of the finest boxes out there for running Plex. It's capable of being both a server and a front end client, among all the other great things you can do on a Shield.
If you're looking to get properly set up for using your Plex-powered Shield for TV, here's what you need.
Hardware
The first thing you need, of course, is a Shield TV. If you're running your Plex Media Server on a separate PC or NAS box, then the regular 16GB model will be just fine.
If you're using it also as a server, then you might find more benefit from having the 500GB Shield TV Pro, since that additional built-in storage might be beneficial to you.
You'll also really want the Shield TV remote (opens in new tab) if you're using the older model that didn't come with it in the box. The controller is OK, but it's not exactly the ideal TV input implement!
See at Amazon (opens in new tab)
The second bit of hardware you need is a tuner to gather the TV signal and feed it into Plex. Initially, you'll need an HDHomeRun from SiliconDust. These are readily available in different corners of the world and aren't particularly expensive.
The HDHomeRun is basically a box that connects to your TV antenna and your local network via Ethernet. It takes the TV signals and then redistributes it over your home network to be used with a variety of apps and services like Plex. For folks in the U.S., there's also the HDHomeRun Prime which supports Cablecard, if you're just shaving the cord rather than cutting it.
See at Amazon (opens in new tab)
Plex has plans to support more tuners in the future, including some that will attach to the Shield directly through USB.
Software
Before you get going with anything, you need to have a Plex Media Server set up. Whether you're doing it on an NVIDIA Shield or a separate PC, NAS, or even Wi-Fi router elsewhere, the process is very straightforward.
The guides linked below will get you up and running.
To watch Live TV, you also need the Plex app for Android TV and a Plex Pass subscription. If you're using Plex at all, the Plex Pass is a no-brainer. It gives you access to the best features, as well as giving you newer ones at no extra charge.
Eventually you'll be able to use the Plex app for Android phones and tablets to watch TV, but the initial support is limited to Android TV. Chromecast will also be supported in the future, allowing you to cast live broadcasts to your television set without the need for an Android TV box.
Setting up DVR
DVR is another part of the Plex Pass and it's the secondary part to completing your live TV experience on Plex. It also became available before you could actually watch TV, for whatever reason.
There's now a front end to it, so when you're watching TV in Plex on your Shield, you'll also have the options available to record a show or an entire season, as well as watch them back alongside any of your other Plex content.
Set it up once on your Plex Media Server and you'll not need to look at it there again. Not unless you want to!
That's what you need to get started with Plex and live tv channels, now go forth and watch to your heart's content!
Questions?
Let us know in the comments below.
Android Central Newsletter
Get instant access to breaking news, the hottest reviews, great deals and helpful tips
Do NOT buy the Shield TV remote that is linked in this article. That is the old version which sucks. Seems like Amazon doesn't carry the newer version. I've tried to find it and no luck.

I wish they gave more set up instructions with not just HD Homerun. What other TV tuners can you use. HD Homerun only works with a cable card what about if you have AT&T Uverse cable...

This guide is 100X better and accurate than anything AC will ever do: http://nvidia.custhelp.com/app/answers/detail/a_id/4471

What is meant by, "If you're using Plex at all, the Plex Pass is a no brainier"? I've used Plex for free to send video to my Chromecast for years (Plex server on Windows > select show in Android app > play on Chromecast) and the only thing I can see that the Plex Pass would offer me is streaming while outside of my home network, but that would tear through mobile data, so there's no chance I'll be doing that. Is there something others are doing with the Plex Pass that I'm not aware of? (Aside from the newly-available TV/DVR features.)

So, this method certainly works, but if you just want to watch Live TV with your HD HomeRun and Shield TV, there is absolutely no need to use Plex. Shield TV has a Live TV app that works perfectly with HD HomeRun and it has a DVR built-in.

Also, the live TV app actually has a program guide and decent interface for television as well as the ability to create channels from other sources such as streaming apps.

I know it's obvious for those that already use an antenna but for those that don't, keep in mind that the sort of channels you can get and the quality vary wildly depending on where you're located and what's immediately surrounding you. There are a number of sites out there that can give you a solid idea of reception in your neighborhood, and it's driven by all sorts of things like line of sight to a broadcast tower, elevation, buildings adjacent to you, what your house is made of, etc. Also, depending on just how badly you want a given channel you might be fiddling with antenna direction.
It's pretty old school. Live in the right location, it makes sense though.

I use Plex every day and the software side of the setup is not a problem for me, but the hardware, i mean the HDHomeRun, i'm not familiar with this sort of devices, does it work outside USA? it looks like it get the signal from the cable and then transfer it to your network. I don't care if it won't grab the info i need from my cable ( guides and schedules), i just want to get my channels into my Plex server.

The funny thing is you don't even need to have Plex installed to use HD Homerun device and Android TV to stream live channel TV.
Android Central Newsletter
Get instant access to breaking news, the hottest reviews, great deals and helpful tips
Thank you for signing up to Android Central. You will receive a verification email shortly.
There was a problem. Please refresh the page and try again.