What you need to watch live TV on NVIDIA Shield with Plex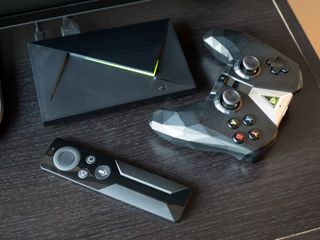 Plex's big recent announcement was that finally you can use it to watch live TV as well as record it. Throw in all your own media collection and you have a pretty complete package.
The NVIDIA Shield Android TV is one of the finest boxes out there for running Plex. It's capable of being both a server and a front end client, among all the other great things you can do on a Shield.
If you're looking to get properly set up for using your Plex-powered Shield for TV, here's what you need.
Hardware
The first thing you need, of course, is a Shield TV. If you're running your Plex Media Server on a separate PC or NAS box, then the regular 16GB model will be just fine.
If you're using it also as a server, then you might find more benefit from having the 500GB Shield TV Pro, since that additional built-in storage might be beneficial to you.
You'll also really want the Shield TV remote if you're using the older model that didn't come with it in the box. The controller is OK, but it's not exactly the ideal TV input implement!
The second bit of hardware you need is a tuner to gather the TV signal and feed it into Plex. Initially, you'll need an HDHomeRun from SiliconDust. These are readily available in different corners of the world and aren't particularly expensive.
The HDHomeRun is basically a box that connects to your TV antenna and your local network via Ethernet. It takes the TV signals and then redistributes it over your home network to be used with a variety of apps and services like Plex. For folks in the U.S., there's also the HDHomeRun Prime which supports Cablecard, if you're just shaving the cord rather than cutting it.
Plex has plans to support more tuners in the future, including some that will attach to the Shield directly through USB.
Software
Before you get going with anything, you need to have a Plex Media Server set up. Whether you're doing it on an NVIDIA Shield or a separate PC, NAS, or even Wi-Fi router elsewhere, the process is very straightforward.
The guides linked below will get you up and running.
To watch Live TV, you also need the Plex app for Android TV and a Plex Pass subscription. If you're using Plex at all, the Plex Pass is a no-brainer. It gives you access to the best features, as well as giving you newer ones at no extra charge.
Eventually you'll be able to use the Plex app for Android phones and tablets to watch TV, but the initial support is limited to Android TV. Chromecast will also be supported in the future, allowing you to cast live broadcasts to your television set without the need for an Android TV box.
Setting up DVR
DVR is another part of the Plex Pass and it's the secondary part to completing your live TV experience on Plex. It also became available before you could actually watch TV, for whatever reason.
There's now a front end to it, so when you're watching TV in Plex on your Shield, you'll also have the options available to record a show or an entire season, as well as watch them back alongside any of your other Plex content.
Set it up once on your Plex Media Server and you'll not need to look at it there again. Not unless you want to!
That's what you need to get started with Plex and live tv channels, now go forth and watch to your heart's content!
Questions?
Let us know in the comments below.
Get the Android Central Newsletter
Instant access to breaking news, the hottest reviews, great deals and helpful tips.