What LIFX lights or bulbs should I buy?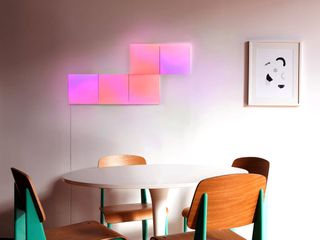 LIFX's collection of smart lights is one of the easiest ways to start crafting a connected home. It's not just about crazy colors and mood lighting — with the ability to control your lights from your phone or voice assistant, LIFX products are convenient and energy efficient, too. The Color A19 is a great fit for most people, but there are plenty of options to choose from.
Accent lighting is cool, too
Smart bulbs are more practical, but accent lighting is a great way to get more creative with your lighting by giving you the freedom to put interesting shapes almost anywhere on your wall — provided there's an outlet nearby. These products emit a ton of ambient light, often getting even brighter than LIFX's bulbs.
Stylish strip
The LIFX Z is an LED strip you can adhere along the edges of your desk or TV stand to emit a sleek mood light that, like the bulbs, offers a wide range of colors and controls. You've probably seen lights like these in various sets on vlogging and tech channels!
Accent lighting
If you'd rather mount your lights on a wall than in a lamp, the Beam is a collection of foot-long rectangular bars that can display multiple colors simultaneously. They're more than bright enough to light up a room, with a combined 1200 lumens from six Beams.
Square panels
Tiles are an artistic way to light up a room, with the ability to display animated gradients through its 64 zones per panel. Each pack includes five Tile, which you can arrange any way you like and easily adhere to the wall with the included 3M strips.
Smart bulbs are fun, easy to use gadgets
Smart bulbs are one of the easiest ways to get into the connected home space. They're simple to set up, don't require too much personal information, and work with most smart assistants. Plus, with millions of colors and configurations to choose from, you can light your home in a way that suits you. Setting up those routines can then help you move onto bigger and more complex smart systems. LIFX is a great brand to check out because there are a lot of bulb options.
There are plenty of great ways to brighten and color your home with LIFX bulbs. The Color A19 is the simplest way to do so — I've been using them around the house for years — but the LIFX+ is an even better option if you have a night vision security camera like a Ring Doorbell or Nest Hello. It emits infrared light that's invisible to the human eye but illuminates cameras as if it were broad daylight.
If you're looking for accent lighting, however, you're going to want to look elsewhere. I'm a big fan of the Tiles, which can be arranged any way you like and have even gained some basic touch controls through software updates for more easily turning them on and off and switching color themes.
Get the Android Central Newsletter
Instant access to breaking news, the hottest reviews, great deals and helpful tips.
Hayato was a product reviewer and video editor for Android Central.