What smartphone do you plan on buying in 2020?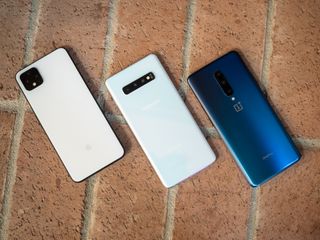 (Image credit: Andrew Martonik / Android Central)
We're in the very early days of 2020, but even so, we already have a fairly good idea of what to expect from the smartphone landscape over the next 12 months.
Samsung's Galaxy S11 lineup will be here in just a couple of months, Google is expected to drop the Pixel 4a sometime in May, and the OnePlus 8 is on the horizon, just to name a few.
Some of our AC forum members recently started talking about potential phone purchases they'll be making in 2020, with the highlights being:
Now, we want to hear from you? What smartphone do you plan on buying in 2020?
Joe Maring was a Senior Editor for Android Central between 2017 and 2021. You can reach him on Twitter at @JoeMaring1.
None, launch OnePlus 6T still feels fresh out of the box. First time I'm going to actually have a single phone for more than 2 years.

Probably iPhone. 2 years of support for a still great S8 Active is ridiculous. Sick of Samsungs garbage support. Pixels are not on my radar at all as lackluster battery life is not for me.

Like others- Ive been a slave to having the newest phone for far too long. Until foldables are perfected, Im going to see how long this note 10 will last me. Pretty damn good phone. No sense getting another candy bar phone to replace a good one.

I feel the same way about the s10plus. Why replace a great phone for another? All the premium features all rolled up into one. It's got so many features it makes me punch drunk, yikes!

Pixel 4xl, but not at full price. I will never buy another phone at full price again. Too many sales now.

I have the S10+ and most likely going to upgrade anyways to S11+ only if Samsung keeps giving out the great promotion of trading in the phone. Normally they give out $600 for the phone to trade-in. Also, may opt for the iPhone 12 coming this year depending on what they do. If they put USB-C and remove that notch, I may switch over.

Same here. This is the only phone worth updating to in 2020 imo. If you're not going to give me anything new, I might as well keep my current phone.

Still happy with my Nokia 8 Sirocco.

I haven't had a Samsung phone in years. The last one was the S4. Im seriously considering the mid-range A50. It's starting price is $350 and the specs will meet my needs admirably. Heck I might even buy it from Verizon.

Pixel 4a or Samsung S10 lite. High end phones are overkill these days IMHO.

What do I do with the old one?

To be about two seconds faster... None!!

I'm planning on going iPhone simply because of Android fatigue. I really like my current Pixel 2 XL, works great, but I'm getting bored with Android in general after all these years. I did just buy a Chromebook so I will still be experiencing Android though.

The next Sony Compact, if they release one, otherwise likely a Samsung 10e unless I can hold on a little longer for another decent sub 6" screen with removable memory that works on Verizon.

Note 11 Plus or whatever it is, I'm just hoping this isn't the year they drop the Note Range.

Holding on most likely to my S10 plus because its awesome. Hole punch and all.

Nah, very happy with my s10+ & pixal 3a XL. I luv using both. For myself the best of both world's!
Android Central Newsletter
Get the best of Android Central in in your inbox, every day!
Thank you for signing up to Android Central. You will receive a verification email shortly.
There was a problem. Please refresh the page and try again.