The future of Android TV is less hardware, more YouTube TV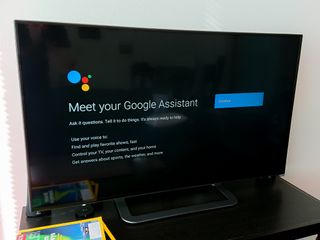 (Image credit: Android Central)
We're rapidly approaching that time of year where we hear more about what Google wants the next stage of its platforms to look and feel like. While all eyes are focused on the next flavor of Android on phones and tablets (and maybe even Chromebooks) you can bet Google is going to continue its efforts in the living room. While Google's Chromecast platform continues to be explosively popular, Android TV has yet to find the same groove.
If Google is going to grow the living room experience into something more than just a phone-controlled platform, I think a combined hardware and software refresh is in order.
A box you hide behind the television
Chromecasts are responsible for a lot of industry firsts, but the one big "feature" you see everywhere now is to dangle a dongle off the HDMI port behind your television so no one can see the wires. The ability to connect a USB cable to a port on your television so it could power the original Chromecast wasn't recommended, but it was effective as a "set and forget" device. Fast-forward to today, and HDMI dongles from Roku and Amazon are aggressively pushed as alternatives to the ridiculously popular Chromecast family of products.
If this works with a Chromecast, why not Android TV? We recently saw news of such a dongle passing through the FCC with a giant G across the body, and I think that's the right way to go with this platform. For those Android TV users who don't need 1TB of local storage attached for media or games, a 4K dongle with access to all of the Android TV apps is all you really need. Just be a really good streaming box I never have to look at or think about, but know it's there when I need it.
I'm one of those people who is perfectly happy to use my phone to control my Chromecast at all times, but I know plenty of people who want a good ol' fashioned remote control to navigate all of these experiences. Fortunately, the Android TV "lean back" UI is already really good at this. Set up this now-invisible Android TV box so HDMI controls flip to that input when I press a button on the remote, and maybe a separate toggle to flip back to the previous input when I'm done, and I can see a lot of people being very happy with this experience.
But really, what a new Android TV device needs more than anything else is a compelling price tag. For what I use Android TV for, most of these boxes are too expensive. I think the NVidia Shield Android TV player is great for what you get, but I don't need another game console. With the 4K Chromecast Ultra priced at $70 (opens in new tab), I think Google could make some real headway with an Android TV box priced at around $80-$90. With Apple's TV box ringing in at $150 and Amazon's Fire TV available for $70 (opens in new tab), Google could own this middle ground with a few extra compelling features. It would also be cool to see Google take a page from Amazon's playbook and offer a bundle with an HD antenna (opens in new tab) included for cord cutters, but keeping it all under $100 is the key I think.
Blow me away with software
Google's "lean back" UI does a great job offering big buttons with easy-to-read text and some great auto-play capabilities, but it's time for Android TV to become a whole lot smarter than it is right now. If Android TV is going to be seen as a step above the Chromecast, it needs to feel like a unified experience and actually deliver on some of the promises we've heard from all of the connected box companies over the years.
I want a single UI for all of the shows I watch across all of these services, something Google gets closer than most to pulling off when set up correctly. Give me the list of shows I am watching, and pull the latest episode from whichever app has it. I don't need to be taken to the Hulu app to choose from a list of options. I want to turn on my TV, see the next episode of The Flash is ready to watch, and immediately start watching it as soon as I hit play. The "lean back" UI from Google gets close to this already, I'd like to see it get a little smarter to keep the momentum going.
Any mention of a new Android TV is going to include Google Assistant, and I'm very excited by this. Google's current efforts to control a Chromecast through Google Home is admirable, but not quite as functional as it could be. Basic things like movies I have rented in Google Play are frequently difficult for Assistant to find, and I want the next wave of Android TV to fix this. With deeper access to the titles and shows I say are important to me, I'd like Assistant to not only be better able to recognize shows when I ask for them but also be able to tell me when I'm not at home and ask what new shows are available.
Finally, I think Google has a unique opportunity here to make YouTube TV do some things it can't do elsewhere. It would be cool to see YouTube TV interact with an HD Antenna through YouTube TV, and treat this secondary input the same as streaming video from the paid service. If I have access to channels through my HD Antenna that I can't get on YouTube TV, I would like to be able to watch those channels from everywhere and maybe even have access to Cloud DVR for those channels. It also wouldn't suck to be able to flag certain Cloud DVR recordings for different family members, maybe with notes attached so when my spouse sits down to watch something there's a little pop-up from me saying something positive about that episode.
Eager to see more at Google I/O
If the FCC teaser we got last week wasn't enough to assure we're going to see something Android TV related at Google I/O, the "What's new with Android TV" session on the first day of the conference seals the deal. As for when we will see these new things out in the real world, who knows! Google may take to the stage and say a new Android TV box is at your local Best Buy right now, like they have done in the past. On the other hand, it could be these new gadgets and the accompanying OS updates are going to be made available alongside the next major Pixel release.
What do you want to see in Android TV? Share you thoughts in the comments!
Android TV needs a lot of love. Got a new, high-end Sony TV last year, and Android TV is the baked-in smart TV control. The interface seems a bit outdated, and some of the apps desperately need updating. The Hulu app on Android TV is very outdated (compared the snazzy new version on Xbox and Android phones). I sent Hulu a message asking about updating the Android TV app, and their response was they had no current pland to update the app.

That's why I hate smart TVs. I'd rather have a high end dumb TV (which you can't even buy anymore) and then use a Roku.

Well, mine has all these smart features. After first configuration (e.g. turning off all the "image optimizers" which make the image worse and add to input lag, i never used the remote again. It turns on when it gets a signal over HDMI, and i turn it off via the main switch in my living room. All functions i use (Netflix, youtube, gaming) are done on my PC, the TV is just a larger computer screen for me.

Lol @ snazzy...I want to revert mine back to the previous version on my Xbox but idk how... The old interface on my mibox is so much easier to navigate than this newer one

I have an NVidia Shield that uses Android TV. I'm SO happy that they haven't updated Hulu yet. The new version definitely looks pretty, sure, but the old version is so much easier to use and requires less clicks to get to what you want. Two clicks to get to your personal watchlist vs about 5-6 for the new version.

I think my LeEco x55 does all this stuff already. It has a voice remote that works fine. My only issues are Amazon and Directv Now refusing to support Android TV and Google in particular. Not too fond of Oreo Android TV since the new features are only supported by Google apps. YouTube TV works great on it and as more channels support it the app shows upcoming shows and movies/ tv series available to stream. I do doubt if much more integration is possible due to the industries vertical integration. Most big companies appear to be trying to put Roku and Netflix out of business.

I think you covered most of it. I'd also like to see a Live Channels guide integrated with a week of future programming for a combined OTA guide, YoutubeTV guide, and DVR recording. Additional controllers could be offered for light gaming.

UI looks ripped off of Xbox.

Maybe slight similarities with the latest Xbox dashboard, which was updated in 2015/16. The photo of the lean back UI in this article is the original version that launched with the Nexus Player back in 2014.

At least 1 USB port would be nice, but that's for boxes, not dongles. Cloud DVRs usually come with monthly costs. If they allow good network file access like DLNA and NAS support, no local storage might work. I like the options the USB ports on the Nvidia ShieldTV give me and I think I would miss them on a dongle. It would also need to do Youtube HDR like the Chromecast Ultra because the ShieldTV can not.

Using your phone as a remote is fine for Chromecast, but with the Android TV "lean back" UI, give me a traditional remote. In fact the only time I even use a Chromecast is those rare times when my Nexus Player doesn't offer what I need - usually browser only content.

I love my Chromecasts, but Android TV needs a decent box with a good remote.

That's the Nvidia Shield.

I have 2 mii boxes and a Sony Bravia with androidtv. I find it annoying trying to use assistant to open youtubetv, it opens YouTube instead. I have to switch off the voice search for YouTube to get the youtubetv to work...this sucks cuz my kids watch alot of YouTube.

I knew someone would respond with that and that is not what I'm talking about. 1st party, not gaming centric, considerably lower cost, etc, etc.

The Shield doesn't have to be gaming-centric, if you don't want it to be. Take that (massive benefit) out of the equation, and you're still left with one of the best streaming boxes on the market, with a great remote, decent design, 4K HDR, and priced in-line with its chief competitor, the AppleTV. If the Hulu app wasn't such an unreliable POS (ignoring the design - the app is terrible lags, buffers, takes forever for quality to step up, etc), it would honestly need nothing. Granted - knocking another $50-$70 off of the price would spurn the sales needed to really make AndroidTV take off, but I don't think there's anything wrong with the price as-is.

I have a LeEco X43. I hate LeEco's modified version of the leanback launcher. The background is ugly, and I have rows of icons for bloatware that I'll never use (did Sling TV really need to be baked in? I don't subscribe to it and have no plans to). I'd love to replace it, but I can't. And considering that LeEco as a company seems to have mostly disappeared (no updates in over a year), it will probably be stuck on Marshmallow forever. And to many TV app developers, Android TV is low priority. My solution was to get a Roku Streaming Stick+. Works great, and I know I'll have updated apps.

The problem with Android TV is Google doesn't take it seriously. The major attraction to Android TV is Google doesn't take it seriously, and allows apps like Kodi, Mobdro, and Terrarium TV to flourish.
Android Central Newsletter
Thank you for signing up to Android Central. You will receive a verification email shortly.
There was a problem. Please refresh the page and try again.