What do you like the most about Google's Pixel phones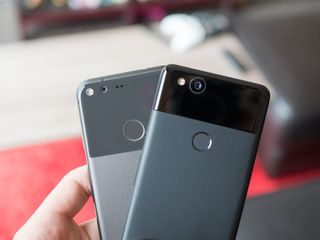 Although Google's Pixel series was faced with some initial backlash from Nexus loyalists, it didn't take long for most everyone to realize that Google had crafted something special with the original Pixel and Pixel XL. The phones offered the best Android experience around, and when you added that together with the stellar camera, solid displays, etc., you ended up with a fantastic package.
Google improved even more on these strengths with the Pixel 2 series, and when the Pixel 3 comes around this October, we're anticipating more of the same great things.
Why is it though that so many people are enthralled with the Pixel lineup? Phones like the Galaxy S9, LG G7, and OnePlus 6 are far more enticing in some regards, but even so, Google's Pixel phones remain unshaken.
We decided to check in with our forum users to see what they had to say on the matter, and these are a few of the responses:
Now, we'd love to hear from you — What do you like the most about Google's Pixel phones?
Joe Maring was a Senior Editor for Android Central between 2017 and 2021. You can reach him on Twitter at @JoeMaring1.
Camera, battery life, clean software, unlimited full-res uploads to Google Photos, and the best customer support ever. The last two help justify the price for me. The Pixels are truly a class leading phone.

Don't know about you but customer support has been a nightmare here in India. No matter what you do, they just don't care. I've had quite a few issues with my Pixel 2

Did you even read the title?

I'm sure they did read the title, they were directly replying to another poster about a specific point they made. Not sure why that's wrong?

Funny that the guy who makes the snide comment has the screen name "bnice" . . 🤷‍♂️

Definitely it's camera and the fact it's stock OS is optimized with the hardware to run smoother. However, their front designs can be greatly improved. Especially the upcoming rumored leak of the Pixel 3 XL.

What I like most about the pixel is the software. I think it's more consistent and fluid when it comes to the pixel line of phones.

The overall performance, camera and updates are what sold me. That said I will be buying the regular size Pixel next year (2019). The XL is just too unwieldy for me, I don't watch much video on my phone so the extra screen real estate is not a benefit for me.

I don't think there is any question the camera & software are the pixal's best attribute's. The display is another story. If I was Google I would have Samsung produce the OLED panel, at all costs! Plus, make the pixal's available on all carrier's.......

The display issues were fixed by Google via a software update and if you have a 2018 model of the Pixel 2 XL like I have.

To me, the Pixel line has the best experience for Android. The software is fluid, fast, and stable with no fluff. The camera is great as well. I have an OG Pixel (purchased Dec 2016) and I haven't done any resets of software since having the device! I love that I have full support from TMobile even though it's an unlocked device, I can still take advantage of their features for cellular service. Google has done a great job with this line and my next device (when I am ready) will most definitely be in the Pixel family!

That they are easy to root and recover. Because I am able to easily root I can block ads and bloat from my phone really easy and because they are easy to recover I can always flash a fresh copy of Android onto it to keep it fast and responsive and choose which version of Android I run (the current version is seldom the best version). I don't actually like the hardware all that much compared to several other phones out there but the software part of it keeps me hooked.

Simplicity, functionality and presentation. All three of these work together extremely well across many of Google's products. The smartphone is still the centerpiece for smart products so it makes sense for the Pixel to work so well with the rest of Google's products. Services and apps are available if you want them, not pushed in your face and making you jump through hurdles to avoid them.

That alternatives are available.

Yep and I bet every person here has tried many of them before settling on the Pixel.

There are alternatives but Google is better.

It just works. It's snappy, takes great pictures, the software is butter....it tackles every task I set before it with ease. As much as I will WANT the 3XL, this is the first time in a long time I don't see anything coming that makes me feel that I MUST have a new phone. Hoping to hold out for the Pixel 4XL in another year.

I have the Pixel XL and my mom has the smaller Pixel (I bought her's first and it convinced me to get one for myself). I bought my dad a Pixel 2 XL a few months ago when his Note 4 crapped out. I like how clean and simple everything is. It looks very "professional" (I find that Samsung's UI looks cartoonish after using the Pixel for so long). The camera takes awesome pictures for the most part (concert pictures were still better on my Note 4 because Samsung has more granular controls for camera settings). I like getting updates on a regular basis. Most of all, I'm almost done with my device payments and I find I'm not eagerly awaiting an upgrade. I'm going to hang on to this phone probably until I physically break it. As another user mentioned, the free and unlimited full-resolution backup of all of my pictures is a great addition to the Pixel experience. It doesn't hurt that Verizon gives me 2 free GB of data per month for each of the OG Pixels (part of the promo when I bought them)

I like the camera and the fact that I get quick OS updates for a couple years. It is insane that companies take 6 months to a year to release an update.

I had the OG Pixel for 12 months and it's the only phone I've owned that was as good after 12 months as it was after12 days.
Apps just seemed to work better.
From Android Auto to YouTube it never slowed down, stuttered or froze.
Past it on and it's still running like new.

Actually I don't like it. to me it's just another copycat of apple (which we don't need more of) and the Pixel 3 concept just proves it with the notch. Look at Samsung , BlackBerry , Nokia and Motorola. They not be the the most powerful or full stock android in cases but they at least try to be original.
Samsung has the curved display. BlackBerry has the Keyboard. Nokia has the durability. Motorola has the mods. I'm not saying I hate the Pixel phones in all fairness they are great phones but I just don't like them because all I see them as is just android versions of an iPhone which we already have a lot of in the Android world from other developers. I just wish Google would come up with there own idea.

Google does the hardware and software, that's unique in Android.
If you want a simple fast and reliable phone that's going to be as good after 12 months as it was when new the Pixel is the closest thing you can get IMO.

That's the point of the Pixels they're meant to be the Android version of the iPhone in fluidity,, simplicity and perfect which it actually beats the iPhone in now andat's a good thing.

I've been waiting for this topic now I have a Pixel 2 XL, what I love about it is everything from the clean, bloat free software to the amazing camera along with unlimited storage for photos and videos in full resolution, plus great battery life which I easily get 7 hours on screen time, the most of any high end Android phone ever.
Android Central Newsletter
Get the best of Android Central in in your inbox, every day!
Thank you for signing up to Android Central. You will receive a verification email shortly.
There was a problem. Please refresh the page and try again.