All the phones we saw at Mobile World Congress 2017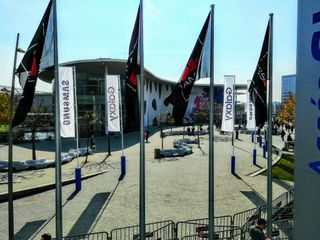 (Image credit: Android Central)
Mobile World Congress has always been a fantastic place to get an early look at many different phones that aren't quite here to buy yet. Every year is a little different, but the general theme is the same. Our team on the ground has run from meeting to meeting in search of all the great new phones to share with you, and this year that list is pretty great.
Take a look at all of the phones we've spent time with so far!
BlackBerry KEYone
BlackBerry is dead. Long live BlackBerry Mobile! The new brand has made a big splash by focusing on the things that everyone remembers BlackBerry phones being great at, while remaining modern and interesting. This is the phone we saw back at CES codenamed Mercury, and now we have a lot more information and some real time to get to know the new KEYone.
Check out our hands-on with the BlackBerry Mobile KEYone!
LG G6
As the big brand on campus this year, and after such a problematic launch last year, LG's G lineup badly needed a hit. The new G6 has kicked the modular habit, ditched its Friends, and is really just focusing on itself right now. It's the first phone from LG in a long time to rock glass on both sides, and rocks an unusually tall display to pack in more information and look pretty slick in the process.
Read our LG G6 initial review!
Sony Xperia XZ Premium and XZs
There are no other phones out there right now that look quite like a Sony phone. The Xperia lineup has always had a unique thinness and style to it, but the new XZ Premium and XZs continue the trend of mirrored finishes, anodized aluminum and ridiculously high resolution displays. They are both exciting phones, but U.S. buyers will continue to be disappointed by the lack of a fingerprint sensor.
Take a look at our hands-on with Sony's new Xperia phones
Moto G5 + Moto G5 Plus
Lenovo is keeping its promises and the Moto brand remains alive and well. On top of a look at some [great Moto Mods](/motorola-launching-alexa-powered-speaker-moto-mod-amazon in development and in funding stages, we also got an extended look at the new Moto G5. The budget Moto phones have always been great for pushing the envelope on quality for the price, and this new version continues to uphold that standard. It's an early breakaway for the top spot for best budget phone this year, and it's only February!
Our Moto G5 hands-on lives right here!
Alcatel A5
You can always count on Alcatel to bust out something quirky that no other company would dare do. Last year, that thing was making the box to its phone a VR headset. This year, Alcatel is taking modularity to the budget space with replaceable backs that offer all sorts of new features. It's not clear just how useful some of these replaceable backs are just yet, but the phone still manages to look great no matter what is connected to it.
This Alcatel A5 looks like it is on fire
Nokia 3, 5, and 6
That's right, we get a new BlackBerry and new Nokia phones this year. And they run Android! Neither of the three phones have particularly clever names, but the numbers are easy enough to remember. The Nokia 3 is a 5-inch low-end phone, the Nokia 5 is a 5.2-inch budget phone, and the 5.5-inch Nokia 6 looks like a decent mid-range experience. See, not confusing at all!
Check out the Nokia 3, 5, and 6 hands-on all together
Huawei P10 and P10+
Last, but in no way least, the Huawei P10 showed up and was shown off as a great mid-range experience while the P10+ is clearly built for people who want everything in a phone. The Kirin 960 internals are exciting, but Huawei is grabbing everyone's attention with a huge array of color options for the body. This phone comes in many different variants, and will not be headed to the U.S. at all, so take a moment and be thoroughly jealous at how spoiled for choice everyone else is with this phone.
Read more for details on the Huawei P10 and P10+
To me, the KEYone is pretty awesome and refreshing so it isn't as disappointing to me.

I never was a huge BB fan, but the new iterations (Priv included) with android look very interesting...

Agreed. I have gotten incredibly sick of Microsoft and their terrible treatment of customers. The lack of a planned 2017 Windows phone had me wanting to see what Android is offering this year, as an upgrade for my underwhelming Lumia 950 (poor build materials and quality, terrible software support). I was excited to see all the info posted here yesterday, then got supremely disappointed. Sony, much like its TVs, has priced its products way above reason, IMO. The allegation of $700 as a starting point on the XZs is nuts, and $900+ on the months-off Premium is unbelievable. Samsung is lazy and predictable with its hardware, and doesn't excite me. Motorola and Nokia are doing barely above nothing for the U.S. audience. Huwaei has a nice-looking device, but won't bring it here. HTC is absent. BlackBerry is doing something unique, but not something I want or need. The compromise on the SoC, camera, and basically everything BUT the keyboard turns me off. LG was the one I was excited to see. My cousin has a V10, and I loved their idea to texture the back--no case needed. The G5 might have flopped, but I liked LG's willingness to make bold choices and try new things. Now, the G6 is everything I hate about Samsung. It's bland, sage, and that glass back is one of the worst things in smartphone design, IMO. That, and their market-specific features is goofy. So many letdowns from so many OEMs. Ugly, bland phones abound in the market now, it seems.

The G6 is a great phone, even without the SD835. And the Huawei P9 and P9 Plus, while certainly not revolutionary, are very solid devices with great build quality and cameras.

We hear all the time that Marshmallow and micro-usb is unacceptable in 2017, but you don't mention anything about the LG G6 comes with Gorilla Glass 3!
I have no problem with Marshmallow and micro-usb, but Gorilla Glass 3 is a dealbreaker for me since I never use cover or screen protector.

Gorilla Glass 3 more scratch resistant than Gorilla Glass 4 and 5, no?

How about the new Android One, General Mobile GM 6? Will that work on Project Fi?
Android Central Newsletter
Thank you for signing up to Android Central. You will receive a verification email shortly.
There was a problem. Please refresh the page and try again.