Wemo Mini vs TP-LINK Smart Plug Mini: Which should you buy?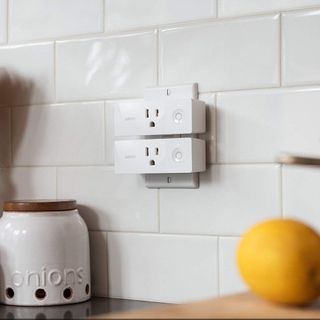 TP-LINK Smart Plug Mini
There's no denying that the TP-LINK Smart Plug Mini is one hell of a useful device. Not only does its slim, compact design stop you from taking up much space, it can monitor how much electricity and energy you're consuming from particular devices, helping you save a lot of money in the process. For Apple users however, the lack of compatability with HomeKit may be off-putting.
TP-LINK Smart Plug Mini
Check real-time energy usage
Compact design
Use to save energy/electricity
Can pair with Google Assistant
Not compatible with Homekit
No app on Windows
Wemo Mini Smart Plug
Unlike the TP-Link, Wemo is fully compatible with Apple's HomeKit. It's also very handy with automatically remembering your Wi-Fi information, meaning that no matter where you plug it, you won't have to keep putting in the data. Apple users will steer more towards this device than the TP-Link.
Wemo Mini Smart Plug
Compatible with HomeKit
Automatically remembers Wi-Fi network
Sync with sunrise and sunset
Turn appliances off from anywhere
Does not show energy consumption
Wemo app lacks a lot of features
Minimal security
Both the TP-Link and Wemo are very well-made, functional smart plugs that'll make your home life a lot easier. Both will help you with turning off different appliances such as lights, TVs, consoles, and much more. The two smart plugs also come with an app, meaning that yes, you'll have to install something in order to use them, but apart from that, set up really is easy. All you'll need is a plug, Wi-Fi, and a smartphone that is iOS or Android.
The Breakdown
Of course, there are a few differences, mostly with the information you're able to gain from the two smart plugs, and depending on what you're looking for, one can be seen as more of a hindrance than helpful. For example, the TP-Link smart plug allows you to check how much energy you're consuming, and it also provides you with the information of which device is costing you more. This is useful as it can help you effectively lower your electric bill. Tthe Wemo doesn't offer this, but is compatible with Apple's HomeKit, a must have for Apple users. As you can see, it's different strokes for different folks.
Swipe to scroll horizontally
| Header Cell - Column 0 | TP-Link Mini Smart Plug | Wemo Mini Smart Plug |
| --- | --- | --- |
| Wifi Enabled | Yes | Yes |
| Energy Monitoring | Yes | No |
| Homekit Compatible | No | Yes |
| Voice Commands | Yes | Yes |
| Hub Required | No | No |
| Schedule Mode | Yes | Yes |
| Away Mode | Yes | Yes |
| Weight | 0.98 oz | 1.92 oz |
| Length | 6.00 x 4.00 x 4.00 Inches | 3.8 x 2.4 x 1.4 inches |
Both of the smart plugs also offer a variety of similar features, such as an Away mode that was made specifically for people who aren't going to be in their house 24/7. With this feature, you can turn on lights to indicate you're inside, putting off any potential intruders.
Both smart plugs also has a useful feature for parents. According to several parent reviews found on Amazon, the option to have the power to switch a console off at one press of the button from another room entirely is one hell of a power move. With both smart plugs having this option, it's hard to say which one you should go for as both do the trick.
The Wemo and TP-Link's smart, compact designs are also something to applaud. While the Wemo weighs a little more, it's designed in a way that it doesn't take up any plug space The TP-Link also does this, but unlike the Wemo, it's much shorter in length and wider.
However, one thing that neither smart plug offers is the option to access their apps on anything but the smartphone. While this might not seem like a big deal, the chance that you're away from your phone makes it near impossible for you to access the smart plugs apps. If the smart plugs had websites, you would at least be able to access the same features on a computer, without being limited to just a phone. Another thing that bothers me is how, even with the Away Mode, security is lackluster at best. Turning off your lights while you're away to give the "idea" that you're at home is great, but the inclusion of two-step verification would have been nice.
As I mentioned previously, both the TP-Link and Wemo Mini are fantastic smart plugs. The only real differences are their compatability for different applications and information access. With that said, if you're an Apple user and need your smart plug to be compatible with HomeKit to function, then don't hesitate in purchasing the Wemo Mini. On the other hand, if you're after a smart plug that'll help you cut down your electricity bill, as well as inform you what's consuming most of your energy, then the TP-Link Mini is the obvious choice.
Impressive and smart
Take control and save money
This is a smart plug that lets you decide how much energy you consume by giving you information on its app. It's incompatility for HomeKit may put Apple users off.
Apple users delight
Everything you need in one place
This smart plug supports HomeKit, which allows Apple users to do absolutely everything by voice. Connecting this to HomeKit is easy. It's also great at remembering your Wi-Fi router, meaning you won't need to reconnect all the time.
Sign up for Black Friday email alerts!
Get the hottest deals available in your inbox plus news, reviews, opinion, analysis and more from the Android Central team.