How to use Fossil's Wellness app
Track your workouts and more from your Fossil smartwatch.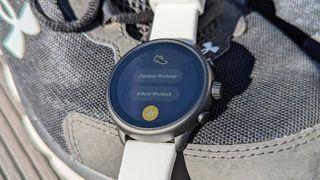 (Image credit: Derrek Lee / Android Central)
When it comes to health and fitness tracking, smartwatch OEMs tend to stick to their own methods. While the Pixel Watch has Fitbit and Samsung's Galaxy Watch uses Samsung Health, Fossil has its Wellness app. The app launched on Gen 5 smartwatches a few years back and has been a staple of Fossil's recent smartwatch launches.
Smartwatches like the Fossil Gen 6 Wellness Edition utilize the Wellness app to monitor sleep, track workouts, and more. You can even sync the data with Google Fit to ensure you have all your data from various devices in one place.
Here, we'll explain how to get the most out of Fossil's Wellness app so you can stay on top of your health and fitness.
Using the Wellness app on a Fossil Wear OS smartwatch
The Wellness app is preloaded on your Fossil smartwatch, so you don't need to download it from the Play Store. Simply open the app menu and tap "Wellness" to access the app. Here you'll find the main menu where you can easily view your stats and other options:
Activity: Allows you to track an indoor or outdoor workout or exercise.
Sleep: Shows your sleep stats. Includes your last sleep tracked as well as your daily, weekly, and monthly stats.
Cardio Fitness: Estimates your VO2 max (oxygen consumption) during activities based on resting heart rate, fitness performance, and other variables such as age, weight, and gender. Shows progress over one month and six months.
Blood Oxygen: Measures your SpO2, which is the percentage of oxygen carried by your blood. The normal range should be somewhere between 95%-100%, but this can vary based on a number of factors. Your Fossil smartwatch can automatically track SpO2 in your sleep, or you can manually check using the Wellness app.
Heart Rate: A live reading of your heart rate.
Adjusting Wellness app settings
Fossil lets you control how your smartwatch tracks your metrics. While there are a number of options in the Wellness app settings menu, there is really only one option you really need to pay attention to. To access it, navigate to Wellness > Settings (scroll to the bottom) > Account.
Here, you'll find a few options to fiddle around with:
Tracking Preferences: This lets you toggle various tracking features, including sleep, VO2 max, location, auto SpO2, continuous heart rate, and auto workout detection. Not all of these features will be available on older Fossil smartwatches.
Profile: This lets you view your personal profile, which includes your date of birth, gender, weight, and height. You can edit these entries in the Fossil Smartwatches app.
Alexa Fitness: This lets you access settings for Alexa Fitness. After you enable Alexa on your Fossil smartwatch, you can allow Alexa to control your workouts with your voice, give workout cues during an exercise, and provide a summary of your stats after a workout.
Tracking your sleep
Tracking your sleep on a Fossil smartwatch is as easy as going to sleep. However, you must make sure your watch is set to actually do the tracking. You can turn this feature on by opening the Wellness app and navigating to Settings > Account > Tracking preferences. From there, make sure Sleep is toggled on. You can also toggle Auto Blood Oxygen so the app can monitor SpO2 while you're asleep.
The app will track your various stages of sleep, including light sleep, deep sleep, and times when you're awake. This also includes naps. You can view your stats in the Wellness app and in the Fossil Smartwatches app.
Tracking a workout using the Wellness app
1. Open the Wellness app.
2. Tap "Activity."
3. Select Indoor or Outdoor workout.
If you select "Indoor workout," you'll be prompted to connect your smartwatch to an external piece of equipment via Bluetooth. You can also skip immediately to the workout.
Selecting "Outdoor workout" will turn on location tracking. Tap "Start Tracking" to begin the workout.
When a workout is being tracked, the app will display the duration and two additional metrics above and below the elapsed time. You can tap on each of these to change what's displayed. Select between calories, distance, pace, and steps.
After a workout, you will be asked if you want to save the session or not.
You don't need to manually start every exercise via the Wellness app, as it is capable of auto-detecting certain workouts.
Edit your workout in the Fossil Smartwatches app
When tracking a workout, the Wellness app will automatically log it as a run. Unfortunately, you can't specify the type of workout you're about to do from within the app. However, you can edit the workout after the fact using the Fossil Smartwatches app on your smartphone.
1. Open the Fossil Smartwatches app.
2. Tap the Cardio icon.
3. Select the entry you want to edit.
4. Tap the three dots and select Edit in the overflow menu.
5. At the top, scroll through the options and choose the activity that best represents your workout. You can choose between running, spinning, biking, treadmill, elliptical, weights, workout, walking, row machine, and hiking.
6. Tap Save.
Edit your Wellness profile, connect Google Fit
While the Wellness app lets you view your profile, you can't edit it from your smartwatch. Instead, you must once again refer to the Fossil Smartwatches app to edit various aspects of your Wellness profile. This is also where you can connect the app to Google Fit to sync your data,
1. Open the Fossil Smartwatches app.
2. Tap the hamburger menu in the top left corner.
3. Select Wellness.
From here, you'll be presented with three options to edit your Wellness profile. Here's what each option does:
Connected apps: This lets you sync your Wellness data with Google Fit. Just tap "Connect to Google Fit" or "Sign in with Google" to get started.
Profile: Edit your date of birth, gender, height, and weight.
Set Goals: You can edit your various goals. Edit the number of steps you want to take per day, the number of active calories lost, the number of active minutes per day, and how much sleep you want to aim for.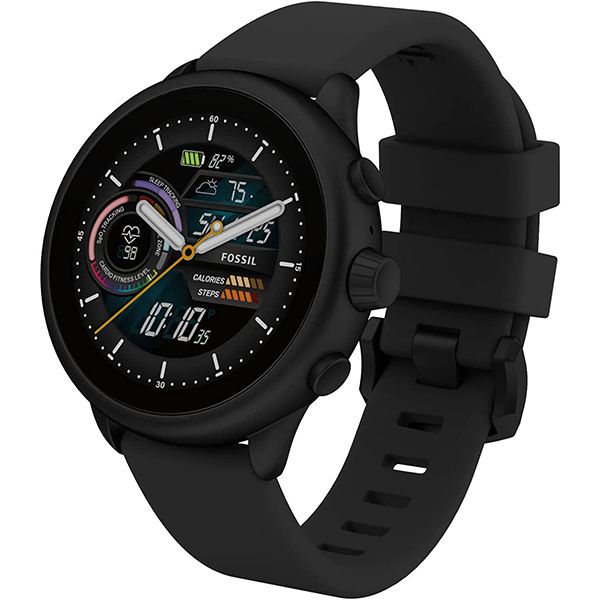 Fossil Gen 6 Wellness Edition
The Fossil Gen 6 Wellness Edition is a sleek Wear OS smartwatch that works with both Android and iOS. It's one of few Wear OS 3 models available and has a host of health and fitness tracking features. It also has Alexa built-in for quick access to Amazon's voice assistant.
Get the Android Central Newsletter
Instant access to breaking news, the hottest reviews, great deals and helpful tips.
Derrek is a long-time Nokia and LG fanboy who loves astronomy, videography, and sci-fi movies. When he's not working, he's most likely working out or smoldering at the camera.