Garmin Bounce vs. Garmin Vivofit Jr 3
Choosing a kids fitness tracker is difficult, and the Garmin Bounce and Garmin vivofit jr. 3 are quite different from one another.
(opens in new tab)
Help older kids build trust
The Garmin Bounce offers compelling features for parents, including the option of LTE connectivity for communicating with the child without the need for a cell phone or even a hefty wireless plan. Parents and kids can keep track of everything from activity and sports to even chores and other responsibilities. Kids can even play fun games, right from their wrists.
For
Option for LTE connectivity
Lots of safety and tracking features
Can be used for chores as well
Larger, higher-res screen
Against
More expensive
Requires a subscription to get the most out of it
Signal can sometimes be spotty
Simple option for young kids
A simpler option without LTE and location tracking, the Garmin Vivofit jr. 3 remains a solid smartwatch for younger kids. They can track steps, sports, activity, sleep, play games, manage chores, and more. With a replaceable battery, it's a low-maintenance option that doesn't require charging. And kids have access to fun games, too.
For
No subscription required
Battery is replaceable and lasts up to a year
More affordable
Fun themed design options
Can be used for chores as well
Against
Smaller, lower-res screen
No wireless connectivity
Screen sometimes awkward to see
Not easy to mark off completed chores
There are a handful of smartwatches designed specifically for kids, including the Garmin Bounce vs. Garmin Vivofit jr. 3. Both are good options for pre-teen kids and they have many of the same features. But there are some important differences between them. The Garmin Bounce is the newest version that adds wireless connectivity via subscription, which can be useful for kids who are old enough to walk home alone from school, for example, but aren't quite ready for a phone. Meanwhile, the Garmin Vivofit jr. 3, introduced way back in 2020, continues to be a solid option for tracking kids' daily activities without any other bells and whistles. But let's look closer at these two kids' smartwatches.
Garmin Bounce vs. Garmin vivofit jr. 3: How they look
Why you can trust Android Central Our expert reviewers spend hours testing and comparing products and services so you can choose the best for you. Find out more about how we test.
The Garmin Bounce and the Garmin vivofit jr. 3 both look similar, but the Garmin Bounce is a larger smartwatch designed for bigger kids.
The Garmin Bounce has a 1.3-inch 240 x 240 LCD touchscreen and measures 42 x 42.4 x 12.6 mm in size. Compatible with both iPhone and Android devices (it can be paired with a parent's phone along with the Garmin jr. app), it comes in Green Burst, Black Camo, or Lilac Floral finishes. The color display can be customized with a choice of fun watch faces.
The swim-friendly smartwatch, designed for kids 6 and older, offers a two-day battery life (sometimes, with low power, it can run for up to four), which means you'll need to charge it several times per week. In his review, Android Central's Nicholas Sutrich says his eight-year-old son wore it without complaint, finding it lightweight and comfortable. But he admits that he wouldn't call it sleek or stylish: it's a functional watch for kids.
Sutrich says his eight-year-old was able to figure out how to use the Garmin Bounce quickly thanks to the intuitive interface combined with two buttons: one on the top as an action button and another on the bottom as a back button. He found the parent app to be intuitive as well without tons of sub-menus and confusing options.
What makes the Garmin Bounce stand out compared to the Garmin vivofit jr. 3 is the integration with LTE connectivity with a subscription directly from Garmin. With this, kids can send and receive text and voice messages from up to 20 approved contacts.
Parents, meanwhile, can do 24/7 real-time tracking of the child's location from their phones, receiving notifications if the child enters or leaves a parent-defined area. But keep in mind that Garmin has a limited LTE coverage map (opens in new tab), so you'll want to make sure this feature would work in your area before buying the watch and a subscription. One thing to keep in mind, however, is that the Garmin Bounce is only available exclusively through the Garmin website.
Kids can reply with customized preset messages, emojis, and sound emojis to both parents and other approved contacts, including in-family groups. Parents and other caregivers can even send kids messages to remind them when it's time to check-in. This is ideal for older kids who might be allowed to go to a friend's house after school, for example, or who walk home from school on their own or with friends.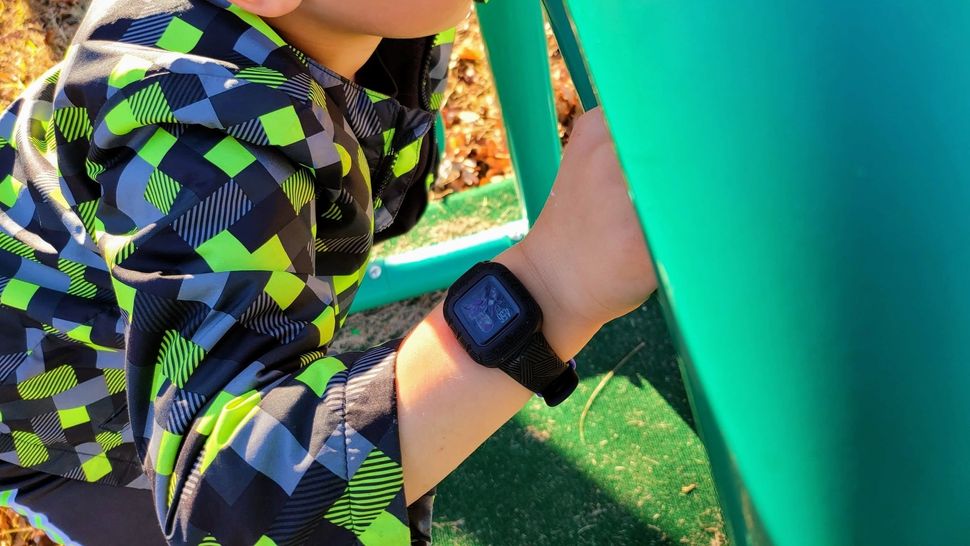 The Garmin vivofit jr. 3, meanwhile, has a smaller 0.56 x 0.56-inch display that's also lower resolution at 112 x 112 pixels. But as a transflective memory-in-pixel (MIP) screen, it's nicely viewable in sunlight. At 14.11 x 14.11 mm in size, it's designed more for smaller children aged 4 and older as a device that they can use to track steps, sleep, and more.
However, in his review, Chris Wedel says he found the screen difficult to read at times due to the concave nature of the covering. You need to hold the button for a second to turn on the backlight first, but holding it too long puts the watch into manual sync mode, which can easily frustrate a small child who is just trying to see the screen.
Also water-resistant with a 5ATM rating, it can work with both Android and iPhone devices. It comes in solid color options like Black Cosmic, Peach Leopard, Digi Camo, Lilac Floral, and Blue Stars as well as fun-themed designs like Star Wars The Mandalorian, Disney Princess, and Marvel. Using a replaceable CR2025 battery that lasts up to a year, parents don't have to worry about charging: just grab a new battery from your local convenience store when it needs replacing.
Garmin Bounce vs. Garmin vivofit jr. 3: How the specs compare
Before I get further into how these two smartwatches work and which kids they would be best suited for, let's look at how they compare on paper when it comes to the specs.
Swipe to scroll horizontally
| Header Cell - Column 0 | Garmin Bounce | Garmin vivofit jr. 3 |
| --- | --- | --- |
| Compatiblity | Android, iOS | Android, iOS |
| Colors | Green Burst, Black Camo, Lilac Floral | Black Cosmic, Peach Leopard, Digi Camo, Lilac Floral, Blue Stars, Star Wars The Mandalorian, Disney Princess, Marvel |
| Swappable Band | Yes | Yes |
| Battery Life | Up to 2 Days | Up to 1-Year (Replaceable |
| App | Garmin jr. | Garmin jr. |
| Heart Rate Monitoring | No | No |
| Stress Tracking | No | No |
| Sleep Monitoring | Yes (Movement-based) | Yes |
| Swimproof | 5 ATM | 5 ATM |
| Phone Notifications | Limited (with subscription) | No |
| Blood Oxygen | No | No |
| Mobile Pay | No | No |
| Screen Size | 1.3 inches | 0.56 inches |
| Screen Resolution | 240 x 240 | 112 x 112 |
| Screen Type | LCD | Sunlight-visible transreflective MIP |
Even though both these smartwatches are for kids and share many of the same features, they are quite different from one another so you'll want to play close attention to learn which would be better for your child.
Garmin Bounce vs. Garmin vivofit jr. 3: The sports and activity features
Before delving into everything these two smartwatches can do beyond sports and activity tracking, let's look at the core functionality.
The Garmin Bounce and Garmin vivofit jr. 3 can both track steps, activity, sleep, and more. The Garmin Bounce comes pre-loaded with a variety of sports that use built-in GPS, which it supports, including walking, running, and biking. It can even record laps while swimming.
With both, after 60 minutes of activity, kids can unlock different quizzes and games, and they can learn fitness moves through different fitness training cards. These basic exercise moves include things like jumping jacks, downward dog, mountain climbers, and more.
Toe-to-Toe challenges, available with both, allow kids to participate in step and activity challenges with parents and other approved friends and family members who also own Garmin devices. They can link up with friends and family and then set up various challenges, monitoring the winner at the end of each day or week. The Garmin vivofit jr. 3 adds timed activities to track steps and estimate distance.
In this respect, both smartwatches can track the basics. Since the Garmin Bounce is designed for older kids and uses GPS (with a subscription), it can track specific sports and activities as well.
But for younger kids, aged 4-6 or so, the Garmin vivofit jr. might be all you (and they) need to keep track of steps and general activity steps, as well as enjoy the other functions and rewards that come with the experience, which I'll get into in the next section.
You'll get the most with both, from a competitive perspective, if the parents or others within the familial network also own Garmin smartwatches so you can connect and compete on things like daily step challenges. But this isn't a necessity.
Garmin Bounce vs. Garmin vivofit jr. 3: Chores, rewards, and more
Unlike smartwatches designed for adults that can track other vitals like heart rate, temperature, Sp02, and more, the Garmin Bounce and Garmin vivofit jr. 3 focus on helping kids and parents manage things like chores and responsibilities in addition to basic steps and sleep. There are also various virtual rewards to help motivate kids.
With both models, there are fun games kids can play during parent-approved times. These include ones like puzzle slider and math flash, as well as educational adventures kids can go on as they move throughout the day, exploring different locations from around the world in the app.
Rewards can be delivered as colorful gems that reveal photos in a digital scrapbook with various memories of their adventures.
With both smartwatches, parents can assign chores from the app and designate virtual reward coins of different values for each chore as it's completed. Kids check off the chores once done and can redeem them for agreed-upon rewards, like 15 minutes of screen time, ice cream, or whatever a parent deems appropriate. Parents can schedule alerts for chores and even set them up on a weekly or daily recurrence. These could range from cleaning up your toys for younger kids to doing homework every day and taking out the garbage every week for older ones.
Wedel's five-year-old son, who helped him review the device, loved feeling like a "big boy" with a list of chores to complete. However, there isn't a way to cross off chores from the tracker itself. When the icon shows up to remind him of a chore, he presses a button to make it disappear, but if he doesn't tell a parent the chore was done, he doesn't get the credit for it.
The only way to check off the chores with the Garmin vivofit jr. 3 is from the app, and if a child of that age doesn't have a phone, it means they need to tell a parent who then needs to open the Garmin jr. app and check it off for them. However, the app can be downloaded to a tablet, and a child can check off chores that way if they have their own tablet. Nonetheless, it's slightly frustrating that there isn't a way to check off chores right from the watch itself.
The Garmin Bounce adds kid-friendly weather updates that include basic forecast information for each day and the "feels like" temperature to help older kids decide what to wear in the morning.
With both, parents can manage everything through the free parent-controlled Garmin jr. app. A school mode with the Garmin Bounce, meanwhile, works like do not disturb so kids aren't distracted by games or notifications while they are in class. The Garmin vivofit jr. 3 has a Kid Mode that affords limited access until the parent turns it off.
Garmin Bounce vs. Garmin vivofit jr. 3: Connectivity and safety
The defining feature that really sets these two smartwatches apart is that the Garmin Bounce comes with the option for an LTE subscription, ordered directly through Garmin. With this, parents can reach kids through the smartwatch, similarly to how they could through a smartphone.
They can send text and voice messages, as noted, to which kids can reply in a variety of ways. They'll get notifications if a child has left a pre-defined area and can track their location as needed. Kids can also check in with their location, which will be sent to the Garmin jr. app. Sutrich says his son had a preference for voice messages, but occasionally found it hilarious to send goofy emojis in reply.
An important safety feature with the Garmin Bounce is LiveTrack: kids can activate this and it will send a link to their location should they need help.
Keep in mind, however, that these messaging and location tracking features require a subscription, which will add to the bottom-line cost of the smartwatch and requires a recurring fee of $10 a month or $100 a year. If you opt not to get this, the Garmin Bounce simply becomes a basic smartwatch for older kids. What's more, Sutrich noted that he found cell reception was spotty sometimes, especially in certain buildings.
While the Garmin vivofit jr. 3 does not have an LTE option for connectivity, it has one useful safety feature called ICE (In Case of Emergency). This widget contains emergency contact information, like a parent's name and phone number. Kids can show this to a trusted stranger (an employee in a store, for example, where they might be lost) to help locate their parent.
Garmin Bounce vs. Garmin vivofit jr. 3: Which should you buy?
The decision between the Garmin Bounce vs. Garmin vivofit jr. 3 really comes down to a few key questions. First, how old is the child? For kids aged 6 and under, the Garmin vivofit jr. 3 is a good entry option. Chances are the child isn't ever left on their own to walk home from school or visit a friend, for example. While location tracking would be useful, a child of that age is still too young to make full use of the messaging options. This, of course, is up to the parent.
With that said, the Garmin Bounce with an LTE subscription is perfect for kids from 8 or so up to about 12 and has even been named among the best kids smartwatches. It's a great in-between device before investing in a smartphone for a teen or pre-teen, allowing them to prove they are responsible enough to own one. If the child is permitted to walk home from school on their own, plays in the neighborhood with local kids, or visits friends' houses after school (or happens to be a latchkey kid, when of legal age in your local area), being able to keep in touch without buying them a full-fledged smartphone is a useful feature.
The monthly LTE plan from Garmin isn't astronomical in price and likely cheaper than any wireless carrier plan you could find. It's a small price to pay for peace of mind that the child is okay, is where they are supposed to be, and for emergency assistance. However, signal strength could be an issue in some areas and/or buildings, so keep this in mind.
The fitness tracking and virtual rewards available with both devices is a fun way to encourage kids to be active while chore tracking helps teach kids responsibility. The smaller screen of the Garmin vivofit jr. isn't as nice to manipulate when doing things like checking off a chore or playing the fun integrated games.
Bottom line: if you want a first smartwatch for a 4-6-year-old, especially in a fun themed design they'll love sporting on their wrist, the Garmin vivofit jr. 3 is a solid option. For something more basic without the chore features and potentially distracting aims, I'd also recommend the Fitbit Ace 3, which my own son (now 11) has been wearing for years.
For older kids who are just slightly too young for a cell phone, the Garmin Bounce is a good compromise. Once they're old enough to get a smartphone, you can cancel the Garmin subscription and they can still enjoy all the fitness and chore-tracking benefits of the Bounce.
But at least initially, you won't get the most out of the Garmin Bounce unless you sign up for the LTE subscription, so factor that price into the equation. If you don't think you'll use it, you might be better off either getting the child another fitness tracker for kids from our best list, or even an entry-level fitness tracker or affordable smartwatch that isn't specifically designed for kids but is small enough and easy enough for them to use while you set up a kid profile in the app to monitor.
(opens in new tab)
Keep tabs on the kids
If you sign up for the LTE subscription, the Garmin Bounce is the perfect transitional device for a pre-teen child who is clamoring for a cell phone. They can show how responsible they are by keeping in touch with parents about their location and completing set chores while enjoying fun quizzes, games, and activity challenges, too. But it's only worth it with the subscription.
Good for young kids
The Garmin vivofit jr. 3 is a good smartwatch choice for kids around 4-6, but for older kids, you're best to look elsewhere. Younger kids, however, will enjoy the fun quizzes, games, and rewards, can manage simple chores like putting away toys, and have fun seeing their daily activity. This smartwatch isn't for older kids, and with the small screen and some limitations, you might get a better experience from another kids' fitness tracker.
Get the Android Central Newsletter
Instant access to breaking news, the hottest reviews, great deals and helpful tips.
Christine Persaud has been writing about tech since long before the smartphone was even a "thing." When she isn't writing, she's working on her latest fitness program, binging a new TV series, tinkering with tech gadgets she's reviewing, or spending time with family and friends. A self-professed TV nerd, lover of red wine, and passionate home cook, she's immersed in tech in every facet of her life. Follow her at @christineTechCA.