Waze unveils version 3.2, with waypoints, voice control, and real-time gas pricing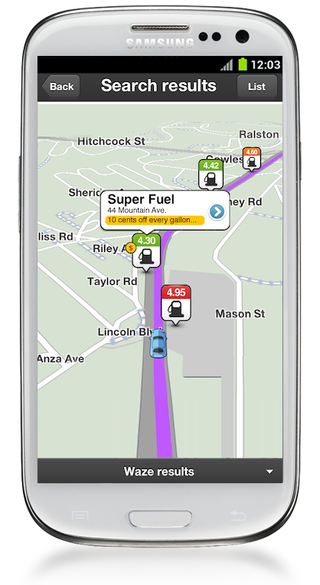 Waze has taken the wraps off the latest version of their über-popular social navigation app, and there's some pretty cool new features thrown into the mix. For starters, you can now find the things you're looking for along the route your traveling with the new waypoints feature, where you can search for gas stations (more on that in a minute), parking, auto repair and more that are on your way. Then there's the addition of full voice control for reporting incidents to the rest of the community for Android phones, and an inbox for updates from the Waze community. The big news is the real-time gas search, which allows you to say a couple of bucks when you're at the pumps. In addition, Waze has partnered with Kum & Go, Hess, Mid-Atlantic Convenience Stores (BP and Exxon stations) and Vintners Distributers (Shell) locations to bring in-app discounts on gas to users. As outrageous as gas prices are getting, this is something everyone should try.
Of course everything else you love (or heard about everyone else loving if you haven't tried Waze yet) is still there -- real-time traffic, social integration, speed trap reports, and fun. The best part is that it's all free!
Hit the break for a short video, a handful of app screenshots, and Waze's press release
Download Waze from Google Play (opens in new tab)
Waze Launches Real-Time Gas Prices and Exclusive Fuel Discounts along Your Route
Now social GPS and live traffic app saves drivers time and money
(Palo Alto, Calif.) June 20, 2012 – Waze, the popular social GPS and live traffic app, announced today a new tool to make driving even better: real-time gas prices updated by drivers. By working together, drivers can keep each other informed about the prices at the pumps this summer and find the cheapest gas along their route. To celebrate the new functionality, Waze now offers exclusive, Wazer-only discounts on gasoline at participating gas stations around the country to help reduce the cost of summer travel.
"Now 19 million strong, the Waze community is the largest group of drivers in the world- with that should come benefits as we harness our collective buying power," said Di-Ann Eisnor, Waze VP Platform and Partnerships.
At participating locations, Wazers will receive exclusive in- app discounts on gasoline, including partnerships with Kum & Go, Hess, Mid-Atlantic Convenience Stores (BP and Exxon stations) and Vintners Distributers (Shell) locations.
Summer Fuel Prices Hit Americans Hard
According to reports from CNNMoney, the average family spends $368 on fuel each month. This can represent as much as 10 percent of a household's monthly income, making it the second highest expense after housing. Further, gas prices continue to soar this summer and in some areas of the nation, prices are projected to peak as high as $5 a gallon in many U.S. markets. Today, Waze proposes an easy solution to help relieve some of the financial burden, guiding drivers to the cheapest gas along their route and getting them back on track to their destination in the smartest, quickest way possible.
How it Works
Finding cheap gas has never been easier! With the Waze app open, just search for gas in the new category menu and see real-time prices nearby. What if prices look different when you get to the pump? No problem, you can update them right in the app! If you're near a Wazer-only fuel discount, the app will let you know by showing the station right on the map.
Other New Features Include
Waypoints: Navigate the way you do in real life, with stops along the way. Category Search: Find local gas stations, parking lots, and car repair shops along your route.
Inbox: Save updates from the community.
Voice Control: Android users can now report incidents by voice without ever touching the screen.
Waze can be downloaded for free in the Apple App Store, Google:Play Market, or at http://m.waze.com.
About Waze
Waze is a social traffic & navigation app based on the world's largest community of drivers sharing real time road info and contributing to the "common good" out there on the road. By simply driving around with Waze open users passively contribute traffic and other road data. Users can take a more active role by sharing road reports on accidents, police traps, or any other hazards along the way, helping to give other users in the area a 'heads-up' about what's to come– and because it's 100% user-generated, the more people who use Waze, the better (and more fun) it gets!
Android Central Newsletter
Get instant access to breaking news, the hottest reviews, great deals and helpful tips
Senior Editor — Google Ecosystem
Jerry is an amateur woodworker and struggling shade tree mechanic. There's nothing he can't take apart, but many things he can't reassemble. You'll find him writing and speaking his loud opinion on Android Central and occasionally on Twitter.
use this app everyday has saved me time and time again from a ticket or a traffic jam

Love Waze. Downloading right now!

I've been using Waze for quite some time, and I love it. These new features look pretty sweet, so I'm updating it right now. My only complaint is that there is an issue with it running in the background for me (I have the EVO 4G LTE.) If I "minimize" Waza, and come back to it a little while later, it usually reloads itself, requiring me to restart navigation if I've been using it, as well as not keeping track of the driving I've done after it went into the background. Otherwise, I love it and use it all the time.

Is that an issue with Waze, or the way the E4LTE handles multi-tasking...

To the best of my knowledge, it's an issue with Waze. I used to encounter it occasionally on my Galaxy Tab and Evo View, but not as often.

I want to love Waze, but since it absolutely needs a data connection for the entire time it's a bit rough, whenever I travel and lose signal it crashes on me.

waiting for Google to buy Waze..

agree! love my google maps, not really a fan of these user based apps they must not be popular where i live since nothing is ever up to date/real time.

Why would they?
Google Maps already has better maps, better navigation, and more realtime traffic info, and will route you right thru no signal areas. Add Gas Buddy, drop all the pointless social stuff that you can't use while driving anyway, and you have a much better package.

ummm no waze maps are spot on the google maps fail me loads of time waze navigation is loads better than googles ( for me anyways )

Considering waze is working with apple on maps for ios 6, that probably isn't going to happen.

From your lips to God's ears. I hope so.

Just downloaded this app....gonna try it out on my way home from work. Looks pretty neat!

Waze is a great social app for traffic and objects on the roadway and cops, ect. , but it is awful at navigation. If I am driving down a perfectly straight road and come to an intersection, it wants me to make a right, followed by a left (or almost u-turn) and then another right to continue on my previously straight and speedy path. Or it will have me turn off a main road, make a left onto a side street with a much slower speedlimit, only to come to a stop sign and make a right, which had I stayed on the main road I would have made the same right, but much less dangerously.

I think Google should buy Waze and just use its social capabilities for traffic avoidance. The problem with Google's traffic is that you have no idea of the magnitude of incident and the Navigation program doesn't warn you with an audible warning when you are coming up on a hazard. I *love* that Waze does that. In fact, the way I usually travel is to have my regular Garmin do the navigation but I leave Waze on for the audio warnings.

I've always liked Waze overall, but this bit always confused me. I was driving on the highway one day, and it insisted that I should take the next exit, then proceed to get back on the highway and resume going where I was already headed. Besides this and the crashing issue I mentioned further up, I like the app a lot overall.

Agreed - great at everything else, but worst navigation ever.

Did Waze fix there re-routing feature? Because whenever I used it. It always sticks to the first route and doesn't modify it if I miss a turn or decide to take a different route. Always telling me to do a U turn when I know I don't have to. Unlike Google Maps which will always give you another alternative route depending which way you're going.

Why is no one pointing out that it's a bloody iOS port?!

because the waze app for android was there before apple did their maps thingy?

Absolutely awesome app. Used it all the time when I actually lived in the States and was driving. Probably the only thing I miss about driving!!

the top rated waypoints feature suggestion http://waze.uservoice.com/forums/59223-client-how-can-we-improve-waze-on... is associated with a bunch of other marvelous features we need. Half a dozen to be exacting : http://waze.uservoice.com/users/24704300-veriloquous I had frozen the google maps app long before it became malware with in-app text ads or harvesting list of other running processes. This waze update also replaces MapQuest app that I had been using for waypoints and proximate restaurants. Now yelp's moronic refusal to post their apk outside market is irrelevant twofold: waze provides all the yelp one needs and waze is available for direct download (no evil gmail required): http://m.waze.com/ if only waze supplied aGPS data...
Android Central Newsletter
Get instant access to breaking news, the hottest reviews, great deals and helpful tips
Thank you for signing up to Android Central. You will receive a verification email shortly.
There was a problem. Please refresh the page and try again.