How to spend the Google Play gift card you received this holiday season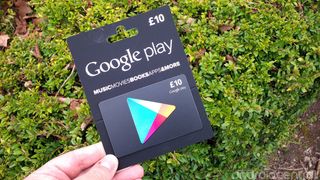 Google Play gift cards are awesome gifts, and if you got some for presents this holiday you should be very thankful. Having them is only half the battle though, spending them in the best way is the other half. There are lots of things you can use those great gift cards on, and getting creative helps out.
Some like to play games, other prefer to watch movies or listen to music, and luckily your gift card can assist with all of it. Here are some of the best ways to spend those new gift cards in the Play Store on things you won't regret.
Apps
There are tons of awesome apps available in Google Play. So many that sometimes it can get overwhelming trying to find the best ones for what you need. There are generally a bunch of options that do the same or similar things, but sometimes some of them do it a bit better. Whether you know what you need or are looking for something completely new, here are some of the best out there.
Games
Not everyone likes to game on their phones, but it can actually be a great way to pass some spare time. Whether you are looking for something you can pick up and put down as you want, or something you can get lost in for hours on end, there are tons of options that you will like.
Media
Google Play has more than just apps and games. There are tons of movies, TV shows, and albums available to explore as well. From full series to individual episodes, new movies to old ones, you'll likely be able to find your favorites with ease. Google Play allows you to not only own the titles but also rent a bunch of them. This is great for those random family movie nights, or those times when you aren't sure you want to own it but still want to watch it.
There is a lot to look through, and it is always being updated with new content. Google often times offers various sales, so be sure to check frequently to score some sweet deals.
Subscriptions
Did you know you could use your gift cards to pay for a Google Play Music or YouTube Red subscription? How cool is that?! This is a perfect way to try things out for a month or more, depending on your balance, without having to spend any of your own cash.
Your favorite?
Do you have a suggestion that isn't listed here? If so, be sure to share it in the comments so others can check it out as well!
Jared started off writing about mobile phones back when BlackBerry ruled the market, and Windows Mobile was kinda cool. Now, with a family, mortgage and other responsibilities he has no choice but to look for the best deals, and he's here to share them with you.
Don't forget. Also works for in app purchases.

How does a gift card work with credit from the Rewards app? I'd like to use the credit first, since it expires. Can we choose which of the two sources to use or does it all get added together? Does it use one over the other by default? Thanks!

Add credit to account from gift card. It goes to the same pool as rewards.

Credit doesn't expire. I have had them for over 2 years

You probably just use yours as fast as you earn it like I do, but in the rewards app it does state that credit expires one year after earning. I can't remember if it separates rewards from gifts, been awhile since I had gift money in there.

just by reading article titles you can tell which are AC articles... going through this article briefly I was hoping to find a list of apps and things that I could use my credits on, instead I'm overloaded with free apps and paid apps. why not just list paid and in-app **** instead of listing everything and having the reader go through each

You can also use it for a Google Drive subscription too. I remember it being a little tricky to set up. I did a live chat with a Google rep and they helped me get it working.

If only we can use it towards Google phones.

I'm new to Android, if someone can please let me know why when I go to buy an HD movie it says it will only play in SD on my phone when it's a QHD phone.

A friend keeps giving me Google Play gift cards which I have no use for. I never buy games ANYwhere, and the only music I buy online is through iTunes, the only books I buy are REAL books, and the only movies I buy online are through Amazon in the form of DVDs. How the heck can I spend these Google Play cards on something useful to ME?? If I could buy a DVD with it, or a REAL book with it, or convert the funds into an iTunes account, fine. I have NO desire to purchase "apps" or games or any type of streaming books or movies!
Android Central Newsletter
Thank you for signing up to Android Central. You will receive a verification email shortly.
There was a problem. Please refresh the page and try again.