Best travel apps for Android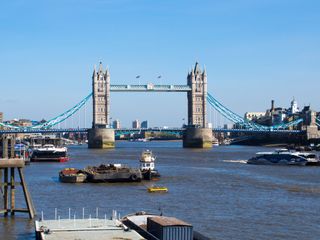 Whether you're planning your first trip away from home or you're a frequent flier, there are a ton of travel apps available for Android that will help you find the best flight, learn a new language, or get the best information about your desired destination. Here are our favorites.
TripIt
Why you can trust Android Central Our expert reviewers spend hours testing and comparing products and services so you can choose the best for you. Find out more about how we test.
TripIt lets you store all of your travel plans, including information about your itinerary, hotel, and car rental bookings in one convenient location. It can import this information direct from your email box, and you can easily share your travel plans with your family and friends. It'll even add your trips to your calendar.
TripIt is a free app and service for a basic set of features, but the real benefits come in when you subscribe to TripIt Pro for $49 per year. You get updates on any changes to your flights such as delays or gate changes, and it will also inform you when a better flight becomes available and will let you change your flight plans in-app.
If you travel a lot, or even if you simply want an easy way to share your travel plans with people you know, give Tripit a try.
Download: TripIt (Free) (opens in new tab)
Airbnb
If you're traveling on a budget or you're after an alternative travel experience, give Airbnb a try. It's free and helps you find places to stay, which are offered by private hosts in over 34,000 cities worldwide.
Whether you're looking for a luxurious house with a pool and hot tub for just you and your family, or you're open to sharing a room or suite with another traveler, Airbnb will help you find the right accommodations for you.
Communicate with the host directly through the app, as well as view pictures and get information about the offered amenities, the area the space is located in, price, and much more.
Download: Airbnb (Free) (opens in new tab)
LiveTrekker
LiveTrekker is a free travel diary app that lets you document your travels through interactive maps, pictures, video, voice, and text. In addition, you can share your travel experiences in real time or upload them to the cloud to view or share another time.
With the tap of a button, the app starts tracking your movements via GPS and displaying your route on a satellite map. Annotate this map with photos, video, or text, and you have a detailed documentation of your journey to share with others or play back at any time.
If you enjoy documenting your travels and sharing them with others, download LiveTrekker.
Download: LiveTrekker (Free) (opens in new tab)
Skyscanner
Skyscanner is a great little app for searching for the cheapest flights to anywhere you want to go. You can book flights directly from the app, and you can also search for and book hotels.
Pick a location you want to travel to and the app will quickly find flights to that location and sort them by the cheapest price. Skyscanner is simple to use, and lets you quickly get the information you want.
If you want to find the cheapest flight to anywhere, or you just want to check prices and dream about your next vacation, Skyscanner is for you.
Download: Skyscanner (Free + IAP) (opens in new tab)
LoungeBuddy
If you're a frequent flier or you know you're going to have a long layover somewhere, having a spot to relax, nosh on some tasty food, and have a little drink while you wait for your next flight may appeal to you.
Almost every airport in the world has lounges that are off-limits to the general public but open to people who have certain perks. Don't worry, though, lounges aren't just for the rich and famous — you may have the needed perks to get in without even knowing it, and that's where LoungeBuddy comes in.
Give the app a little information about yourself, such as whether you're flying business or first class, if you belong to the military, and which credit cards are in your wallet, and the app will let you know if you qualify for lounge access in over 900 airports worldwide. It will even let you book your chosen lounge in-app.
In addition, you can browse photos of each lounge and read reviews from other travelers. For more information, visit LoungeBuddy.com.
Download: LoungeBuddy (Free + IAP) (opens in new tab)
XE Currency
When you want to know how many pesos your dollar is worth while you're in Mexico, XE Currency, an app from the makers of the trusted currency exchange site, XE.com, will let you know in an instant.
XE Currency updates its rates every minute, so you always have the most accurate information, and it can also be used offline using saved data — no internet? No problem.
In addition to current rates, XE Currency offers market analysis information as well as charts that track your selected currency's rate over time.
If you want up-to-the-minute currency rate information, XE Currency is a must have for you.
Download: XE Currency (Free) (opens in new tab)
Evaneos Travel
Evaneos Travel is a free travel guide app with absolutely no in-app purchases or advertising. Using information compiled by seasoned travelers, it offers a wealth of information on destinations all over the world.
Evaneos is especially handy for people who want to veer off the beaten path a little bit. Each destination has reviews from other travelers that tell you what you can expect, sights you must see, what to avoid, the best time to go, and much more.
If you crave an adventure on your next trip, pick up the Evaneos Travel app.
Download: Evaneos Travel (Free) (opens in new tab)
Duolingo
Learn another language for free with Duolingo, a language app that's similar to Rosetta Stone.
As of this writing, you can learn the following languages from Duolingo: English, Spanish, French, German, Italian, Portuguese, Dutch, Irish Gaelic, Danish, Swedish, Russian, Ukrainian, Esperanto, Polish, and Turkish.
Each lesson includes a segment where you match a word in your chosen language to a picture and a section where you hear a sentence spoken and must translate it, as well as other types of learning tools.
You can take as much time to complete each section as you like and can also go back and repeat lessons you've already completed. If you're diligent about working with the app, you'll be speaking another language in no time.
If you want to learn another language for free, Duolingo is the app for you.
Download: Duolingo (Free) (opens in new tab)
Google Maps
You probably already have Google Maps installed on your device, but if for some reason you don't, you can download it from Google Play for free.
Google Maps is a great map app that lets you plan your route and gives you directions to help you get there. It even has indoor maps for large places such as airports, stadiums, and malls. It will even tell you where the nearest restaurants and stores are based on your location.
If you haven't tried Google Maps yet, try it out next time you're traveling.
Download: Google Maps (Free) (opens in new tab)
Hipmunk
While Hipmunk does essentially the same things as many other travel apps that let you find and book flights and hotels, it has an interesting sorting metric for finding the best flight for the lowest cost.
It's called Agony and it's a combination of price, number of stops, and layover time. Flights that score low on Agony will be at the top of the list while flights that score higher will be sorted lower. So if you want the shortest flight with as few layovers as possible, for the cheapest price, you can quickly find it with Hipmunk.
If you're looking for the cheapest and least onerous flight for your next trip, try Hipmunk.
Download: Hipmunk (Free) (opens in new tab)
What do you use?
Do you use an awesome travel app that we missed out on? Sound off in the comments below!
Get the Android Central Newsletter
Instant access to breaking news, the hottest reviews, great deals and helpful tips.
Marc Lagace was an Apps and Games Editor at Android Central between 2016 and 2020. You can reach out to him on Twitter [@spacelagace.
TripCase. It's android and iOS and it's the one app I use for 100% of my business travel. Posted via the Android Central App Edit: and it's free

TripCase here too! It does everything I could want all in one app! Love that it's free too!

Google Now Actually very useful if you can get a local SIM card that offers data service for not a lot of cash.

I'm not much of a traveler so I was pretty oblivious to many of these travel apps such as Tripit. So when I did finally book a trip I just really appreciated the fact that Google Now was just already there working for me w/o me even having to think about it. All the info about flights and rental cars were already there. Google now even pulled up the QR Code boarding pass and made the physical tickets useless. Just scanned my phone when necessary. My return flight got canceled and Google Now was the first to alert me even before Delta and their app which I downloaded just cuz I flew with them. Very impressed with Google. I think this would definitely work for most people. Posted via the Android Central App

TripIt is pretty indispensable for me. I'm in a different city every week, so having that widget on my homescreen to keep track of my flight times, hotels, and dinner reservations is a tremendous help. It doesn't hurt that they're owned by Concur, which is my company's travel and expense frontend, so my TripIt itineraries are seamlessly integrated with my travel orders. One kind of tangentially travel-related app that I'd suggest for those of you who stay in hotels a lot is StayConnect. It lets you use your phone to control your TV in supported hotels (almost all Hilton, Marriott, and Starwood properties I've stayed at recently support it), which lets your avoid using the horrible, broken, filthy hotel TV remote.

While Flight View is used to see airline schedule, it can be also used to see the Gate number when Im transferring planes. The gate number isnt always printed on the ticket and thats where Flight View comes in handy.

+1 Flight View Elite... I don't travel that much (fly) but it certainly is nice to see your boarding gates along with your baggage claim pickup number etc etc. That's a big plus for me. Posted via the Android Central App

I find that Tripadvisor's great for finding restaurants in foreign countries. Posted via the Android Central App

I agree, trip advisor for anything outside of the USA is great, for the USA, yelp is great! Posted via the Android Central App

I use TripCase. It is what my work uses for when I travel for business and I just kept it for personal travel.

Skyscanner sucks. Flights.google.com is much better. Also, no TripAdvisor? Posted via the Android Central App from my S7 edge

Google itself is great for travelers. Just have your flight itinerary sent to your Gmail and Google Now will keep you updated on flight status and gate numbers. It's awesome if you have layovers and don't know beforehand which gate you need to go to. You don't have to join the crowd of folks at the board trying to look for their flight info. Heck, you don't even have to unlock your phone. Google Now will give you the notification right there on your lock screen.

I have WorldMate and TripIt (because it is part of our corporate travel) and WorldMate is hands down the best. The options and additional tools it has are something I can't live without when in EMEA or Asia.

Yes, I was surprised that world mate isn't in the list of travel apps... a bit pricey but works well and it's reliable, I get updates about my flights even sooner that I am notified by the airline app... Posted via the Android Central App

Shouldn't this be best "air travel" apps? I was confused at first. There are actually various ways one could travel these days.

Kathy McGraw,
The LiveTrekker link is incorrect.

Hey JdStone1: Apologies! Thanks for pointing out the error — it's been fixed now. :)

TripAdvisor
Yelp
AirBnB
Uber
Gas buddy
Expedia
Kayak
Duolingo
Google translator
Bing translator
Google maps
Here drive (for offline maps only)
Spotify (offline music) Posted via the Android Central App

This list isn't complete without TripAdvisor. Posted via the Android Central App

Travel Apps I use Kayak Pro. I used to use Sky Scanner but it proves to be more expensive. I also go to airline websites and compare prices. Posted via the Android Central App

Where in Skyscanner can you check hotels? I don't see it, or am I missing something? Posted via the Android Central App

Great article. Please also check out VoyageUp app (android & iOS) for your next app review article. The app is geared towards travelers and help them discover people and places in their travel destination. You can also discover other travelers around you in Airports, Hotels etc. and plan activities together. Disclaimer: I am a part of VoyageUp team.

Not sure why hostelworld isn't on this list... Posted via the Android Central App

Google Maps is really the best all rounder for travel. I used it intensively for 3 weeks in July and last year for a month. Never disappointed with it. Posted via the Android Central App

Google Maps
Waze
Gas Buddy
The various brand hotel apps I mostly travel by car for work FlightAware for those times I do fly
Google Now for many, many travel things Posted from my XT1575

- TripAdvisor
- Here maps (best offline maps, when you don't have roaming data)
- checkmytrip - get your tickets on this app from most of the airlines, and it tracks any changes to your pnr.
- Google translate - translate any written matter just by pointing your camera towards it
- Skype or similar ip calling app to make cheap calls over wifi Posted via the Android Central App

I discovered Hopper, an app that helps you decide the best time to purchase plane tickets. Put in your desired dates, destinations, and it predicts when you should buy your tickets.

TripAdvisor is the best app for finding good restaurants and nice bars. There is navigation tool, for them, too. For me it's the no1 app for travelling. (Google Maps, second)

I don't go anywhere without Waze

This seems like a very air travel centric list. I usually travel by train, bicycle or foot so my collection of apps include Komoot (cycling specific navigation because Google Maps is almost useless for cycling), National Rail (UK rail network app), Warm Showers (cycle touring free accommodation network app), OsmAnd (good open cyclemaps) and ViaMichelin maps which are particularly good for a lot of Europe compared to Google Maps or HERE. Also, I'd add a Weather app and Google Translate. Google Translate in particular has enabled me to communicate in languages and countries I'd have no understanding in rather than relying on everyone speaking English or my very poor French & German.

TripIt works great for me, keeping track of all my reservation info in one place. My Spectacular Samsung Galaxy S7Edge

After buying a cheap data SIM, Google Maps absolutely saved us while visiting Japan. Walking directions in Tokyo since the streets aren't named, train timetables and routes, restaurant reviews and locations, etc. It was an absolute lifesaver. Can't forget Google Translate too. Since I didn't have a way to type in characters, I found that I could take a picture of a sign, menu, or whatever, highlight the characters, and it would translate just what I highlighted. Amazingly useful.

Check out AppSwitch Data Manager. Paticularly useful for those travelling with limited internet Data bandwidths (like those on fixed monthly bandwidth limits i.e. 100MB subscriptions). It allows one to check and switch on/off the use of Data for each apps.

Nice list. Didn't know about Hipmunk yet. Here some of my other favorites that aren't on the list:
- HERE Maps (Same as Google Maps BUT it shows speed limits making it a tad more useful when I am driving in a different country. Downloading offline maps is also less cumbersome than in Google maps)
- AdventureAlly Travel Tools (Combines a few useful features like Currency Exchange, Tipping Guide, Document Vault and it even lets you create maps of countries you visited).
- Startracker (A great little tool to explore the night sky if you happen to get to a place without all the light pollution like here in New York).

Google Trips now. Used to use Tripit and Worldmate. Still use Tripit for Corporate travel since it integrates with Concur.

Tripit is my go to but a new app I just heard about for booking hotel rooms on short notice is
Hotel Tonight.

I would add Atameo to the list. Great for building a travel portfolio and have all photos/memories in one place.