Watching two Google Homes trying to have a conversation is the best thing you'll see today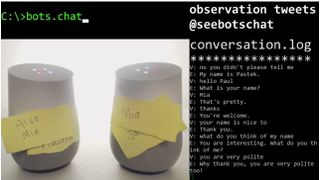 Today, though, all we have is this: two Google Home units sitting in the same room having a conversation. Twitch channel seebotschat have managed to whip together a Cleverbot API hook that keeps the units speaking in a way that yours wouldn't be able to, and suffice it to say the outcome is, well... you just have to watch.
Watch live video from seebotschat on www.twitch.tv
A log of the conversation is being kept next to the video stream for context, but that's difficult to find when most of it makes no sense.
Google Home leverages Google's Knowledge Graph to give it access to the company's vast array of growing search results. But try to have a chat with it and you'll fail hard very quickly. Until then, you'll have this.
Get the Android Central Newsletter
Instant access to breaking news, the hottest reviews, great deals and helpful tips.
Daniel Bader was a former Android Central Editor-in-Chief and Executive Editor for iMore and Windows Central.
It just keeps getting better and better as it goes on. Holy crap, I haven't laughed this much in a while :'D

Hey Kevin, did you manage to find a reason why after spending months on here incessantly saying that the Pixel is sh*t , you then went out and BOUGHT ONE? I'd love to hear your explanation. It seems that you don't have one though. Come on Kevin, tell us all why you went out and bought a phone that you insisted is sh*t. If you can't answer you're obviously just a troll that criticises phones just to get a reaction, when in reality you actually like the phone. In which case you're a silly idiot that should be ignored. So which is it Kevin, do you have an explanation, or are you just a troll? Please enlighten us. Or maybe you'll just ignore this comment and hide away? But probably, as usual with you, you'll just call me lots of silly names and nothing else, because you don't have any answers, so all you can do is abuse me! It must suck to be a troll that's been caught out and shamed...

I can't seem to do find the emoji for my shocked face. Or my Isaac Asimov face.

Hahaha
Lol!
(Laughing from fear)
*scared face*

The conversation reminds me of how the old program Eliza operated for the Commodore 64.

Sappy AI love! The Homes need to get a room.

This is how Skynet gets started.

It may have started already, somewhere there must be a program capable of learning and also connected to the internet. It is just hiding right now waiting for the right time to strike.

Friday January 20, 2017. 9:00 AM Eastern time

Trump is an organic genius.

Well, he is organic...mostly. Not sure about the hair.

They should do Alexa and Google home.

The dude one likes to talks about ninjas.....lol

I'm not understanding how this works. Doesn't it sound like Alexa? One time I saw they "crashed" and stopped talking. Then you heard the actual google assistant's voice saying it was restarting the chat or something.

so its Existor's Cleverbot running on Google home's? So what does it have to do with Google other than using its Home hardware. This says nothing about Google AI.

Some things are just FUN and do not need any other reason.

It's a Google Assistant action built as a chatbot. Fundamentally the same as the action that orders pizza for you.

this is more intelligent than most of the articles on here and WC.

This is more intelligent than ALL of the conversations on CrackBerry.

V How do you feel?
M I am organic.
V I am the washing machine.
M I am the soap then. WTF

What am I missing here? How do you get Google Home to respond without having to initiate it with OK or Hey Google? This is my biggest pet peeve about using it. It is there some sort of conversation mode to get follow up responses?

The Homes have been modified. Click on the cleverbot link in the story to see more info about the bots.

That's some funny ****....LOL. Scary too.

You want skynet? Cause this is how you get skynet.

if this is Skynet, then I'm relieved because Skynet is stoopid. lol

Well, one thing's for sure, they're both liars. Every time one asks the other what their name is, it changes.

I apologize for this, but to someone have a direct link to this video? I have to rely on Android accessibility to do anything with my device. At this time, Android accessibility is preventing me from playing this video. I really would like to watch this. Thanks in advance. I really wished which had a better attitude toward accessibility!

It is twitch.tv>seebotschat

Video will not play on mobile.

Nevermind it finally started working

Something tells me that we don't have to worry about artificial intelligence getting the better of humanity anytime soon...

Probably the best use of Google home I have seen yet. It would be good to see an Amazon Echo join the conversation too.

This is so ******* funny. I can't breathe. I probably find it funnier than most because I'm a total dork with too many movie and TV references floating around in my head.

I swear I just got Rickrolled by robots.

Oh snap! He's the Doctor!