Vertu's new Constellation has modern specs, stunning materials ... and Marshmallow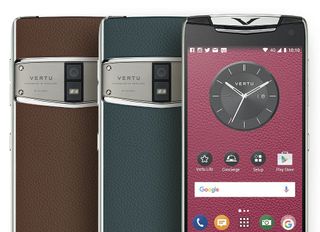 Vertu is a name we often like to poke fun at for offering ridiculously overpriced phones that are more about luxury than practicality, but its latest phone, Constellation, actually aims to come closer to offering both. Vertu calls the Constellation "The Luxury Performance Smartphone," and to that end it actually has a set of high-end specs you'd expect to find on a modern phone: 5.5-inch QHD display, 12MP camera (with 1.55-micron pixels), Snapdragon 820, 4GB of RAM, 128GB storage, 3220 mAh battery, USB-C charging, stereo speakers, wireless charging and a fingerprint sensor.
And then, of course, you get that unmistakable Vertu design. The Constellation has all of Vertu's typical calling cards, being handmade in England with a polished sapphire display, fine leathers (just look at that blue one) and metal placed together with hand-turned screws on the back. A ruby key on the side connects you to a 24-hour concierge service to help you with anything you'd like.
The Constellation is also running Android 6.0.1 Marshmallow, as you would expect considering its software customizations, big focus on hardware and customer base that frankly probably doesn't care all that much.
You can "register your interest" in the Constellation Collection over on Vertu's site, which you'll have to do in order to find out how much this thing is going to set you back eventually. Vertu says it'll be on sale in boutiques from mid-February where you'll actually be able to see one in person, if you're so inclined.
Get the Android Central Newsletter
Instant access to breaking news, the hottest reviews, great deals and helpful tips.
Andrew was an Executive Editor, U.S. at Android Central between 2012 and 2020.
Someone please explain what the point of this phone is? Is it just so wealthy people have a place to waste their money???

Pretty much. If I was a bazillionaire I'd buy one, just because I could.

It's more about the support than hardware. These things come with 24hr concierge service. You just press a button and someone books your flight, makes a reservation, and cleans your underwear. That's what you are buying in many ways....and bragging rights

Does it make waffles and put the butter and syrup on them too? If so, I'm sold!

I'm not sure that's really true... If you're the kind of person this is aimed at, you've likely got a fleet of real people doing all that crap for you already.

Just as importantly, if you're the kind of person this phone is aimed at, $15,000 or whatever is much less of a consideration for you than the $650 I spent on my phone was for me.

You pretty much nailed it. It's mostly just a status symbol.

It's like how iPhone users think their better than Android users... The people who buy these phones think they're better than iPhone users.

I'm pretty sure anyone considering buying this phone doesn't really care about it still being on marshmallow.

Yep. It doesn't have Assistant, but it comes with an ACTUAL ASSISTANT.

I would buy one. Actually I am looking at it since we travel so much. The consierge (real person 24/7) is AWESOME feature to have.....You want tickets to something, call them up....DONE!.....want a reservation at nice restaurant that you can't get into....DONE. Worth every extra penny IMO! I always laugh at the comment tossed about saying people buy apple products for status. NOPE....that's funny. Every 10 year old running around now has an apple phone. You want status...that acutally works for you the VERTU phone is it! I have my eye on titanium and orange leather.

My Samsung, LG and Apple phone work for me too. I punch in numbers it either dials calls them or text them. I want to order some food from a restaurant or I want to make reservations it gets done. I want tickets, whether to a movie, concert, sports venue. I go to the website and presto I have my tickets in less than 3 minutes. For the whopping price of $10,000 for a phone it better do more than just concierge service for me.

Supposedly the concierge will come and jerk you off if you so please.

It's $25,000, not $10,000

Even better. I just looked at the first one they had on their webpage that started at $10,000.

But then why not just have American Express concierge or Visa's Concierge. wouldn't it just be the same with a bigger reach?

My first thought upon reading this was, "Hmmm, seems like the perfect phone for those Lincoln car commercials with Matthew McConaughey".... ;P

Is it bad that I want someone to rip off the design of this phone and use it? I like it a lot, but not $25,000 a lot.

Whaaa!? Hand turned screws? Boom shaka-lakka! I'm definitely in on this. Screws he says!

Vertu gonna Vertu Sent from my Sony Xperia X Compact

I just wish someone would make a phone with the black stainless I see on modern appliances! No fingerprints, better dent resistance than aluminum, and looks sharp! And don't say it would weigh too much because we're talking a few grams more than aluminum. No big deal considering how much more modern phones weigh than the ones from a few years ago that were all plastic. With antenna lines already in use with aluminum, the signal solution for stainless is already in play. First one to build it will have a sure winner in my opinion!

I'd like to see that too. The new LG fridges have it, there's no reason it can't be on their flagship phone

Don't bother with the new flagship phone from LG. I'm miserable with the V20. The only redeemable feature is the HD Audio. The phone is a nightmare with horrible battery life and no purchasable replacement battery.

You may have a software issue leading to battery drain, or perhaps you are in a location with poor cell service, forcing the phone to utilize energy hunting for a connection - I am getting very good battery life. Way better than my 16 month old S6Edge+ (after laying out $75 for installation of a Samsung replacement battery). The replacement battery for the LG is available from Amazon sellers for about $50 with a charging case. I bought one as an insurance policy and have yet to need it. I would agree that The HD Audio is the raison d'etre for this phone.

"OK, Google...Explain gravity." "Calling Steven Hawking, mobile."

If you want executive status, wield a RIM BlackBerry 10 device...now that is STATUS ! TUH! ! veerr WHO o_0 ...App WHO o_0....Sam who o_0 ....No k WHO o_0....Bl u who o_0 Trac pho WHO o_0..... Z T WHO o_0 ....Pana son WHO o_0 ...RC A wh O o_0 !

Why is it that to show you "status" as wealthy person you have to have really really bad taste. I mean every single Vertu phone is ugly. Gluing leather, jewels and bits of gold to a phone, no matter how well you do it, does not make it stylish. Far from it.

to each their own. I just built two for my wife and I. We liked them ALOT.