VoLTE arrives on Droid Turbo in Advanced Calling update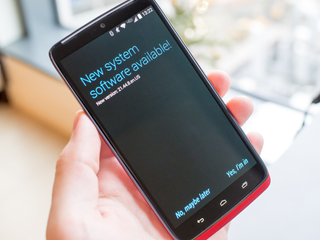 Verizon has announced today that it has begun rolling out an update for the Droid Turbo. If you had your heart set on Lollipop, it doesn't appear that it's coming with this update. Rather, it will bring Verizon's Advanced Calling 1.0, which enables VoLTE and simultaneous voice and data.
Image 1 of 5
Image 2 of 5
Image 3 of 5
Image 4 of 5
Image 5 of 5
The announcement was made from Verizon's news center, and the carrier says it will be rolling out in phases starting today:
Have you managed to score the update yet?
Source: Verizon
Just checked 10 minutes ago and it was available to download. Just about finished with the download!

Can you confirm that you can do Simultaneous Voice and Data on LTE after the update? It wasn't possible prior to the update and some speculated that this would enable it WHILE NOT on a VOLTE call (but on LTE). For sure when on a VOLTE call (rare as they are), but also some are saying for any voice call after the update. I haven't heard yet of anyone whose tried

Yes, I was able to surf while checking my voicemail! And I had Wifi turned off of course.

Considering that Verizon's statement and documentation on the update is that it enables VoLTE, yes, it enables VoLTE ;) .

I wrote that poorly. I meant that some speculated that users could do simultaneous LTE voice and Data on while NOT on a VOLTE call after the update - something they could NOT do prior to the update ... i.e. previously they could not use Google Navigation to drive to a business and call that business land line simultaneously. It appears that after the update they can. This is good to hear for all. My friend is considering one and this was a huge draw back until this update.

It isn't speculation, Verizon has said you can do simultanous voice and data as long as you're on LTE. That is regardless of with whom you're speaking. This update brings that functionality in addition to the HD and video calling (which does require a call partner who also has Advanced Calling 1.0).

Advanced Calling 1.0 (as Verizon calls it) allows simultaneous voice and data for any voice call, not just VoLTE calls. You must not know too many iPhone 6/6+ users, as those phones launched with Advanced Calling 1.0 support on Verizon so reports of being able to do simultaneous voice and data regardless of call type are pretty commonplace now :-) I have both Android and iOS phones, so no fanboyism here.

What does the iPhone have to do with this , other being a phone - on a different OS - with VOLTE?

Any voice call while on LTE... just to be clear :) Just wait until you're on a call and lose LTE, then you'll experience something not many Verizon users have experienced over the years - a dropped call!

You must be missing the bit about people on Verizon's LTE network having been able to do voice and data at the same time for a long time, up until here recently with the new Moto X, Droid Turbo, and Nexus 6.

I downloaded the update, but alas, no simultaneous voice and data. Even VZ tech support failed to get it working. Trying round two...

Did you add Advanced calling as a feature to your plan? (it is free). Until you do that, and reboot your phone, Volte is not enabled, that includes simultaneous voice and data.

Yep, had done all that right away. Turns out after talking to level-2, we needed to pull the SIM for 5 minutes or so, reinstall SIM and refresh network settings on VZ end prior to power on. Then powered up phone and BAM! It works. Luckily tech stuck with it and didn't go down the road of the dreaded factory reset. I should also note that I was finally able to use my VZ Qi charger without the phone locking up. It is a wonderful Droid Turbo day.

Got it last night and it works well. Nothing broken and a few tweaks to clean up a bug or two. Would like to see change log. HD Voice works well .

Just checked and downloading now.

I'm a little concerned b/c I never got the .15 update out of the box... not getting anything on this update yet either.

I never got the .15 update either. I was still on .12 before I just updated to this new version.

Thanks for that - that reassures me somewhat. Hopefully I'll be able to grab it soon then.

About time.. 12 mins left and downloading :) Vrrroooom pssshhh! *Droid Turbo posting sound*

Hmm, I'm i missing something because i was on a call and tried to surf the web... Nada. Vrrroooom pssshhh! *Droid Turbo posting sound*

You have to add the service to your account via My Verizon and enable HD calling in settings after. Posted via the Android Central App

Nvm it works great now, i had advanced calling 1.0 enabled before. I guess after the update it has reset itself. Vrrroooom pssshhh! *Droid Turbo posting sound*

Interesting how low the Turbo customer reviews are on Verizon's web site because of this. Seems they sold the phone before it was ready for simultaneous voice/data functioning. Posted via Android Central App

Got my update and it makes me love my Turbo even more.

Is it just me, or has Verizon been getting much better with updates, at least for Android. Case in point here, they said by end of year, and here it is, before the end of the year.

I guess I thought that all modern Android LTE phones could do CDMA2000 voice and LTE data at the same time?? Even the old DROID Maxx, Maxx HD, and Note 2 and 3 could do this.

Those older phones had two separate radios which consume more power. The newer phones have one single radio which consumes less power. The update allows them to take advantage of voice and data at the same time via that one radio. Posted via a beautiful Ebony backed Moto X on Verizon or the amazing Nexus 10 using the Android Central App

Got it. So I guess that even the Note 4 must have 2 radios then as it does not have HD voice but does calls and LTE data just fine. Thanks.

It's not VOLTE that is making it work, it's other software updates that is coming with this one. Posted via Android Central App

Don't care as I have no need to be on the Internet and phone call. Bring on lollipop please. Posted via the Android Central App

Now that's a positive comment to post in a section that so many folks have been waiting for this update! Way to go! When the lollipop update comes to this phone should I post there that I don't care about it? Nah Posted via the Android Central App

...says the masses in 2005 :)

I use data while on a call almost every day. I need to look up pricing, directions, phone numbers on web sites, business hours etc while talking to customers or crew members frequently. My phone has been able to do this since day one, so has my previous phone. Its good to see that Verizon updated the Turbo's software to allow it to do this now too. Just because you don't care doesn't mean many others haven't been waiting for this. And yes, I'm eagerly awaiting Lollypop on my Moto X too. My Nexus 10 has it & I absolutely love it! Posted via Android Central App from a beautiful Ebony backed Original Moto X or the amazing Nexus 10

The only downfall is this: when I travel and use my navigation one phone call can have me on the wrong path. As well as when I'm on a call and we're texting info back and forth to each other. I have to get off the phone to receive it. It was just a convenience that I need now that I've had it for so long. But my main issue is the dropped calls. I dropped a call last night with the same person 5 times. That's not acceptable at all!!!!

Where's my lollipop?! Soon I know.. Update works fine tho. One of the features I hardly use but does work.

Just downloaded sent turbo fast

I've put the phone on speaker numerous times so I could look something up for whomever was on the other end, so not impressed with that. What I really am looking forward to is being able to use data-only SIMs to make calls, whether or not I have to tweak it a little to make it happen. CDMA is only being retired because Verizon was sick of government extortion and harassment, so now they're simply using the bandwidth to further integrate their non-partnership with Comcast in the collusion of the decade.

Now they just need to roll this update out for the 2014 Moto X Posted via the Android Central App

Woot. Posted via the Android Central App

235MB seems really big just to enable that feature. Posted via the Android Central App on my Droid Turbo
Android Central Newsletter
Get the best of Android Central in in your inbox, every day!
Thank you for signing up to Android Central. You will receive a verification email shortly.
There was a problem. Please refresh the page and try again.