Verizon the latest retailer to begin selling Chromecast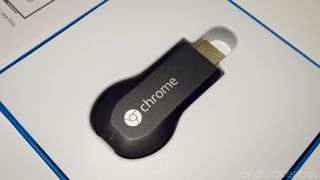 Listed as an online-only accessory for now
The days of constrained Chromecast supply are long gone, as Verizon is yet another retailer selling the $35 TV dongle. Coming in right behind Motorola which just started selling Google's accessory and long after both Amazon and Google Play have offered it, Verizon is prominently displaying the Chromecast as a great accessory on its main page.
It seems as though the Chromecast from Verizon is an online-only deal, at least for now, and with a free shipping offer this is certainly the "great gift idea!" that Verizon is touting it as. We can imagine more than a few people will be impulse-buying this accessory when they do their holiday shopping on the Verizon website this year.
Source: Verizon (opens in new tab)
Andrew was an Executive Editor, U.S. at Android Central between 2012 and 2020.
Used my dad's employee discount to order one of these today! Posted via Android Central App

Looks like they removed the 25% discount. I saw it yesterday but didn't bite. Now it's at full price of $34.99.

Yup. Looks like it was a mistake. I was lucky and ordered mine yesterday as soon as I saw the discount. I checked back today and the discount is gone, so I called Verizon to double check and they said the discount does not apply to it because it is a "smart accessory." Glad I snapped it up yesterday!

It does a good job of what it is supposed to do. Google just needs to add more capabilities.

I got one with my employee discount. I was just about to buy one on Amazon. Glad I waited! Posted via Android Central App

I ordered this morning, 25% off with discount. Posted via Android Central App

First, yeah used my 25%. See Verizon isn't all that evil. Posted via Android Central App via bad azz VZW LG G2 ROOTED!

I'm surprised Verizon isn't rapping people with a higher price, loll. Posted via Android Central App

I dunno, they've busted a few good rhymes in the past. Posted via Samsung GS3 Wishing It Was A N5

yeah auto correct owns me, lol.

Obviously this story is fake. There is no way that this is real as there isn't a massive Verizon logo all over the device. Posted via Android Central App

I think the story is real but they used the wrong photo.

I bought mine earlier today, and with my employee discount it came out to just $28.08 total. Great deal, indeed!

This is a wifi only device, I don't get why a wireless carrier would sell this. Posted via Android Central App

Verizon sells USB car chargers too, and those don't even have Wifi!

Lmao Posted via my "Gift from God" Nexus 5

They sell quite a few things that aren't dependent on cell phone signal to use, but usually still have a connection, or are used in conjunction, with cell phones. Speakers, headsets, even fitness devices (Jawbone UP, Fitbit) are some such items. They already have Google products. If it can make a few extra bucks for Verizon, more power to them. I wouldn't be shocked if other carriers sell Chromecast soon as well.

Because they're selling it as an "accessory" to your wireless carrier device...just as they sell the Jawbone Jambox, which also doesn't have a cell radio, or even WiFi.

How would a cellular Chromecast work? I'm intrigued. Posted from my HTC One via AC App

I think I'll wait for the insanely good BestBuy black friday deal at an incredibly low, low discount of..... $29.99. #dealfail Posted via Android Central App on my white Nexus 4 with StraightTalk

As cheap as the Chromecast is, it's tough to knock much off the price. Winter is coming. She's quite the screamer.

Then wait. This is an option for those that have Verizon corporate discount. Posted via Android Central App

*Only $35 with a 2 year agreement and only plays Verizon approved content.
I agree, the lack of a Verizon logo is astonishing.

They're still lobbying for logo... Who the hell does their holiday shopping on the Verizon website?

Great deal! Just ordered 2 of them at a 25% employee discount, as gifts for my brother and my best friend.

Damn it, got 2 of them a few weeks ago from Amazon. Saving 25% off of 2 would of been nice using our discount. Posted via Android Central App

Amazon has a 30 day policy. Posted via Android Central App

WHAR LOGO WHAR!?!? Posted via Android Central App

Can't understand why its not available in the UK yet! Posted via Android Central App

It wouldn't sell. It's triple the price of the NowTV box and lacks iPlayer, Demand5, etc. The only selling point is YouTube which doesn't really justify the extra. If they opened the development then it'd be a different matter... I'd be interested just for Plex. No sign of that happening though. Posted via Android Central App

It's not surprising that they are the last to get the Chromecast.

Got mine for $27.81 with my discount. Thanks Verizon!

More retailers selling it, I'm guessing this has to mean the SDK will soon be out of beta. Crossing my fingers, want more apps.

I also was able to cop with 25% discount courtesy of my coworker (im on sprint)

Free with a new 2 year contract,($74.99 per month)Early termination fee of $499.99 applicable with signing of a blood ink signature. First born child payments also acceptable (males children only)

Where art thou SDK? Seriously though, is it still coming? The Chromecast TV ads are running like non-stop, been seeing them more often than the Nexus ones even... You gotta think there's much bigger stuff coming to it than Hulu/HBO/Pandora. As someone who stills pay for cable (and doesn't pay for a single streaming service but does a lot of free streaming) I'm decidedly "whelmed" by the Chromecast but I see the potential in it...
Android Central Newsletter
Thank you for signing up to Android Central. You will receive a verification email shortly.
There was a problem. Please refresh the page and try again.