Verizon Galaxy Note 3 Android 4.4.4 update adds bloatware, fixes bugs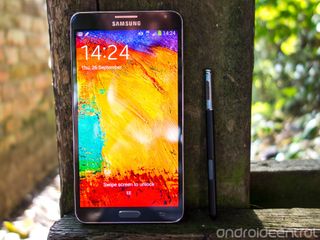 It looks like Verizon is finally giving the Samsung Galaxy Note 3 phablet an over-the-air software update to Google's Android 4.4.4 KitKat. Along with the update to a newer build of Android, users will also notice new improvements, the addition of new pre-loaded apps, and some bug fixes.
The update fixes issues with 4G data connectivity, improves voice performance, fixes Bluetooth audio issues when connected to WiFi, resolves an SMS bug, and will not longer disconnect your data while using VPN.
Verizon has also added the following services and apps to the Note 3 as a result of the software update:
Knox 2.0 for enterprise support
Find My Mobile
Side Sync Call Forwarding Framework
Virtual Tour Camera Mode
Kids Mode stub (in Widget Tray) - a parental control capability to manage phone usage
Additionally, the following improvements to existing apps and services were also made:
Verizon Support & Protection (VSP) has been updated
Caller Name ID has been updated
Isis Wallet changed to Softcard
Thanks to Shaun for the tip.
Source: Verizon (opens in new tab)
Just got the update pushed to my Note 3. I'll be mindful of device behavior over the coming weeks. Posted via Android Central App

Sweet I'm downloading it asap. Posted via the Android Central App

Got it. Thanks for the heads up gents. Posted via Android Central App

This is nice but I think I'm waiting for lollipop... Posted via Android Central App

Let them work the bugs out of lollipop Posted via Android Central App

Wonder if this affects the FoxFi hotspot app. VZW tried to break it last time, but FoxFi had an almost instant workaround.

Installed the update on my wife's Verizon Note 3, Foxfi still works properly thankfully!

+1 thanks Posted via Android Central App

Thanks! Posted via the Android Central App

Great , so there was no point getting the note 4 - since the only reason to replace N3 was connectivity. Bugs were still OK to live with.
However, this is just another evidence that buying phones on Verizon guarantee you issues of some sort - so far mostly Radios, especially by Samsung via AC App on VZW Moto X DE/N7

My attempt to update keeps giving me an error Posted via Android Central App

I keep getting an error as well. Guess I'll wait until Verizon pushes it to me and try then. Last resort will be a factory reset, then update. Posted via the Android Central App

I had an error message as well when I tried doing the OTA update. I had installed towelroot on the stock 4.4.2 rom. I unrooted it with the SuperSU app and it didn't work. Then I did a factory reset and still didn't work. Then I plugged my phone to my computer and installed the latest firmware through KeisAir which was still the 4.4.2 rom when I did it. Finally I downloaded the 4.4.4 via OTA and it worked. Phone runs like a champ. If you did towel root, then maybe that's why it didn't take. Posted via the Android Central App

Thanks. I actually did all that a month or so ago. Finally got it to work using Kies last night. Posted via the Android Central App

Will foxi still work with this update? Any1? Posted via the Android Central App

Yes FoxFi Still works.. I have been using it since Samsung released the update via Kies3

Thanks Posted via the Android Central App

Thanks Posted via the Android Central App

Google Wallet Tap to Pay still doesn't work for me. Posted on the Interwebz via Android Central App

What about the international version ? Posted via the Android Central App

Samsung Note 3.... I installed the KitKat 4.4.4 update yesterday and immediately following, all of my pictures and videos went gray. When trying to open a photo it says "unable to load content." Does anyone have any ideas on how to fix this? I have some priceless pics of my grandkids and would hate to lose them. Thanks for any help! Thanks, K

That's funny you said that BC a few of my apps went gray. I opened up the app drawer to find every app saved to my SD card was grayed out and when I tried to select it I told it's saved on SD card. From there it won't open up. Another weird thing is I will have a similar issue with grayed out app, but the full working app will be displayed next to the grayed out one. Weird lol. Just removed the drayed out apps. Also I swear it said somewhere we get child mode or similar with update? Tried looking for it with no success. As some one with kids I really like Samsung's child mode vs others. Friend of mine has note 3 but with sprint and it came with his note 3. Posted via the Android Central App

Kids Mode is in the Widgets drawer. You have to add it to your home screen first and when you press it, it will ask you to install. I am unable to install it for some reason though. It just keeps giving me an error message that says to try again later. On a side note there was supposed to be some connectivity fixes in this update but my phone seems to be worse than before the update. My cellular connection is dropping out like crazy. Posted via Android Central App

I can't even locate the child mode anywhere. Looked everywhere. Its not a huge deal, but it was something I was looking forward to using. Today has been horrible experience though. WiFi is hidious, weird lags and hang ups doing normal tasks. I am not a gamer or do anything more than use this phone as it was intended to be used. It a shame though BC this phone was perfect (to me) until the last couple updates. Idk if it is just me, but the last few phones I have owned that were flagship phones, all seemed to take a crap in certain areas of performance when a newer version came out. I can recall when the note 4 came out and my phone just began acting weird. Hiccups where there were none before, random restarts, call quality and download speeds all declined along with WiFi. Posted via the Android Central App

Do you have them on an sd card...they should still be there...kit kat just won't show them unless you use a file explorer ans move them to phone storage from sd card...you need to have auto back up to picassa or drop box, google drive etc. on your phone so this doesn't happen. Cloud store your images so you always have a backup.

You need to change settings in Gallery mode. Those are your google plus albums (formerly picasa) You have your account options for your gmail to sync pics and apparently it is not working for what ever reason (data, wifi etc.) So the gallery knows your google account has picture albums but if cannot load a preview based on some setting probably or your connection restrictions if you have them set (settings in gallery "sync on wifi only" or sync off)

That's a lot of bloat. Posted via Android Central App

Is everyone that installs the update,
Having their pictures grayed out and disappear? Or are these isolated incidents? Posted via Android Central App

My pictures are fine, but I'm probably one of the few people who don't use an SD card in my phone. They always seem to slow my phones down/cause more issues than they're worth.

My SD pictures are grayed out as well.

I went ahead and copied all my pictures and such to my pc today just in case that grayed thing happened to me. I have a few more albums to go tomorrow, and then I will install update. I can't take any chances with my pictures and downloads. I hope Verizon can do something for those that had this grayed out happen to them. Next fall I think I'm giving tmobile a try on the Nexus 6+ , maybe, this note 3 is such a good phone and I want to keep it instead of trading it in. Posted via Android Central App

I meant copied to my pc today Posted via Android Central App

My pictures are on my SD card and are displaying correctly. Posted via Android Central App

Can anyone get Kids Mode to install? Everytime I try I get an alert saying unable to download. Try again later. Posted via Android Central App

Hi, does anyone know if this breaks root? Posted via Android Central App

I didn't have any problems with photos or apps, but the update killed my radio. Where I used to have 2 bars, I am now getting No Service. Not happy.

I've had the note 3 since launch and still rocking stock software kit kat sucks so glad I didn't update to it! Posted via Galaxy Note 3

I was really hoping this would fix the reception issues with the Note 3.. There really should be no issues in the PHX are market, but there are. When I'm under a tower I can download at 50M, but get me in a building and we'll over 100db and am lucky to get 1-2M. When I had my Moto RAZR Maxx from a few years ago it had one of the biggest screens at the time, one of the biggest batteries at the time, and the best radios on the market ...no reception issues at all. The N6 can't come to VZW fast enough. Posted via the Android Central App

The only thing I've noticed is the changed screen unlock sound.... Its actually harder than it appears. I make it look easy.

I seem to be having frequent bluetooth connection issues since the update. My Asus Zenwatch randomly disconects more often and sometimes the phone was not connecting properly with my car. Also, my 3rd party live wallpaper frequently does not work and I have to restart the device before it loads again. Never had these issues until the update. I can't say I notice any difference in signal...definitely not better for me

I was not aware of any bugs in (I'm guessing 4.4.2 or 4.4.3, whatever I had on my note 3), but I'm sure noticing them since I downloaded the update from Verizon. Half a dozen apps had to be re-installed (Netflix, HBO GO, Dashlane, Verizon's Support and Protection, Amazon Music so far; so not little obscure apps either), and I can't use Kindle for Android anymore. I keep getting a "you need a network connection" error, but I've got full bars for 4G LTE and my WiFi is working fine for everything else. Also, my battery is draining like crazy. I want the previous version back.

Updare: worked with Samsung and Amazon on my Kindle app problem, no luck yet. Samsung had me go through my apps to see if one in particular was draining my battery. Amazon Music was the culprit (not sure why I have it as I use Spotify). It was continuously uploading to the cloud; 42%!. Shut it down and battery back to normal. For anyone who doesn't know: settings》battery and that will tell you what apps are draining your battery.

Hate the new update. Device will not connect to WiFi. The tab stays grayed out. After extensive troubleshooting Verizon is sending me a new handset. Wish I could roll back to old version.

Anyone having issues with flash? Also, anyone having issues using flashlight apps? Mine doesn't come on. Also, how do I revert this back to previous version (while I wait for Lollipop)?

onepocketjohn I was skeptical about doing this update as the last one caused me to replace my phone at verizon's expence and 8 hours of my time to get my new phone back to the way it was befor the update. This went well causing no i repeate no ill effects and has incresed my bars significantly and no gray pics or apps and i use a 64gb sd card that is and was in the phone while the update was applied. It's only been a couple of hours since the install but fine for now. Hope this helps you make your descision to update easier.

I spent an hour on chat support with Samsung last night and the phone still locks into a loop when an alert (like low battery) comes in when I'm using the Audible.com app. I have to open the case (and the Otterbox case is a bear to open) and remove the battery to break the loop. It also seems to lose my wallpaper, but that's a mere annoyance. Anyone else having similar issues?

Samsung forced me into updating even though I did not want to, but suddenly popping up a large message on my phone after midnight saying if I wanted to install their update now or in another 12 hours or so. After a couple postpones since no option to not installl, I updated it. Mostly it seems okay. Except for one major bug - now my Samsung galaxy note 3 keeps giving calendar alarm notification sounds after the times I have scheduled the to go off. It seems often that is around 15 minutes AFTER the scheduled calendar event times! This is quite dysfunctional and intrusive as I am often in appointments then when it suddenly makes noose it should not be and I specifically set it to not, make. Anyone know a repair for that bug?

My Note 3 is rooted, and it keeps trying to do the over-the-air update and then notifying me that the update has failed. it's getting really obnoxious. Is there an easy way to install this update myself?

Reply to Aaron Lowe1: It seems that most OTA updates will either fail or remove root if they succeed. From the comments, it looks like this one from Verizon both fails, if rooted, and prevents re-rooting when installed. I haven't found any published information on how to gain root again. So, when the notification popped up, I postponed the update and did some research. Until there is a new root method, I will wait. To stop the notication, I used root explorer to move the cache/fota folder to my external sdcard and then used Titanium Backup to freeze SDM 1.0. I found that tip on XDA Developers forum. That stopped the update notifications and I have a copy of the OTA update with 4.4.4. When a root method appears, I will try to go through the hassle of un-rooting my phone and applying the OTA. However, from what I am reading on the forums, that hassle may involve re-flashing my ROM from the most recent official 4.4.2 build prior to taking the OTA to clean up the vestiges of the rooting process. In contrast to some users, I am not having significant issues with the radio or battery drain and I don't use the camera enough to be annoyed by its issues. So, I can live with 4.4.2 easier than I can live without root access. I hope this helps.

P.S. The only effect that I can tell from freezing SDM 1.0 is that, when I go into Settings/General/About phone and open Software Update, it causes Settings to have an "Unfortunately, Settings has stopped" error. Then it returns to the top level of Settings. There appear to be no adverse effects on any other functionality. Probably even save some battery if SDM 1.0 isn't polling for notifications from the mother ship and blaming the battery drain on the OS. :-)

I took the same steps as old guy worked like a charm keeping the update at bay. No adverse effects either and can always UN freeze if needed

I am using samsung galaxy note 3 n900 , but still not got software update in India, waiting desperately
Android Central Newsletter
Thank you for signing up to Android Central. You will receive a verification email shortly.
There was a problem. Please refresh the page and try again.