Verizon announces the Samsung Stratosphere, available Oct. 13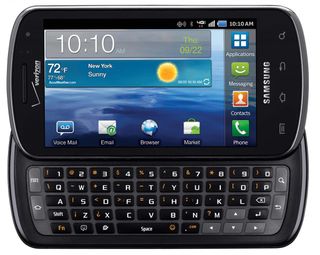 Verizon this morning announced its first 4G LTE-capable smartphone with a slide-out keyboard -- the Samsung Stratosphere. It'll be available Oct. 13 for $149 after two-year contract and a $50 rebate.
It's got a 4-inch Super AMOLED display, powered by a 1GHz Cortex A8 processor. It's all running Android 2.3, with a wealth of business features, including Exchange Active Sync, Cisco AnyConnect, encryption services and Sybase Afaria for IT device management.
It's got a 5MP camera on the back, capable of shooting video up to 720p, and a 1.3MP shooter up front. And it'll serve as a mobile hotspot for as many as eight devices over 4G, and five over 3G.
Full presser's after the break.
Samsung Stratosphere forum | Samsung Stratosphere specs | Stratosphere gallery
First 4G LTE Smartphone with QWERTY Keyboard for Verizon Wireless: The Samsung Stratosphere™
Features a 4-inch Super AMOLED™ Display, 1 GHz Processor and B2B Enterprise Solutions
BASKING RIDGE, N.J., Oct. 10, 2011 /PRNewswire/ -- Verizon Wireless and Samsung Telecommunications America (Samsung Mobile) today announced the Samsung Stratosphere™, a Galaxy S® smartphone, will be available in Verizon Wireless Communications Stores and online at www.verizonwireless.com beginning Oct. 13.
The Samsung Stratosphere is the first 4G LTE smartphone from Verizon Wireless equipped with a five-row QWERTY keyboard and designed with Samsung's four-inch Super AMOLED™ display. Additionally, the Stratosphere supports enhanced B2B-enabled connectivity services from Cisco™, the most comprehensive mobile implementation of Microsoft® Exchange ActiveSync® (EAS) and support for secure remote device management from Sybase ® Afaria®.
Ideal for the business professional, the Samsung Stratosphere offers robust data management support. The Stratosphere will support Samsung's Enterprise Platform enhancements such as VPN, encryption and Mobile Device Management (MDM). EAS includes features such as direct push, email, calendar, contact sync and Global Address List (GAL), as well as EAS policies including storage card encryption, device encryption, and simple and complex password support, all essential for streamlining business on the smartphone.
Key features:
4G LTE – customers can expect fast download speeds of 5 to 12 megabits per second (Mbps) and upload speeds of 2 to 5 Mbps in 4G LTE mobile broadband coverage areas
Five-row QWERTY keyboard
Samsung Super AMOLED™ Screen Technology makes watching movies, viewing videos and playing games come to life, even in bright light and outdoor environments
Android™ 2.3 Gingerbread – support for Google™ Mobile Services including Gmail™, YouTube™, Google Talk™, Google Search™, Google Maps™ and access to more than 250,000 apps available to download from Android Market™
Samsung 1 GHz Cortex A8 Hummingbird Application Processor
Front-facing 1.3-megapixel camera for video chat and 5-megapixel rear-facing camera with autofocus and flash (720p HD playback and 480p DVD-quality recording)
Mobile Hotspot Capability – share 4G connection with up to eight Wi-Fi enabled devices or a 3G connection with up to five devices
AllShare™ – enables wireless connectivity through Digital Living Network Alliance® (DLNA), so customers can send multimedia content to other DLNA Certified®-enabled devices such as TVs and laptops
Samsung Media Hub – Samsung's own content service, offering a vast lineup of critically acclaimed films and TV programs for rent or purchase
Bluetooth® 3.0 technology – support for headset, hands-free, stereo, phonebook access, and object push for vCard and vCalendar
Multiple video file formats supported, including DivX and XviD
Wi-Fi Connectivity (802.11 a/b/g/n)
Business features:
Samsung's enterprise mobility solutions will provide flexibility and connectivity for mobile workforces, ensuring that users are able to operate more efficiently on the go.
Microsoft® Exchange ActiveSync® (EAS) – communicate directly with your Microsoft Exchange Server enabling push email, calendar and contacts
Support for Cisco AnyConnect 2.1 SSL VPN – supports access to private corporate networks using industry-standard VPN protocols with enhanced security of 4G LTE networks helps users tap into VPN networks with no waiting
Encryption Services – users and IT administrators can initiate a remote wipe command to erase private information
Support for Sybase Afaria® – MDM capabilities allow an integrated experience for the end user in the event it is required by their IT department or corporate policy
Pricing and data packages:
The Samsung Stratosphere will be available on Oct. 13 in Verizon Wireless Communications Stores and online at www.verizonwireless.com for $149.99 after a $50 mail-in rebate with a new two-year customer agreement. Customers will receive the rebate in the form of a debit card; upon receipt, customers may use the card as cash anywhere debit cards are accepted.
Customers that purchase a Samsung Stratosphere smartphone will need to subscribe to a Verizon Wireless Nationwide Talk plan beginning at $39.99 for monthly access and a smartphone data package starting at $30 monthly access for 2 GB of data.
Its the Epic 4G a year later.

I was just thinking the same thing. Hopefully it doesn't have all of the issues the Sprint one did.

it really does look like the Epic 4G, just with the Verizon logo.

The didn't even change the colors of the Sprint yellow on the keyboard. Must have had a bunch of those laying around still lol

probably....I choose the EVO over the Epic last year lol

I had the Evo for over a year, now I have the thunderbolt. It has the same basic specs as the evo but it has internet that is a thousand times faster. So it seems like a major upgrade.

But, marketing can be used to recycle that year-old phone into something new!

Seems disrespectful to announce this now...

lol i see what you did there

does this mean 2.3 for the charge?

Now I am worried that the Prime isn't ready to be announced. That whole "it's too soon" didn't make a lot of sense anyway.

I would love to see a slider/keyboard phone that has the keyboard as a touchscreen/e-ink display. It wouldn't need graphics like the screen, but an e-ink touchscreen display on the lower section could be reconfigured an be buttons, hotkeys, keyboard at a touch.

Dude, your high off your ass. It's an old phone

Would be a nice upgrade for the wife's D2, passed on D3 due to wanting LTE for her. If no other slider comes out soon, this is it. For all of you that keep stating "last years specs" I guess car dealers should only carry new cars every 4-6 years? Since the internal SPECS are the same from year to year, only engines, MPG, design, etc only change every 4-6 years on a car model? Wyt buy a 2012 Vette if its the same as a 2011 Vette? It has the same SPECS? How silly of Chevy? I'll wait for the 2015 model. You don't like last years specs, don't buy it! Find last years model and save money, oh wait...VZW didn't have it until now.

+1. My wife has been suffering with a Palm Pre. She has been begging for an Android but wanted a physical KB. Was waiting for something with LTE. Yeah, this doesn't have all the latest specs, but with LTE, Gingerbread and a physical KB, this is going to be perfect for a whole lot of people, like my wife who doesn't need the most up to the second specs. Only phone geeks like us are going to call it a re-hashed Sprint phone. Most people don't care and I think lots of folks are going to jump on this one. Just my opinion.

Exactly! LTE, 4" screen, physical kb, GB and decent specs are good for her.

Yep! My wife has a crummy LG Ally that only works half the time. This looks like a great upgrade for her.

So does this mean that Sprint might get 2.3 out for the Epic? This looks like the exact same hardware to me.

not exactly related to this phone but i just wanted to say my Captivate sure could you some official gingerbread love... plz!

I went from Pre+ to Pre2, and then HP screwed us all. Been looking for an Android with a physical KB. Don't like the exposed KB of Droid Pro & Droid 3 has too much bloatware. Stratosphere may be the answer.
Android Central Newsletter
Thank you for signing up to Android Central. You will receive a verification email shortly.
There was a problem. Please refresh the page and try again.