Using ultra power saving mode on the Samsung Galaxy S5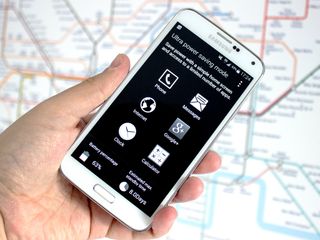 What Samsung's power saving mode can do and how it can help you out when you're short on battery
The Samsung Galaxy S5 comes with a couple of different solutions to helping you out when your battery power starts to run low. One of these, ultra power saving mode, is designed to help you keep using your phone when things get really close to the wire.
Samsung made a big deal of this at the launch event, so now we've had one in hand for a little while, let's take a look at what ultra power saving mode is, how it can help you and how to use it.
First up, how to enable it. Sadly it doesn't come on automatically, so the quickest method is to swipe down from the top of the display with 2 fingers to open the quick settings drawer and tap on the toggle. It'll take a few seconds to kick in, but then everything will go black and white.
The Galaxy S5 will serve up a standard selection of six applications to use in ultra power saving mode. You're able to access the most basic functions of the phone — making calls and sending and receiving SMS messages — as well as the Calculator, stock web browser and Email app as well as Google+. So you're limited but not overly so. You rely on your smartphone to communicate and it doesn't stop you from doing that.
But besides sticking with the stock apps, you're also able to switch them out for a few other choices more favorable to you. But you can't replace Phone, Messages or Internet. By tapping the menu bar you're able to remove one of the apps and replace it with ChatON, Memo or Voice Recorder. Your data connection is limited to 3G — LTE sucks battery after all — but you can turn LTE back on if you so wish by heading into the Mobile Networks settings menu.
Settings allows you to access the most basic phone functions – Wifi, Bluetooth, Flight Mode, Mobile Networks, Location, Sound and Brightness. Wifi and Bluetooth will be set to off by default and mobile data will be disabled when the screen is off. There's no way to turn this back on either, off means off. The lock screen also gets dumbed down severely so it's just a simple slide to unlock. No fancy animations.
Turning it off again is as easy as sliding down the notification tray and hitting the disable message. Another few seconds and you're back to normal.
A couple of other points worth considering:
We've already covered the issues with running ultra power saving mode alongside the sideloaded Google Now Launcher. The two really aren't good friends.
You can't take Galaxy S5 screenshots in ultra power saving mode. Neither the palm swipe or power + home button combination will allow you to do this. Not a deal-breaker, but still something to bear in mind if for some reason you just can't stop taking screenshots.
And that's about it. It looks cool as hell turning your Galaxy S5 all black and white, but more importantly it really can get you out of a jam. We've had no issues making it through most of the day using it as intended with around 15 percent battery remaining to begin with. And that's what it's all about.
For more, see our Galaxy S5 help page, and swing by our GS5 forums!
Android Central Newsletter
Get instant access to breaking news, the hottest reviews, great deals and helpful tips
There should be an option to enable this when battery drops down after a certain percentage. Like enable this when battery is below 40%.

HTC's extreme power saving mode will let you choose to have it auto-engage at 20%, %10, or %5.

ITTT, would that even work for something like this?
(If This, Then That - I've never used it, yet) Posted via Android Central App

Is there a way to add spotify and hangouts to the mode?

Not at the moment. Only the apps mentioned in the post.

Would love to have this on my GS4

+1 Don't count on it though Posted via Android Central App

still i prefer Sony's stamina mode because samy and htc's methods limit usability

Uhhhh, that's the whole point....

Without limiting usability it can't have the drastic effects.. Data and other apps are the big power users... Posted via Android Central App

you can still turn off features you don't want in stamina mode and and limit as much as you want.you are in control

Samsung already has that, it's called "Power Saving Mode". This is in addition to that, "Ultra Power Saving Mode". So still giving control, but this mode gives you a few more days instead of a few more hours.

I am wondering why Samsung went with the monochrome display for this mode. Being AMOLED, to make white you use all of the available RGB LED's thus max screen power. With blue being the most inefficient, making the screen use only red or green would be a better idea from a power savings standpoint. I think green would have been better for power saving, and the color itself infers "eco mode".

Amoled technically black uses the least amount of power.. And white is easier to read on a white background... I think that's why they went with it Posted via Android Central App

That's the first thing I thought Sent from my Nexus 7 2013 or iPhone 5

It's not about the display as much as about the graphics processing. 2 bit graphics requires much less effort from the GPU.

My phone stays in 4G while in ultra power saver mode and it doesn't look like it cuts my data off either. I still get great battery life from it though Posted via Android Central App

My ultra power save doesn't work at all. If I pull down the notification bar and enable it from there' the bar just scrolls back up. If I try to enable it via settings, it just will not turn on. Doesn't surprise me though. This is hands down the worst phone I've ever used in my life. So many functions don't work or are incredibly unstable. I would seriously take a phone from 10 years ago instead of this. It's almost paid off. Can't wait 'cause then I'm taking a baseball bat to it.

I think this would be better if other apps like messages, memos or the voice recorder, had black backgrounds with white letters instead of just being on grey scale. Coming from someone who uses this mode 24/7.

Here is a video presentation of this topic. The topic is very useful regarding battery life. https://www.androidcentral.com/e?link=https2F2Fcli...

I have a question and may be some one knows the answer. I am visably disabled. I can see but the screen has to be adjusted in a certain way. Namely the keybord must have a black underground with white letters and the light must not be very bright. Also the blue bar at the top of the screen which you see when swiping down with two fingers must be black. I had it like that but since the update last week my keybord underground on the phone with whatsup/messenger/mail is white with black letters and the bar at the top of the screen which was black with green or orange letters is now blue with green which I can't see well at all. Also when using the phone the the ground/underlay? is white with grey numbers and letetrs whereas it was black with white letters. Also the contact do have a white ground/underlay instead of black with white letters.My eyes are getting hurt after I sed the phone (whatsup/messenger/adjustments etc for more than ten minutes. Can somebody pls help me sothat I can use my phone again for a longer time. Tried to set it on negative thought it wld sort out eh problem but then also all my pictures can only be seen in negative. Also the ultra power saver is different because the I can only use a few items which I can not choose myself . The secreen however was black like that, Please help me out. Looking forward to yr answer

I just have a problem with it not showing me my notifications after its off

That's exactly my problem as well. Have you found a solution?

I found Using ultra power saving mode very useful, and it was also one of the reasons for bying it.
I have been on 5 days trips and still have 50% battery level.
It's only one problem. I can't read e-mail. I really miss the e-mail client. It's a hassel to swith to normal mode - read e-mail and switch back to UPSM.
I cant understand why this is not on the list of apps you can use in UPSM.

hi mam please help me about ultra power saving mode. i trying to use the ultra power saving mode. the i need back off this is missing if im click the more for back to normal its nots show. I need disable this is not show the more..
Android Central Newsletter
Get instant access to breaking news, the hottest reviews, great deals and helpful tips
Thank you for signing up to Android Central. You will receive a verification email shortly.
There was a problem. Please refresh the page and try again.