A few days with OnStar in-car LTE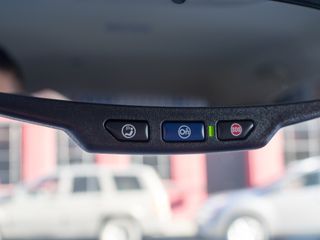 Considering the ubiquity of mobile devices with their own LTE data connections, including phones and now tablets, I've not quite understood the appeal of having a dedicated mobile data connection in the car. After spending a few days with in-car LTE available at my disposal, I've started to change my tone a bit on the situation.
After using it, it's clear that there are a plenty of reasons why it makes far more sense than just relying on individual connections to your phone or tablet — the real question is how much you'd be willing to pay for it. Read along and see just how useful I found integrated in-car LTE to be in the real world.
A 'set it and forget it' setup process
I had the opportunity to test out GM's new in-car LTE product, which is powered by OnStar and AT&T, on a new Buick Encore. The car is loaded up with technology of all sorts, but the stuff that really appeals to gadget nerds comes in the way of a dedicated LTE connection to the car and its ability to be a rolling hotspot for every device around it.
The process of setting it up couldn't be simpler — press a dedicated OnStar settings button on the rear-view mirror, and you'll have the option to select (or speak a voice command for) hotspot settings. The in-dash display will show a Wifi network name and password for a little while — type it in on your phones or tablets and you'll be up and running. The hotspot is available whenever the car is running, and is always broadcasting its SSID (which can only be changed with the OnStar app).
GM is offering a three month — or 3GB of use, whichever comes first — trial of the service with all new cars that have the capability. After the trial period there are a couple different ways to keep it running, depending on how you want to do things. You can buy a monthly subscription of 200MB for $10, 1GB for $20, 3GB for $30 or 5GB for $50 — with a $5 discount on the smallest two buckets if you're an OnStar subscriber. There are also one-time buckets of 250MB for a day or 10GB for a year at $5 and $200, with a $50 discount on the latter for OnStar subscribers.
Those are industry-standard mobile data prices that you'd normally pay for any other mobile device, but I'm in the camp of thinking they don't offer as much value considering they're tied to just your car. The one big caveat to all this is if you're an AT&T customer — then you have the ability to add an OnStar LTE account to your current Mobile Share Plan for $10, just like a tablet. After doing so the car will draw from your existing data bucket, meaning you're not managing a whole new account.
Using it and connection speeds
Whether you're looking at paying for a recurring monthly data plan, a fixed yearly data bucket or $10 add-on to your AT&T account, the pitch for LTE in the car is the same. Because you're driving a huge car and not a tiny phone, you're getting a much larger antenna setup and tons of power to give you the best shot at a consistent and powerful LTE signal. And with your phone connected to that Wifi network instead of its own cell network, presumably your mobile battery will hold up longer in the car when it's not bouncing between towers trying to keep a connection (of course in-car USB and 110V power outlets help, too).
In my time with it, I've found both to be true, and surprisingly the combination is really nice to have. Wifi speeds when connected to the car hovered around 10mbps both down and up, which isn't lightning fast but is consistent to what I get from AT&T on my phone in the middle of the day in the city. (Also of note, the Wifi network is 2.4GHz and reports as a 65mbps connection, so it's obviously not the fastest router out there.) I wasn't able to drive out to a more rural location for tests, but any time I hit a speed test on my phone I was getting about the same numbers. At those speeds, consistency is key.
I also saw the value in having a higher-powered antenna on the car when I was in parking garages. Under ground in a thick concrete garage, I still had a Wifi connection on my phone long after its own LTE connection had bit the dust ... and again the speeds were still there. It's not something you think about every day, but when you're in a parking garage — or other low signal area — trying to message someone to let them know where to find you, you'll really like having that connection.
Then of course there's factoring in the use of the hotspot for your kids in the back seats of the car. Rather than handing them a couple of LTE-enabled tablets that can use up data anywhere, you can hand them Wifi-only devices that can stay connected on the go for car rides but lose their data-bucket-draining capabilities as soon as the engine is off. And you don't need to bother with turning on your own phone's hotspot and plugging it in every time you're in the car — just turn on the car and you're good to go. I can't say I tested this because I don't have children, but it's not a big leap for me to consider this as a real feature.
Actually a nice feature to have
Actually spending some time in a car with an LTE hotspot has started to make me turn the corner on its usefulness and value. Walking out of the house and to the car I simply started leaving Wifi on, knowing that as soon as I started up the car (in this case with remote start as I approached) I'd have a stable Wifi connection ready to go. My phone saved a bit of battery staying on that Wifi connection rather than cellular, and when I was streaming music to the stereo via the Pandora app I knew it wouldn't ever cut out.
The value of in-car LTE is definitely there, but whether or not it provides enough value to end up paying for it monthly is a different question. For folks with an AT&T Mobile Share Plan, I think the $10 addition is a relative no-brainer to have a more robust LTE connection in the car and the ability to share the mobile data to other devices simply. But if you're not on AT&T, it's tough to know if you'd use enough data in the car each month to justify having a separate data plan to manage. Most folks will enjoy the 3GB of free data — I know I did — when they first buy a new LTE-equipped GM car, but I expect the pricing to hurt the conversion rate of non-AT&T customers when they take everything into consideration.
Sign up for Black Friday email alerts!
Get the hottest deals available in your inbox plus news, reviews, opinion, analysis and more from the Android Central team.
Andrew was an Executive Editor, U.S. at Android Central between 2012 and 2020.