A few days with OnStar in-car LTE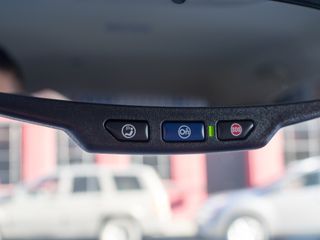 Considering the ubiquity of mobile devices with their own LTE data connections, including phones and now tablets, I've not quite understood the appeal of having a dedicated mobile data connection in the car. After spending a few days with in-car LTE available at my disposal, I've started to change my tone a bit on the situation.
After using it, it's clear that there are a plenty of reasons why it makes far more sense than just relying on individual connections to your phone or tablet — the real question is how much you'd be willing to pay for it. Read along and see just how useful I found integrated in-car LTE to be in the real world.
A 'set it and forget it' setup process
I had the opportunity to test out GM's new in-car LTE product, which is powered by OnStar and AT&T, on a new Buick Encore. The car is loaded up with technology of all sorts, but the stuff that really appeals to gadget nerds comes in the way of a dedicated LTE connection to the car and its ability to be a rolling hotspot for every device around it.
The process of setting it up couldn't be simpler — press a dedicated OnStar settings button on the rear-view mirror, and you'll have the option to select (or speak a voice command for) hotspot settings. The in-dash display will show a Wifi network name and password for a little while — type it in on your phones or tablets and you'll be up and running. The hotspot is available whenever the car is running, and is always broadcasting its SSID (which can only be changed with the OnStar app (opens in new tab)).
GM is offering a three month — or 3GB of use, whichever comes first — trial of the service with all new cars that have the capability. After the trial period there are a couple different ways to keep it running, depending on how you want to do things. You can buy a monthly subscription of 200MB for $10, 1GB for $20, 3GB for $30 or 5GB for $50 — with a $5 discount on the smallest two buckets if you're an OnStar subscriber. There are also one-time buckets of 250MB for a day or 10GB for a year at $5 and $200, with a $50 discount on the latter for OnStar subscribers.
Those are industry-standard mobile data prices that you'd normally pay for any other mobile device, but I'm in the camp of thinking they don't offer as much value considering they're tied to just your car. The one big caveat to all this is if you're an AT&T customer — then you have the ability to add an OnStar LTE account to your current Mobile Share Plan for $10, just like a tablet. After doing so the car will draw from your existing data bucket, meaning you're not managing a whole new account.
Using it and connection speeds
Whether you're looking at paying for a recurring monthly data plan, a fixed yearly data bucket or $10 add-on to your AT&T account, the pitch for LTE in the car is the same. Because you're driving a huge car and not a tiny phone, you're getting a much larger antenna setup and tons of power to give you the best shot at a consistent and powerful LTE signal. And with your phone connected to that Wifi network instead of its own cell network, presumably your mobile battery will hold up longer in the car when it's not bouncing between towers trying to keep a connection (of course in-car USB and 110V power outlets help, too).
In my time with it, I've found both to be true, and surprisingly the combination is really nice to have. Wifi speeds when connected to the car hovered around 10mbps both down and up, which isn't lightning fast but is consistent to what I get from AT&T on my phone in the middle of the day in the city. (Also of note, the Wifi network is 2.4GHz and reports as a 65mbps connection, so it's obviously not the fastest router out there.) I wasn't able to drive out to a more rural location for tests, but any time I hit a speed test on my phone I was getting about the same numbers. At those speeds, consistency is key.
I also saw the value in having a higher-powered antenna on the car when I was in parking garages. Under ground in a thick concrete garage, I still had a Wifi connection on my phone long after its own LTE connection had bit the dust ... and again the speeds were still there. It's not something you think about every day, but when you're in a parking garage — or other low signal area — trying to message someone to let them know where to find you, you'll really like having that connection.
Then of course there's factoring in the use of the hotspot for your kids in the back seats of the car. Rather than handing them a couple of LTE-enabled tablets that can use up data anywhere, you can hand them Wifi-only devices that can stay connected on the go for car rides but lose their data-bucket-draining capabilities as soon as the engine is off. And you don't need to bother with turning on your own phone's hotspot and plugging it in every time you're in the car — just turn on the car and you're good to go. I can't say I tested this because I don't have children, but it's not a big leap for me to consider this as a real feature.
Actually a nice feature to have
Actually spending some time in a car with an LTE hotspot has started to make me turn the corner on its usefulness and value. Walking out of the house and to the car I simply started leaving Wifi on, knowing that as soon as I started up the car (in this case with remote start as I approached) I'd have a stable Wifi connection ready to go. My phone saved a bit of battery staying on that Wifi connection rather than cellular, and when I was streaming music to the stereo via the Pandora app I knew it wouldn't ever cut out.
The value of in-car LTE is definitely there, but whether or not it provides enough value to end up paying for it monthly is a different question. For folks with an AT&T Mobile Share Plan, I think the $10 addition is a relative no-brainer to have a more robust LTE connection in the car and the ability to share the mobile data to other devices simply. But if you're not on AT&T, it's tough to know if you'd use enough data in the car each month to justify having a separate data plan to manage. Most folks will enjoy the 3GB of free data — I know I did — when they first buy a new LTE-equipped GM car, but I expect the pricing to hurt the conversion rate of non-AT&T customers when they take everything into consideration.
Android Central Newsletter
Get instant access to breaking news, the hottest reviews, great deals and helpful tips
Andrew was an Executive Editor, U.S. at Android Central between 2012 and 2020.
For something as big as a car that you keep for as long as you keep a car, it should at least support any carrier in the US,
It's a data only connection and their is no reason in this day and age that they can't support T-mobile, AT&T , Verizon and Sprint bands.
all you'd need is a sim card slot somewhere in the car. I guess if they have to leave out Verizon and Sprint because of there finicky device authorizations I'd understand I guess, but T-mobile LTE support would be really easy to add. In any case it would have to be more universal for me to bite.
For a long time AT&T user it seems like a no brainer.

I agree but I'm sure AT&T pays the car companies a bunch of money for the exclusive. You can easily chew through a lot of data very easily and these prices seem somewhat ridiculous to me. Think about having 2 kids in the back, both with tablets, both watching YouTube or something for a 6-8 hour car ride to a vacation spot. In a situation like that you could easily go through 30-40GB of data, at $50 for 5GB that $300-$400! Now if your significant other wants to use the data that'll cost you even more. I would say it should be about $200/year for unlimited data.

That's completely separate, it's a pricing issue by the mobile carrier, which having it open to any carrier would help.
Those prices are pretty much industry standard, $200 / year for unlimited data is a pipe dream
even T-mobile and Sprint's unlimited data isn't that cheap and that's only for smartphones.
This would go by their tablet / tethering data prices.

I know it's paid for separately but I have a feeling AT&T paid GM for exclusive rights. I don't have any proof of that but it wouldn't surprise me. Yes, it would be great if you could get service from any company but that would introduce competition and if there's one thing all telecoms hate it's competition. And yes I know $200/yr for unlimited is unrealistic but if you consider it's only good while you're in your car I think it's more reasonable. I would even go as high as $500/yr for unlimited but the prices they're charging are just insane. I think a lot of people will get it for a while but will quickly find that its utility isn't worth the cost.

I see what your saying
I think the disconnect is that I'm going on the assumption that something like this is only really viable if you can connect it to your existing mobile contract and data allowance for $10 extra a month or so. I certainly wouldn't buy a whole data plan just for my car.
which is why I think opening it up to any operator is what would make it valuable.
the data pricing for mobile operators is a different issue in that case.

I would agree with that. I have T-Mobile and if I could just add it to my account for $10/month I would get it in a second. As an additional data plan with a separate carrier there's no chance. I'm already paying for Internet in my house and on my phone, I'm not going to pay for it in my car as well. I'll just use WiFi hotspot on my phone.

Why would you *drive* 1/4 of the way across the country to vacation?!

Driving is a perfectly reasonable way to travel if your concerned about costs.
I've driven 8 - 10 hours for many trips. From NJ you can reach a lot of places in 8 to 10 hours
and you skip the costs for plane tickets and car rentals.

Driving wasn't my issue. Driving *eight to ten hours* seems excessive. Unless you're going somewhere unreachable by air, rail or bus, it just seems like you're passing by dozens of great vacation spots. And if the concern is costs, maybe we shouldn't be buying in-car LTE or buying gas to drive *eight to ten hours* to get away from it all.

Depends on your preferences i guess, I don't see it as excessive really
from NJ I've driven to Massachusetts, North Carolina, Virginia all are within the windows discussed 6 - 10 hours. But I like driving and I'd rather have my car when I get there.

Agreed. When I mentioned it I was thinking of my family vacations when I was a kid going from Buffalo, NY to the Adirondacks. I've also taken many trips in recent years to various breweries across the country to get beers that are unavailable here, many of those trips have taken 10-12hrs each way. I've also driven to Virginia (9hrs), S.Carolina (12hrs), and S.Florida (24hrs). 6-8-10hrs really isn't that uncommon.

Long drives are great! There is no other way to really see the country! We went on 95 from Maine to the Carolina's, stopping at hundreds of historic sites and little museums that you will never ever see if you just flew over them to just visit one location! Lots of great memories and experiences that you'll never have otherwise. Sometimes driving can be the vacation! With all the random hotels and fuel, it was rather expensive but well enjoyed.

Here's a vacation we took when I was a kid: https://www.google.com/maps/dir/Edison,+NJ/Hilton+Head+Island,+SC/@36.3616703,-82.4786475,6z/data=!3m1!4b1!4m13!4m12!1m5!1m1!1s0x89c3d37f68bea199:0xf22bc5a66f83d4ea!2m2!1d-74.4120953!2d40.5187154!1m5!1m1!1s0x88fc79dc8ed319ad:0x2ce5a67aeba2283d!2m2!1d-80.752608!2d32.216316?dg=dbrw&newdg=1 768 miles / 25 MPG * $3/gallon for gas = less than $100 bucks. 5 people * $543 / ticket = $2715. That's before you include baggage or rental cars. For a larger family, it's completely reasonable that they'd suck it up and eat the extra 8 hours to save over $2500 for a vacation. Or that they might reinvest $200 of that to keep the kids occupied during that time.

8-10 hours is a lot to you? Lol. Posted via the Android Central App

I know, I'm wondering if maybe he/she is European. An 8 hour roadtrip with the family in America is not uncommon at all.

I've driven as much as 1600 miles on vacation before. Seattle, WA to Las Cruces, NM. Far more enjoyable than spending all day at airports and on planes...even if it does take a couple days on the road!

People in America drive to Vacation spots all the time. That's really not the excessive. Some families drive across the country. Driving a car will save a ton of money with a family. An eight hour drive would be from San Diego to San Francisco.. something I'm sure thousands of families do every year.

You guys and all of this driving:
To the person who "did the math" based on $3 a gallon for gas. Where were you during the recession when it was more than $5 a gallon?
Everyone else: Why am I surprised I'm finding crazy people in the comments section?! lol ... 24 hours driving. Just to avoid an airport layover?!

It's not about avoiding layovers, at least not for me. Sometimes the trip can be as enjoyable as the destination. Then there are times, again in my case, where I've driven all over to various breweries to get things I can't get here like 3 Floyds in Indiana, Cigar City in Florida, and Hill Farmstead in Vermont, in fact I'm taking a trip to Fatheads Brewery in Ohio later this month (7hrs round trip). You can't bring a bunch of cases of beer on a plane with you and it would be prohibitively expensive to ship it back to yourself so I just go get it. When I was in my 20's I drove to Florida for spring break with a friend and he and I stopped at Myrtle Beach on the way there and in N. Carolina on the way back to visit his brother. There are many reasons to drive, those are just the reasons I do.

All this driving? If you are just spending your time flying from airport to airport, you're missing a lot. You really are. It makes more sense to do that of it's a route you have traveled before, but if it isn't you are really doing yourself a disservice and aren't seeing everything that you could. Posted via Android Central App

"Where were you during the recession when it was more than $5 a gallon?" I travel all over the east coast in a band, I've done it for years, and I've never paid anywhere near $5/gallon for gas.

The only time I will use my in car LTE is when I travel out of the town, drive to a different city. I'm sure this apply to most of the population. Do you think there is any t-mobile LTE signal along the highway? Posted via Android Central App

Their is in my area of the northeast in Central NJ, I'm pretty much never without LTE.

Andrew, I believe you don't have a car - do you have the license?? /s

You can change the SSID and password through the onstar app.

Ah! I didn't actually see that feature anywhere in the car and didn't actually have access to the app since it requires a registration process that wasn't easily done with a loaner car. That doesn't make much sense to require the app to do that :-/ ... I've clarified that point above.

I still don't see any use after reading this article. I'm happy with my 20GB a month for $55 from Cricket.

The only people for who I think this might make sense is for those who do A LOT of work in or near their cars.

If you do work from your car, do what most people do, go park at McDonald's..... Better option would be to buy a cheap LTE hotspot, a car charger, and a better valued plan from T-Mobile. The second option is also transferable between vehicles, and you can use it with any year model vehicle that has a DC-outlet/Lighter. Manufacturers build these options for people who buy $10,000 watches to get notifications about the $3 in their checking account. Galaxy Note 4 Galaxy S III
LG G2
If it ain't Tech, it ain't Right.

I don't disagree with you, because I think having a hotshot on your car is wasteful to say the least, but it's the ONLY scenario in which I can see it sort of paying off a little bit.

Even if that's the case, it's less expensive to just pay whatever extra your carrier charges to allow wifi tethering on your phone, isn't it? No need to for expensive in-car wifi plans or dedicated hotspot devices.

Wifi tethering chews through your battery. It's practical for a quick 15-20 min session, but any more and you'll have to get a charger.

Without a doubt, but if you're in the car, you presumably have access to a charger. The only benefit I see to this at all is what Andrew said about the larger antenna handling parking garages and maybe rural areas a little better.

Exactly this... the battery drain complaint is silly; there are dozens of solutions to increase your battery on the go, so why not choose the data option that's CHEAPER and not location-limited?

I would love it and would be OK paying the $10 device fee to include the car on my Verizon share plan. If it does not work with my existing carrier or it costs more I would not be interested in it. Also, if it does not work with my carrier of choice I would actually see it as a negative - money is being spent for a feature that I would never use.

For some time now Audi has offered this in their cars through partnership with T-Mobile. The pricing may have changed but when I signed up it was $600 for three years of unlimited data. I have a grandfathered unlimited Verizon plan so I don't use it, but I have lots of friends that use it when we travel. In addition to providing a hot spot it also provides the data for Google voice searches and internet destination searches for GPS navigation. I could care less who the carrier is since it's just for the car. I'm not tied to a contract of any sort. They did offer a monthly plan instead of the three year plan but if I remember correctly there was a 45% discount for going with the one time, three year purchase. Via the AC App On Verizon Nexus 6

I just did some research into their new plans. About 6 months ago Audi switched to AT&T, 30gb for 30 months at $500. That really sucks. Via the AC App On Verizon Nexus 6

Being able to use WiFi in the car, so I could have simultaneous voice and data (which Sprint stupidly no longer provides on their Spark enabled phones) would be nice. But it's going to be hard for me to justify even $10 a month given that I have unlimited data with Sprint. Thanks, but no thanks. Maybe if I was a road warrior who spent most of the day working out of my car, but even then I think I'd rather have a mobile hotspot, that isn't tied to my car.

I love running hotspot in the car when on road trips, so my daughter has access to Netflix and such. With Verizon and through several states, her movies never skipped a beat. For something such as a car I would prefer the ability to use Verizon or AT&T for LTE, having yet another company to deal with is just an extra hassle and definitely a point against this vehicle ..

Rich man, I should say. Posted via Android Central App

I don't see myself paying much more than $5 a month for this and that would still have to be something approaching unlimited data. That said I don't have kids using Netflix so even if I streamed audio constantly I wouldn't use more than a few hundred megabytes a month.

You want unlimited LTE data for $5 ?? I just don't see that happening.. Ever.. You can however get "a few hundred megabytes a month" for 10 bucks :)

Yes but a few hundred megabytes for $10 a month is a ripoff.

I hate how the Car is tethered to one network. We you take the AT&T add 10 bucks a month approach, its not bad at all. But only for AT&T. Chrystler, Jeep, Dodge Ram, uses Sprint, and has its own bussiness model. I would still rather make my phone a hotspot if need be, and want my car to use my phone as a gateway to the internet. There is no reason you couldn't put a repeater on you ride either to boost your cell service a bit.

There were times when I just brought my Verizon Jetpack into the car so people could use LTE, isn't a mobile hotspot good enough for something like this? Posted via the Android Central App on my Droid Turbo.

I still can't understand the benefit of this over a mobile hotspot. If you're going to spend the money, why be limited to your car?

Nope, not a chance in hell I will get a car with LTE. EVER. Not only do I object to having yet ANOTHER data bill to pay, but from what I hear, these systems are not all that secure, and I am 100% sure we will hear about fatalities because some moron had his car hacked and couldn't brake or steer his vehicle! Give me a radio with bluetooth, or at the MOST, a display that will tether to my phone for navigation. That's all I want or need.

Maybe this post isn't clear enough for most to understand the technology behind internet in the car. The Wi-Fi hotspot is just there because "why not". The data connection is used for navigation, traffic updates, diagnostics, crash detection and emergency response, pois, and more. The hotspot isn't just there to be there by it's lonesome. Since the vehicle is equipped with internet connectivity for functional and emergency services why not make a hotspot of it as well. In the case of this post it's for GMs On Star, which serves for navigation, vehicle recovery and emergency crash response. Other manufactures, mostly of high end cars, also have these services. Via the AC App On Verizon Nexus 6

Reading your response made me think of something, isn't On Star an additional charge? Does that mean you have to pay for On Star and then if you want the hotspot feature you have to pay even more? That's just too many companies trying to take money out of my pocket.

For on star, yes it is both paying for the plan and the data. I own an Audi, for it the data is unlimited. If you don't get the data you don't get a lot of the functions of the "MMI" (Audi's computer system/nav). With Audi you just pay the data, there's no addition charges like GM has with on star. Via the AC App On Verizon Nexus 6

That makes it even less worth it, you have to pay for On Star in order to be able to pay for data. It really doesn't matter for me because I wouldn't buy a GM vehicle anyway. Too bad Audi went with AT&T, I was thinking of getting an A6.

In our new Malibu Ping times are way to high causing web pages to load wayyyy to slow. I didn't even try streaming a show. I just turned that crap off. Posted via the Android Central App

I used the free trial in my 2015 Chevy Silverado and loved it, trial expired and I have not renewed it. Why ? I don't need another bill on top of the on star and xm radio subscriptions. I'm not endless money pit....geez !! Posted via the Android Central App

Now that I have the 2015 Volt with LTE Wi-Fi I wish there were an option to turn off the broadcasting of the SSID. There's no reason to leave it broadcasting all the time once you've set up the devices that will be using it and while not incredibly helpful to security, it does keep things quieter when nobody's actively using it.

As with other posters, I too had the trial in my 2015 Silverado and did not renew. It only came in handy when we drove to Florida on vacation and my wife needed the hot spot for work purposes. We used to be AT&T customers and I understood from them that one could have a separate data plan apart from OnStar but they didn't know when that would come about. Would also agree with other posters here that it shouldn't matter which carrier you have( we're now with Verizon), it should be designed to run on any network. One feature I would like to see is, if one purchases 30gb of data, being able to use all that data regardless of length of time( not limited to,say, 30 gb/month and then you lose what you don't use). My trial in my Silverado was great but I don't need OnStar( extra payments for----what?), my Silverado has a built-in Nav system (we also own a Garmin) and I would only use the Silverado hotspot very infrequently, only on vacations or far away from home where internet connectivity is spotty or non-existent.

Ok I do in a way agree with the 200 a year is a pipe dream in a way I have the 2015 Malibu and really do like it and I did use the trial 3 gigs of data and did like it a lot, but I agree the rate plans are just way to high. But as for options well free wifi dot Com or something close to that is a free wifi service yes you do have to buy the hot spot but 3 gigs a month for free, and we'll for those who like me will use more if I allow my kids to connect you have others I like cricket 49 a month and 4G lte service not always but most of the time unlimited usage, and it is pretty good my son can use it for online gaming and at the same time my daughter can use it for Netflix and not usually a problem around houston. Now if I could just give someone the mac number maybe I could connect my car with someone else, but until then mine will remain off and I will use other options, oh not sure about others but for me cricket does not work outside of Texas, but sprint did and does cost more, not sure if boost has one or not but boost phone set up as hot spot does work and everywhere and also unlimited just really slow, just my opinion and please anyone figures out hot to hack the system let me know thanks
Android Central Newsletter
Get instant access to breaking news, the hottest reviews, great deals and helpful tips
Thank you for signing up to Android Central. You will receive a verification email shortly.
There was a problem. Please refresh the page and try again.