Use your phone to unlock a better rental experience with Silvercar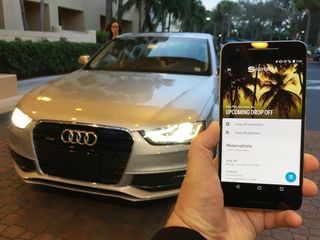 "Uber for xxxxx" is still a pretty popular marketing crutch these days. Think of it as shorthand for "on-demand something or other." And you can (roughly) call Silvercar "Uber for rental cars." I recently gave it a shot on a personal trip with my family. (Read: Silvercar didn't give us anything for this review. It came out of my pocket, personally.)
The gist is simple. You book a car through the Silvercar app (Android or iOS. When you arrive at your destination airport, you text Silvercar (the app helps with this) to let them know you've arrived. They arrive with a Audi A4. In silver. (You guessed that part, right?)
"Another startup-type company trying to disrupt things?" you ask? Sure. But my initial experience in Fort Lauderdale left me pretty excited.
Here's why.
First, the important part: Silvercar's not available everywhere. I'd call it a handful of locations. Airports, actually (save for New York City). And these are they:
Austin, Texas (AUS)
Chicago (ORD)
Dallas (LUV and DFW)
Denver (DEN)
Fort Lauderdale (FLL)
Las Vegas (LAS)
Los Angeles (LAX)
Miami (MIA)
New York City (Manhattan)
Phoenix (PHX)
San Francisco (SFO)
Booking and pickup
There's not a whole lot to be said for the registration process. It's quick and easy. You'll need to feed Silvercar some personal information, of course, including your driver's license number. (I did it through the website for ease of typing.) From there you'll reserve your car, giving them the city, dates and pickup and drop-off times. Nothing you haven't done a million times before if you're a frequent traveler, but Silvercar's site (and app) definitely is more attractive and easier to use than a lot of travel sites out there. (Why is that so hard to get right?)
Image 1 of 6
Have more questions? Find answers at Silvercar.com
The pickup process varies a bit by location. And as it turns out, Fort Lauderdale is the most difficult, not actually allowing Silvercar to conduct the hand-off on site. So once I arrived at the Fort Lauderdale airport — wife and young daughters in tow — we all hopped on the rental car center shuttle. Halfway there I texted the local Silvercar location (there's a big "Come pick me up!" button in the app that starts the SMS for you, which is handy), and they met us at the rental car center with a pair of cars, just in case all four of us and our luggage didn't fit in one, along with a driver. (The Fort Lauderdale team, smartly, asked how many people and how much luggage we had.) From there it was a 5- or 6-minute ride to Silvercar's off-campus location. Again, this is the outlier. Other cities will be much easier to use. Still, it was maybe an extra 10 minutes, total. Not a huge deal, even herding cats as I was, and the app did a nice job of telling me exactly where to go.
Once we were at the location, I used the Silvercar app to scan a barcode on the A4 we'd be renting for the weekend. This "unlocks" the car. A cursory check of my license and credit card — information I'd already entered when I signed up; they just confirm it the first time you rent — and we were on our way. As simple as it's ever been, and quicker, I think, than any other time I've rented a car.
Price, and actually driving the A4
Two reasons I decided to try Silvercar: First is that the initial estimate was about $90 less than the small SUV I'd already reserved from well-known rental company. And you know how the final cost always is higher. There's no set rate with Silvercar — it varies by market and date. But you do get an initial quote as you're going through the booking process. So you still get to price shop. In this case (though we're talking apples and oranges a good bit), it was cheaper. Plus, Silvercar includes the A4's built-in navigation for free, as well as basic satellite radio (not all the stations I'm used to, but the good music ones at least) and even in-car Wifi thanks to built-in 3G service. (I didn't use it, but I could see myself breaking down and letting the kids have Wifi if they started driving me crazy.)
Second was that it's an Audi, which I'd never driven before. I prefer sedans over SUVs anyway, and we'd all fit just fine. So that was a pretty easy decision. (Plus it's fun to try new things.)
Silvercar strongly recommends connecting your phone to the A4's Bluetooth system. That was another selling point for me — anything we can do to encourage drivers to keep the out of our hands should be encouraged. But that also was a little bit of a headache as I preferred (at first) to use Google Maps Navigation versus the Audi's built-in nav. I'm more familiar with it, and Google's voice activation can't be beat. But the A4's Bluetooth kept voice instructions from playing through, so for the few times I needed nav I just disconnected my Nexus 6P from the car. (I finally figured out Audi's nav system by the end of the trip, and it's not horrible, I guess. Just busy.)
When it was time to return the car (again, at a date and time I'd set up at booking), I just hit the saved location in the Audi's nav, and drove back to the Silvercar lot. From there we were dropped off at the departure level of the airport, and I quickly got a final receipt. Initial estimate: $251.04. Final cost: $272.28, with most of the difference being fuel.
The bottom line
All in all, a very good experience. The biggest hiccup for me was that the Fort Lauderdale location didn't have a child seat available (sold out for those dates, I was told), and I had to lug my own along as checked baggage. In any event, a booster seat would have been $60 extra with the rental company I didn't go with. Silvercar (if they have them, I guess) does them for free.
That this is one of those newfangled "use your phone to do this thing" services was sort of ancillary. The app is very well done, though, and there's not all that much to show while you're actually renting the car. (And you don't actually have to use their app, but it is highly recommended.)
I don't know if I'll use Silvercar every time I have to rent a car. I'll still shop around a little bit. If it's cheaper? Definitely. If it's close? Probably. The A4 was a nice ride. The employees who helped us out were personable and eager to help. The pickup and drop-off procedures — even at the more difficult FLL — were easy enough.
And I'm all for a little disruption in the same old services.
Save 15% with promo code Android15
When you're traveling — and especially when you're spending out of your own wallet — you generally want to save as much as possible. And Silvercar — independent of my personal experience with their service — has rigged up a 15 percent-off promo code for our readers. Just use Android15 when you reserve your rental.
Note that you'll actually want to use this on your second rental. When you initially sign up with Silvercar you'll get an offer for $50 off your first rental. Use that first. Then use Android15 on your second rental.
Get the Android Central Newsletter
Instant access to breaking news, the hottest reviews, great deals and helpful tips.