U.S. unlocked Galaxy Note 8 receives first software update, stays on August security patch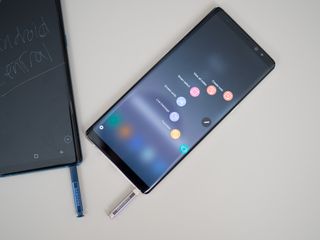 Just a handful of days after the Galaxy Note 8 left pre-order status, Samsung has sent out its first update to the proper U.S. unlocked model. The update, which brings the phone up to software version 1AQI5, is a respectable 81.63MB. The changelog, if you could call it that, isn't as exciting. There's "improved stability" particularly in relation to Google Maps and the Weather widget — and then of course the standard "bug fixes" we all know and love.
The update doesn't seem to change anything that can actually be seen in the interface, and with an update of this size that isn't all that surprising. Despite rolling out in mid-September the update unfortunately doesn't include the September security patch from Google ... we're still on August here.
The important part of this update, really, is that Samsung is actually pushing out an update to a U.S. unlocked phone. Something it's been well-known for neglecting to do.
Is this one update going to change the perception that Samsung simply doesn't keep up with updates on its U.S. unlocked models? No, it's going to take more than that. But, this is a great first sign — pushing out an update just a few days after the Note 8 officially went on sale and hit stores gives us confidence that the company has an eye on its unlocked version.
Are you noticing anything different on your Note 8 after the update? Let us know in the comments below!
Android Central Newsletter
Get instant access to breaking news, the hottest reviews, great deals and helpful tips
Andrew was an Executive Editor, U.S. at Android Central between 2012 and 2020.
Excited to download this when I get home! I wish I was able to download it on cell data, but it's just a small delay. I am a little frustrated that it doesn't have the September security update, though, considering Blueborne is a thing.

Not just the unlocked phones. I got my Verizon Note 8 update to AQI5 on 9/15 as well.

Yup. Difference is people never actually expect an update on the unlocked model ;)

Update on the T-Mobile variant as well.

Yep, saw the article and went and checked and it was there. That's actually pretty impressive that they got the update out to phones on different carriers at the same time. And the unlocked version with it.

*inhales* I applaud Samsung the Galaxy S8 are elegant in design and performance is definitely TOP NOTCH something the FakeTC or LG Gshit won't compare. I enjoy Galaxy Note products and that will never change my Note 5 and Note 7 and GearS is definitely boss but I will be buying the Galaxy NOTE 8 on T-Mobile. Supporting Samsung is exactly what I do and the last Galaxy product I had was the Galaxy S8 so it's time for another Galaxy NOTE handset. I laugh at all the others lame excuse for phablets these OEMs are pulling with no real work use multitasking nor productivity or true wrist watch communication, but these so called editors at Android authority Androidcentral technobuffalo and other so called review sites are busy waving pom pom to Google's barfing phablet Rip offs so bad it's comical I'm trying not to laugh. Everyone knows with me Samsung is technology and Android nothing else matters period they're the GOLD STANDARD nothing comes close.

Richard Yarrell, you're back!!!! You even said GOLD STANDARD #catchphrase

Except he's better than ever. Typing non coherent babble now. He's gone full frontal lobotomy. Awesome.

I never thought his rants can be any better, but I'm so glad I was wrong 😭 the legend is back!

Cough... I waited 170+ days to get the Nougat update on my 7 Edge... To me - not really the gold standard on the Android platform for software and security updates. Samsung does seem to be improving - that's is absolutely great. Hardware - yes - they are one of the best. Period.

You're just jealous that you'll never be as cool as Baldorcito, the legend 😭

I'm still waiting to pull the trigger for the Note 8. My Note 2 is getting slower nowadays but, it's been perfect for a long time. I hope I'll see a Big Difference.

You will see a big difference. You'll need a large back pack to carry it in.LOL

The update didn't just go to the unlocked version. I got mine through Verizon, and I received the update as well.

Received it on Sprint as well. However the file was a bit larger at 198.04 MB. Same description under what's new so don't know why the difference in MB. I'll just chuck it off to carrier bloatware...

My update on TMobile was the same size as yours

I got the update today on Sprint, I think its locked, how do I tell?

Seriously shocked that it went out the same time as the carriers. I downloaded it today and I didn't notice any significant change to the apps mentioned aside from the layout of google maps.

This update patches the blueborne vulnerability as confirmed by the armis scanner.

Wouldn't Google maps just update in the play store? They have to update it through a software update?
Android Central Newsletter
Get instant access to breaking news, the hottest reviews, great deals and helpful tips
Thank you for signing up to Android Central. You will receive a verification email shortly.
There was a problem. Please refresh the page and try again.