AT&T and T-Mobile have suspended Note 7 sales, with Verizon up next [Updated]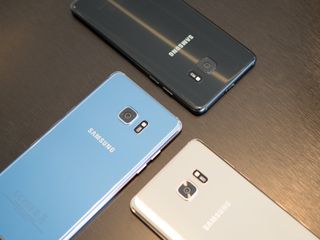 (Image credit: Android Central)
Further reports of Note 7s catching fire or exploding continue to roll in. AT&T and T-Mobile have officially suspended sales of the Note 7 (again), and sources tell Android Central that Verizon has halted sales internally and will be announcing similar measures in the near future.
T-Mobile has also added its name to the chorus of companies ceasing Note 7 sales (opens in new tab). CEO John Legere tweeted that "out of an abundance of caution for customers," the company has stopped selling the Note 7.
Sources have told Android Central that Verizon has also stopped selling the Note 7 as of Sunday, and would be making a formal announcement shortly.
Earlier, AT&T said it has officially stopped selling the Note 7. The carrier reached out to media outlets with the following:
They also want to reiterate that anyone who has purchased a Note 7 and would like to exchange it should come to a store and do so, as announced on Friday.
In related news, the Verge writes that a Richmond Virginia man has contacted them with yet another story of the Note 7 and its fiery ways. Shawn Minter says his replacement Note 7 went up in flames and filled his bedroom with smoke early this morning. He provided receipts and images, which corroborate his story.
Don't buy a Samsung Galaxy Note 7
Jerry is an amateur woodworker and struggling shade tree mechanic. There's nothing he can't take apart, but many things he can't reassemble. You'll find him writing and speaking his loud opinion on Android Central and occasionally on Twitter.
Note 7 sales, or the saga at large

They have a rather large product line... One item won't kill them.

Unfortunately that "one item" is their top o' line flagship. But your right...look at Porsche!

I think not they have 26 billion dollars in reserve cash and then some. They will be just fine.

End of the Note name in Sammie's line up.

It does seem like this is the end of the line for the Note line. Would be hard to sell a Note 8 with the stigma of the 7.

Unsurprisingly, people seem to think that Samsung is a one-trick pony and it's wireless division is it's only asset.

I want my Precious....... Filthy Hobbits stole my precious note 7 and threw it into the fires of Mount Doom

So many in here are in denial.. Trying to brush this off as no big deal.. This is a huge deal. And not only Note sales will suffer, but all Samsung smartphones will suffer. Even Android as a whole will be affected. Pretty much any other Android manufacturer will be out of business after this mess. We'll see how Samsung recovers after this.

Why would android be affected or android manufacturer go out of business? Android isn't causing the exploding batteries.. that would be like blaming Microsoft or Linux for your pc going up in flames

Public perception is that Samsung is Android. So trust in Android is affected And other manufacturers don't have a conglomerate business to fall back on. If device sales are their primary business (or only), then after this fiasco and recalls, refunds, future sales, they'd be done for.

Average consumer doesn't know what Android is or that Samsung phones run it.

This is true. While waiting for my last replacement in a Verizon store like 4 elderly couples came in asking for the iPhone lol they definitely didn't know a thing about android or iOS.

Maybe, but not by much. America has dumbed down considerably.

It's not a stretch. I have a friend who didn't know her phone could run apps. She has a Verizon Droid. I mentioned to her the word 'Android' and she had no clue what I was talking about. And there's plenty more of them out there like that. These people don't jump on forums, they could care less about technology. They go to a mobile store and say give me a new phone and are at the mercy of the sales person. It's very common.

No one in my family is that ignorant. That's a whole nother level of ignorance.

Most call them all Droids. Even referring to Galaxies on any carrier. The only people that know the difference between anything are the people in here and related sites/blogs. The average person couldn't care less about tech and go by what they hear. Samsung is Android to them. And the news said Samsung explodes.

Average user don't care what a phone runs. In this materialistic world they go by brand names. If they no longer want Samsung but want android they will go to the next best brand name. Thankfully something you can do with android.

And in particular good timing for the S7, Edge and Pixel phones on VZW.

Maybe 1% of people think that Samsung is Android.

Ha! 1%?! More like 90%.. I've never never seen any other phone in the wild. Samsung and iPhones, and the occasional random prepaid phone.. that's it.. Idk where all of you live, but in the northeast there's not much variation. Even experienced Samsung users, no idea their phones run Touchwiz or heard of Nexus or anything else for that matter. These are not stupid people, they're professionals in their field. They don't follow smartphone nonsense like us. This is why no Android manufacturers make any money. Not many know they even exist.

Has U.S. Cellular said anything yet? They also sell the Note 7.

I think it's the fifth largest carrier in the U. S

AT&T made a smart move here. Hopefully other carriers will do they same and stop selling and exchanging Note 7's and offer exchanges to other phones.

My brother tried to buy the Note 7 at Sprint today and they wouldn't sell it to him

Yeah I tried at sprint as well a few hours ago and they gave me a weird look and said no

Most likely all carriers are starting to avoid selling them.

Why would you intentionally buy a device you know is exploding?

Not all phones have that issue. I was talking a friend who has it and he said it's fine.

I was talking to a friend of mine who has the phone and he said it's fine.

Hey, hey, hey, I have a 2005 Prius for sale. Cruise control works great. You interested?

Jerry, you can't possibly do another all-nighter dude! I'm starting to worry about your health!

I got 60 Adderall and slept 3 hours last night. I'm ready for anything

Lol that's hilarious! I can't log into AC app, removed it. Created a bookmark on my Passport SE, site lags and can't comment. Meanwhile CB10 works flawless. Why can't AC do the same. Albeit on my Note 5 it works somewhat better the lag is minimal when trying to comment, had to hit reply several times just to type this. I don't wanna always have to use the site on my laptop

What version of the app are you running on your Passport?

Any Red Bull or Mountain Dew?

https://www.amazon.com/Jolt-COLA-LONGNECK-making-12-Ounce/dp/B001IW05IQ

Jerry, I dont think that stuff is any healthier than aderale. If I were you i would just take clear adrenaline, it works wonders for Lincoln Clay ;)

I would suggest shots of 100% Oxygen (mask over face) ! Lol
Maybe at 10L/min for 10 sec at a time or 5,6 L for 30sec.
Seriously, I had it prescribed for Cluster Headaches and besides reducing pain from 10 to 2 or at times preventing them, I realized how good it was to have it by my seat in all night driving shifts - fighting fatigue and bringing clarity in head. :)
Of course, has to be used responsibly, so lungs don't get lazy. Periodical shots are perfectly safe.

Ah, the ubiquitous Natural Flavor, which can mean a plethora of things, from eating stuff found in a beavers anus for vanilla flavoring to bug poop in jelly beans.

On the phone with ATT regarding my Next options.

Get a 6p on the cheap and hold off until we see what the fall and spring will bring.

Or just keep the 6P because it's an excellent device.

Love the 6p skipping on pixel

Me too. I got my 6p late. I went with a Moto X Pure and hated it so I picked up the 6p about 2 months ago. I can't even begin to explain how much I like this phone.

But I'm going to keep using a phone that will never see an update and that might explode while turned off because I think for myself and don't value my safety or the safety of the people around me. All because I like the phone. Phones are important you see, more important than anything.

N7 fo lyfe son!! .....lol......

Might be a shortened one, but sure.

That message? Yes. But don't be fooled. There are plenty of people here who would say the same thing completely seriously.

Yes, you got where I was coming from. That's why I had to ask.

I had someone tell me on another article that these are probably all hoaxes and that I need to think for myself. Someone else got offended because I said if you were still using your N7 you're stupid. It's a PHONE. People need to get some perspective.

Thanks for the life lesson. We're grateful.

I agree with you. As you have witnessed yourself, some people have had interesting comments.

Yes, it is 'just a phone'...but no one likes to be called stupid.

I fear that this might kill the Note brand off for good. Last year might very well be the last good Note and end of the Nexus name. (For unrelated reasons of course). Makes me sad either way. Flicked via the BlackBerry keyboard on my Nexus 5X

I'd venture to say the Note 4 was the last true magnificent Note. Posted from my unlocked S7 Active/ matte black iPhone 7/ peerless Note 4/ or iPad Pro 12.9

I agree. My Note 5 is the worst phone I've used.

I've never actually seen a note 5 cause they weren't released here in the UK, surely they can't be that bad?

The Note 5 wasn't bad at all. I owned the Note 3, 4 and had the 5 for close to year and I personally think it was the best Note I have ever owned. Some people just prefer a removable battery & expandable storage. Those things aren't important to me at all.

Note 5 was the worst for me. Had to send it to Samsung 3 times because the battery kept failing to keep/hold a charge.

Yes that would be very aggravating & if I experienced that then I would feel the same way. If you sent it back once & it was fixed then that's ok. But the fact that you had to send back 3 times is unacceptable.

Ever think maybe...just maybe the phone isn't the problem?

I also have/had every note phone . The note 5 is excellent. It was slightly gimped without sd card and no removable battery. Most people that talk down about the note 5 are note 4 owners because there is no removable battery. I like my note 5 much more than my note 4 esp the speed and size. There is a reason why the note 5 was number 1 in customer satisfaction over any phone

Was looking forward to getting the Note 7 in a couple of months when I'm eligible for my upgrade but I will just have to wait until the S8 is released

This...my note5 had been an excellent and reliable device

Yay I'm from the UK too! lol

Surely it's now better than the 7.... I told samsung to name it the 6! They don't listen....hmm hmm hmm

Note 5 = Best phone I've ever used.

When I said good I just meant not prone to catch fire. Yes I preferred the Note 4 to the 5 as well. Flicked via the BlackBerry keyboard on my Nexus 5X

They should make the Notes for power users. Replaceable battery and slightly better specs then the Galaxy line. Still have my Note 3 and it's good. The Note 4 took it a step up. Now the Note is just a S6,S7 with a S-Pen. I'm sure they could still add some water resistance even with removable battery.
Samsung, lets make Note great again.

Maybe AC can embed some sort of scroll on the homepage like the NYSE ticker that is a counter of all the exploding Note7s.

You may be joking, but I'm balls deep in brackets (a web dev IDE) because I'm getting tired of writing all these posts :P

Was thinking of getting one for Christmas but the expense was off putting.
Looks like they are going to be a bargain any time soon

Yeah, you can expect a fire sale any day now.

Don't forget to tip your waitress, folks.

I think these are basically not going to be able to be bought anywhere and will be buried in the desert. Posted from my unlocked S7 Active/ matte black iPhone 7/ peerless Note 4/ or iPad Pro 12.9

Next to the land mines. :)

Hey leave my desert alone!

You know what won't be a bargain? Replacing all your belongings and a new house after a bargain Note 7 burns it all down.

You can still get one, just put it in your fireplace

I think it is safe to say you probably will not be able to buy this phone by then. It's looking carriers in the US may be fine with it. AT&T and Sprint (possibly) already are.

Samsung will be fine, Galaxy is severely tarnished, and Note is done.

Really doubting that the Note line will continue on at this point. Rebranding seems an intelligent way to go, simply because of the perception people will have. I'd love to see an AC article comparing "the best" active styli and one that compares them to previous styli (like the Wacom stuff Samsung uses). Would be especially useful with the other large phones coming out (and my 6P) that don't come with a stylus, but support Active Styli thanks to 6.0+, and the lack of a flagship stylus phone this year.

It's far more than just the note. The perception is Samsung as whole.
(smartphones)

I feel like an informant :D. All jokes aside, the carriers are done with this fiasco. I fully expect the other major providers to follow suit within the week. It's a shame really.....

Ouch. What a nightmare for Samsung.

On the line with ATT CSR, and they are clueless. Just got referred to Customer Relations.

Ya I called AT&T they offered to lower my rate plan so i could save $24.00 a month to off set the cost of the new phone they were going to sell me. You know that way I could continue to travel professionally with a safe phone and just eat the cost the note 7. Also the At&t dude said it was safe to use and wouldn't burn my house down.

If AT&T Corporate just announced it, I'm guessing that the CSRs haven't gotten the instructions yet.

Once the official 2nd recall goes into effect and it's only a matter of time before it happens , they damn sure should start a official internal investigation on them. Someone is going to be held responsible for for all of this.

The Note 7 and the Hindenburg...two products that never quite worked right. Well done Sammie.

http://media.giphy.com/media/ToMjGpwzn0LcDX4uwZa/giphy.gif

T-Mobile will still sell them. They're the Un-carrier

Maybe they will.. but I am more happy seeing that they will take them back now.... any and all of them which the company sold.

I was actually looking forward to upgrading my Note 5 to the 7 in a couple of months as I'm due for an upgrade with AT&T. But now with all these replacement Note 7's still having the same issues I guess I will just stick with my Note 5 until the S8 or Note 8 is released.

Guarantee the S8 will be first. ;)

I understand that the S8 will be first and will be my next phone as I don't keep phones longer then a year. Then if the Note 8 is released towards the end of next year I will be also purchasing that.

This really sucks! I have no idea which phone to get now that my "safe" note7 might kill me. No other phone even comes close to the Note7. I may have to pick up a V20 or an S7 edge "again". The sad part is that I'm really enjoying my Note7.

If you're really taking full advantage of all of the Note 7's features, then I guess the V20 would be the only thing that'd come close to meeting your needs. If you really rely on the stylus, I'd go back to the Note 5. That thing is still a hell of a performer.

Wow! This is insane, my discernment tells me this was an inside job. Yes phones have defects all products do but on such a large scale this was done in purpose! By who is the question. I think I'm gonna enjoy an apple with my salad, Braeburn or Northern Spy. Perhaps I'll vacation in Hawaii this fall.....

Something tells me you don't know what "inside job" means...

The truth doesn't need to be validated by your ignorance. Not sure why you commented on my comment. ......it's too easy to bypass what you don't agree with or don't comprehend ..........

Boy, intelligence is a premium these days. I'ma need you to research what an "inside job" is bruh......seriously.

A premium you can't afford obviously....."bruh" you must be "one of those" or some slow black male. I'm not a bruh or your bruh. You speak on intelligence but aren't displaying much of it......jokingly /s

I'll translate, she's not a bruh or your bruh as she's female (feisty one at that) and that basically your not very smart. Hope that helps Don't shoot the messenger, only helping a bruh out

Nicely done :D. However, you left out the racial stereotypes for some reason. Minus 5 points....

Yeah I didn't wanna go there :D

My theory is they are pushing this fast charging the very edge and either something in the batteries or circuit for charging is breaking down causing the batteries to fail..

I have no doubt that that's a contributing factor, but if that were the primary issue, then we'd be seeing a huge rise in phones catching fire across most models from all brands, wouldn't we? I mean, if that were the case, then the OnePlus 3 would basically be a block of C4.

I would imagine the OP3 would be the last to be a block of C4 since the included dash charger is designed to absorb most of the heat, not the phone.

Samsung quick charge has been their standard for years. They're not "pushing the limits" in this criteria

In all honesty Samsung just needs to end the phone, cut their losses and move on

I would really like to know technically whats different about the other galaxy-7 phones... And why they dont have this problem.

Samsung hasn't said exactly what the failure is, and they may still be examining it themselves.

USB C? Posted via the Android Central App

My thoughts also and pushing the quick charging beyond what the circuits or battery can handle.

There's already been a few phones released with USB-C that aren't having these issues. The Nexus phones from last year also had fast charging with USB-C and none have burned up unless you're using a USB-A to USB-C with the incorrect pull-up resistor, and even then it just fired the phone, it doesn't explode. IIRC the HTC 10 also uses USB-C.

That and the airplane scenario doesnt seem to be charging related at all.

What do you call TouchWiz on a Note 7? ....a grenade launcher. I'll show myself out.

Also, my brother just tried to buy the Note 7 at Sprint today and they wouldn't sell it to him.

Any comment from Samsung yet? **** crickets ****

Unfortunately Samsung is having this issue. The Note 7 is such a superior phone compared to everything else.

At this point there is nothing superior about the phone. It is broken goods.

turned mine into AT&T yesterday and they said they would only do it as a favor since nobody told them that they were supposed to take them back. I will miss the Note was really starting to get the hang of the S-Pen and when the next Note arrives I will go get one. Till then I have a S7 Edge in Gold

I've updated this post. Several more cases of the Note 7 meeting a fiery finish have been uncovered in the past few hours. The reports are eerily similar — white smoke, a very hot phone and eventually, flames. Be careful, Note 7 users.

Btw.. my wife and I both own Nexus 6p's and my son owns an s6 edge Plus and we've ALL changed our charging habits due to all this Note 7 craziness.

Jerry, what's with the hashtag #420BlazeIt in the title? Cool, but wondering what that is.

Oh ****, this is the end of the note line

Does anyone know the build dates for these devices, maybe grasping at straws here but maybe these phones were manufactured before the recall and marked as safe in error as some of the replacements had older manufacture dates but with supposedly good batteries? For all we know notes manufactured in the last 2 weeks onwards maybe safe...I know long shot but still possible

This just damaged the entire Samsung line.... The question now is would you buy another Samsung phone after the Galaxy s7

no! replacing my parents samsung galaxys with levono moto devices. No more samsung, too dangerous.

Where the **** is Philip Puch when you need him?!! Lol
And where is thatguy97 and PurpleZebra? What do y'all have to say about the Galaxy Note (c4 edition) fiasco...

Haven't seen thatguy around in a while.

Who cares where thatguy is? They probably banned him from the website because of his constant trolling & arguing with every single comment that a person made on an article.

It's starting to seem like there are more issues with the "safe" version than there was with the original one.

Looks like I'll be exchanging the replacement Note 7 for either the S7 edge, or return it and go for the Pixel XL. Does anyone know if that free HDTV deal with Best Buy if you buy an S7/S7 edge still going on? I only see one site that mentions this.

Yeah. It's still going on

Damn Big Shawn went to homecoming yesterday and now his phone burned up. All that rain yesterday must have kept his phone cool.

Oh my, Tmobile stopping sales according to @androidpolice

There's always the V20, iphone7 plus or maybe the Google Pixel XL.

I personally have no interest in any of those phones. I will keep my Note 5 until the S8 is released. I'm not going to stop buying Samsung phones because the Note 7 had major issues. I have owned a lot of Samsung phones and never had a single issue with any of them.

V20 not available in europe, ip7+ and Pixel XL both 1000€ +, no thanks.

Door is wide open for the Pixel phone.

Not really, the only people who will even see it in person are in Verizon. The Pixel still won't do well. Apple is just gonna get more users

Wide open if it was available at all carrier's. The average consumer might not even know the pixel phone exist but verizon users

It's times like this I really miss Richard Yarrell

I know, right? He would probably un-ironically refer to his note 7 as the hottest thing on the market.

Anythin' but Samsung sucks monkey balls...period!

did RIchard Pass or create a new identity

Watch all of these claims will be false, I'm waiting for an official report from Samsung , and the government

Yea. That's it. We should be waiting for the truth...from the government. I'll clear my schedule and sit by the phone.

Is there any chance this really isn't a battery issue directly but something to do with other internals such as gpu, processor or a combination of internal components? It seems almost bizarre that battery issues are plaguing this phone alone. I speculate there is more to it.

I just checked Verizon's website, they're still allowing you to purchase a note 7.

Those incidents are all media reports that need to be investigated and verified. Samsung has been transparent through out the initial recall process. I am confident they will still be in this second fiasco. Until final word is released from the regulatory board and Samsung, I will keep using my Note 7. AC's decision to NOT RECOMMEND is simply a legal move as advised by their lawyers to protect them from litigation in the absence of any official statements. Same thing applies with the carriers.

Dude. Let go. It's over. The Note 7 was a fluke, a bust. Let's see how they innovate when it comes to future phones. No company is worth defending like that.

In light of news that Samsung is halting production of the Note 7, I change my position on this.

Lol. AC has no legal responsibility either way.

Given the situation, they actually do. Ask any lawyer. That's why there is malpractice insurance, small business insurance, etc. Hence they withdrew their recommendation, to mitigate those conditions.

Actually, we don't. And we have lawyers. We just know what's going to happen before it happens. Sometimes we have information, other times we guess. We're pretty good at guessing. We spend a substantial part of our day on stuff like this. We held out making a decision on the Note 7 until we could no longer wait (we were up at 3AM on Sunday morning (holiday weekend in Canada) doing it, BTW) because in our opinion the phone is unsafe. Samsung agrees and later pulled the phone and halted production. (Yes, Samsung was instrumental in some of these carrier decisions). Reading anything more or anything less into this is a waste of time. It really is this simple.

It's a what? No. It's common sense. When you see the carriers jump ship, they're doing that for a reason. That decision isn't made lightly. Android Central's editors are very experienced in this industry and we rely on them to give us their honest opinions on these sorts of things. Sometimes they couch it to not trample the feelings of everyone that might disagree, but I think you would be hard pressed to find an example of intentional dishonesty (as opposed to being mistaken).

Until it happens to you, sir. Why chance it? So you'd rather be the guy that has a slight chance of saying I told you so, instead of the guy not risking burning your house down in the middle of the night?

Doesn't the CPSC have to inspect the replacement phones before they are released to the public? If so they are also part of the problem. Now ultimately Samsung is at fault for releasing 2 defective devices and it just blows my mind how they would let this happen. Especially after the 1st recall gave them so much bad press. Now granted let's here a official statement from the CPSC & Samsung on what their findings were. But I'm not optimistic that this will turn out well. If they have to issue a 2nd recall then it would be better if they just offered refunds or give the customer an option to get a S7 or S7 Edge with a refund for the difference in price.

Samsung smartphone rebranding to follow. Galaxy is dead.

Thanks for the carriers talking the action when Samsung is refusing to even bother doing anything.

I'm returning mine asap. Doesn't matter how good it was before all this. It's done.

Yeah, I'll likely be returning mine at the end of the week. Really bummed considering how great my note has been, sitting at 50% battery remaining and SOT at 6 hrs. Tough to give that up and go back to the 6p but I'll live.

I'm getting there as well. My only hesitation is there is not one other phone I want. And this is coming from a guy who has dogged Samsung for years as making crappy phones. The first one I get and all this happens.

Exactly in the same boat as you. Wasn't a fan of Samsung for years. Got this as my first one in a while and really liked it. Then this happened.

That's my inspiration for going back to the store today. I'm taking the SIM out now and putting it into my spare phone. I'm also waiting for ATT to let me know I can cancel my upgrade I used to get the Note.

I'm keeping my note 7 as long as sprint will let me operate this phone on there Network. Some if this has to be fake I'll wait it out

I will tell you that even Samsung doesn;t think any of these are fake and leave it at that.

Glad to see the phone companies taking swift action to deal with this. I will be interested to see how Samsung deals with this, they should just pull it off the market. Anyone in Canada know of our phone companies are planning on doing the same. I have a galaxy S7 and a love it, I don't think this will be the down fall of Samsung, however, it still will impact their reputation and public perception.

Only reason I am considering exchanging it for v20 is because my kid plays with my phone

I have a s7 and it's fine but I am having second thoughts about getting another Samsung phone. I've lost alot fate in them.

Well, this seals the deal for me. I will be waiting for the LG V20 on T-Mobile. I am on the Jump program, so buying an unlocked phone for $800 (Google Pixel XL) is not going to work for me.

Let's see what happens next. So far my replacement Note 7 is behaving normal as it should be.

So were the other ones...until they burst into flames

It's a smart phone. An app is supposed to tell you that the battery is going to explode.

I guess I will have to pre-order a Pixel XL and exchange my Note 7. It's too bad I really like it, but safety first.

It's funny how everyone is saying it's the end of the note line and Samsung due to the note batter problem. But know said this about apple when the iPhone 6 plus and 5s battery exploded. There was one last week, but know one knows about this because the notes are the main story. I am gonna keep my Note 7.

11 bad phones that hurt people out of 94 million iPhones is very different than 7 out of 960,000 Note 7 phones. I don't know it that's why no apple sites talked about it, but i can do math.

I'm keeping mine till it explodes. Not going thru that nonsense again.

Just take your microSD card out first so you don't lose any data.

I'm hoping I can hold out and exchange for the V20..... It's the only other phone that interests me in the least right now. Although LG hasn't had the best record with QC either lol.

I tried exchanging my phone with T-Mobile since Friday and they wouldn't do it. They said the Note 7 is back on sale and it's perfectly fine.

Try again. I was able to do so today so it may have been the word hadn't fully spread from corporate to the retail vendors when you went.

I exchanged mine Friday but I called 611 first and had them Note my account with the instruction to allow me to return it. Posted from my unlocked S7 Active/ matte black iPhone 7/ peerless Note 4/ or iPad Pro 12.9

I have not heard anything from the Canadian cell phone companies , until I do I will keep using it because it's working fine

We'll find out details as soon as they release them (they tell Dan everything :) )

To the people who are saying they're keeping their Note because all of these reports are fake or whatever. I am genuinely curious, who are you planning on blaming when yours blows up?

More places need to step it up and stop selling this phone permanently! Go buy an iPhone 7 Plus, LG V20, LG G5, HP Elite X3, HTC M10, BlackBerry Passport or other suitable flagship in the meantime.

Samsung will definitely come back from this however they gonna take a huge hit and its gonna be bad. The replacement had to be good but since it isn't there's no point trying to fix it again and coming with a note 7.5 or something, we can't trust it no more. They need to put all their energy on the S8 and it better be good.

Samsung better fire some people for this

Bring on the Samsung Galaxy X!

This is becoming a blood bath for Samsung

Should have bought a lg v20

Go on Samsung... Rush another product to the market. Just for the sake of "me 1st". Come on.... Go on.!

So, frustrating as a consumer. Awesome, another phone has to go back, so I can setup another one. Last time to swap took 2.5 hours. Ugh.

Ka Posted from my unlocked S7 Active/ matte black iPhone 7/ peerless Note 4/ or iPad Pro 12.9

Boom Posted from my unlocked S7 Active/ matte black iPhone 7/ peerless Note 4/ or iPad Pro 12.9

Still keeping my note 7. Just saying.

!!! Posted from my unlocked S7 Active/ matte black iPhone 7/ peerless Note 4/ or iPad Pro 12.9

The kind T-Mobile rep online told me that the recalled Note 7's are safe and few others at the stores said that the incidents aren't proven yet and I'll be fine. I'll believe them; they know this better than most of us since they work with cellphones everyday. I even see them still on sale in the stores and online, I'm pretty sure these news are hoaxes.

Samsung does not think they are hoaxes. I just hope you don't hurt anyone else if your phone explodes.

Way to be about a day behind...

It's not smart to take the word of an uninformed rep. I called them and they couldn't figure it out at first but after looking through their news and their own internal website she noted my account that I would be going into the store to get an exchange for a different device. Walked in and I had no problem getting a new iPhone 7. Posted from my unlocked S7 Active/ matte black iPhone 7/ peerless Note 4/ or iPad Pro 12.9

There has been no word of a recall on the US. Carriers such as ATT are not bending backwards to accommodate returns. They're willing to return them for other devices but not willing to negate upgrade commitments. This is straight from the local store manager. In his opinion, I either live with the risky device or I exchange it for something i don't want but still have to keep my Next commitment. Only way out i am told is through a formal recall. Samsung's pause in production was just that - nothing more.

Call in. The local reps and managers can be clueless. Posted from my unlocked S7 Active/ matte black iPhone 7/ peerless Note 4/ or iPad Pro 12.9
Android Central Newsletter
Get the best of Android Central in in your inbox, every day!
Thank you for signing up to Android Central. You will receive a verification email shortly.
There was a problem. Please refresh the page and try again.