Unihertz Titan is a rugged BlackBerry clone for QWERTY lovers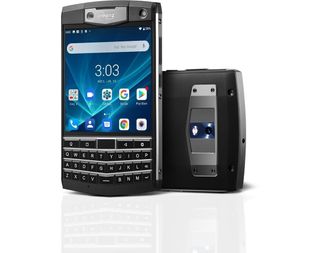 What you need to know
Unihertz is developing a new Android smartphone called Titan, which appears to have been heavily inspired by the BlackBerry Passport.
The Unihertz Titan offers a 4.5-inch IPS LCD display with 1440 x 1440 resolution and includes a physical QWERTY keyboard for increased typing speed and accuracy.
Claimed to be the ultimate outdoor phone, the Titan is waterproof, dustproof, and shockproof.
After releasing the world's smallest 4G rugged smartphone last year, Unihertz is now planning to introduce a new rugged Android phone that bears an uncanny resemblance to the BlackBerry Passport. The smartphone is claimed to have an IP67 rating for dust and water resistance and happens to be shockproof as well.
Unihertz Titan will have a 4.5-inch IPS LCD screen with 1440 x 1440 resolution, global LTE support, wireless charging, face unlock support, NFC, fingerprint scanner, and Dual SIM card slots. Apart from its rugged credentials, the phone will also impress with long battery life, all thanks to a massive 6000mAh battery. The smartphone will offer a Walkie Talkie function as well, a feature that isn't commonly found on modern smartphones.
The company hasn't disclosed other details, such as the chipset powering the smartphone, camera specifications, and memory configurations. However, it is quite clear from the official renders that the Titan has a single camera at the rear. While the company hasn't announced exactly when the Titan will make its crowdfunding debut, it is now possible to reserve one for $219 by putting down a $15 deposit. In case you decide to forego your reservation before the launch of the crowdfunding campaign, Unihertz will provide you a full refund.
Unihertz has so far successfully launched two crowdfunded smartphones: Unihertz Jelly and Unihertz Atom. The Unihertz Jelly is claimed to the smallest 4G smartphone with a tiny 2.45-inch 240 x 432 display, while the Unihertz Atom is claimed to be the smallest 4G rugged smartphone with an IP68 rating for dust and water resistance.
Hello, blackberry? Please make one of these please. The more classic style keyone based on the bold handset. It would be an awesome device if they put powerful internals, camera, OLED, and expansion in it. It would make make me buy one for sure.

Oooooo, now I would have loved a passport running Pie.

Me too. That would be an awesome device. Add in pen support and it would be amazing

The 6Ah battery sounds great. Unfortunately, Blackberry is likely to sue this phone out of existence due to IP infringement. Plus, at that price, the SoC is likely to be some midtier MediaTek if we're lucky

Reserved mine just as a splurge and secondary phone. I'm not expecting all boxes to be checked for this to be a flagship, as no one should. A great screen, fat battery, and a decent processor at that price point is good enough.

Give a flip camera like the Asus Zenfone 6 , and stereo speakers and take the whole price of the device as deposit.

A passport alternative was too good to be true. As it is remaining unknown the camera sensor and is unknown if it can do carrier aggregation for being able to run in 4g+ speeds or if it supports VoLTE another major problem has come to the surface. It is related to language support from the hardware keyboard. It supports only English, German, French, Italian, Portuguese, Spanish, Russian, Japanese and Chinese with the QWERTY keyboard. That means that if you are intending to use it especially for business purposes (with other countries that their language is not supported by the hardware keyboard) and you have to reply email, messages or whatever you need to do you are doomed. It is ridiculous to make a business ragged device in 2019 that supports only 9 languages even if they cover their main markets (with an operating system that has global language support).
Android Central Newsletter
Thank you for signing up to Android Central. You will receive a verification email shortly.
There was a problem. Please refresh the page and try again.