UK mobile operator GiffGaff now offering 4G LTE on monthly plans starting from £12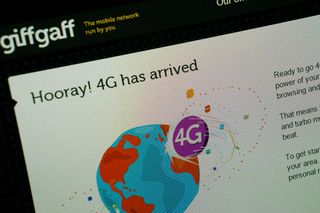 UK mobile operator GiffGaff has unveiled new plans to take advantage of faster 4G LTE speeds. Utilizing the O2 network, the virtual mobile operator is offering 4G on plans that start from £12 a month (for 1GB of data). There's no option for unlimited use, however, limiting power users to 5GB of 4G data for £18 a month.
Since GiffGaff works on the O2 network (800MHz), you'll need to have a 4G compatible mobile device (phones aren't included with the affordable plan pricing), but it's positive to see the network to offer LTE and provide more choice for consumers in the UK.
Will you be looking into GiffGaff's 4G LTE offering? Let us know your thoughts on the network's pricing in the comments.
Source: GiffGaff (opens in new tab), via: The Next Web
Android Central Newsletter
Get instant access to breaking news, the hottest reviews, great deals and helpful tips
I'm on GG on the 10 quid a month regular plan. The nice thing about giffgaff is that if I know I'm going to be mobile for more than a day or two, I can just buy a 4g package and revert back to 3g when I don't need it any more. Bit disappointed with the data allowance though. 3/6/12 would have been better.

I tried their LTE service on the trial but the coverage is so poor it's just not worth it.

Off topic but are they any pay as you go data plans anymore Posted via Nexus 7 2013 or verizon Galaxy S5 or maybe one day through my moto 360

It's good but the Three network offers unlimited data plans and PAYG tariffs for lower prices. Posted via Android Central App

Yeah, I'm on three as I wanted to get an unlimited plan before they phase them out as well. Their coverage is erratic however. n5

Glad I switched from giffgaff to three before the price rise there, £12.90 unlimited 4g is the best around. Posted via the Android Central App

Agreed, made the same switch and I love it. My only issue is the rumour that they won't be selling the nexus 6 Posted via the Android Central App

If its not unlimited data then it's a waste of peoples time.

I'm on gg and will be giving the 4g plans go when I get my new phone next week. I currently use a lot less than 1gb data a month so hopefully I won't exceed this. My 2 worries are availability and overall speed. I've heard several comments that both arent great on O2

I know Three is cheaper but after using them years ago with there poor signal & poor customer service I will never go back. £18 for 5GB sounds good to me, Just not to sure about o2/GiffGaff's reliability.. Posted via the Android Central App

I tried the 1Gb 4G Trial Bag from GiffGaff and apart from running out of data 2/3rds of the way through the month it worked ok. I didn't think the data side of things was that much quicker. I did seem to get a more consistent signal around where I live, work and in between compared to when I was on standard 3G though so that's a bonus.

Three has all you can eat plan for £20 now. Some time ago it was 18 and earlier it was even £15. Still good deal though, they have pretty good 4G coverage.

These cheap UK phone plans are making me jealous.

Their data coverage is poor (plenty of complaints on their community forum). Their price plans are not competitive. The £5 and £7.50 'goodybags' represent particularly poor value compared with their competitors (Three 321 for example). Posted via Android Central App
Android Central Newsletter
Get instant access to breaking news, the hottest reviews, great deals and helpful tips
Thank you for signing up to Android Central. You will receive a verification email shortly.
There was a problem. Please refresh the page and try again.