Two years on, the original Huawei Watch is still one of the best Android wearables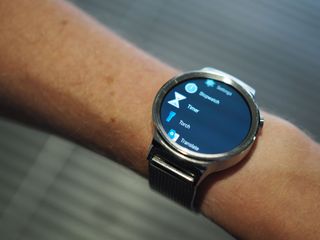 Android Wear is kind of all over the place right now. All the watches released in the past few months have either been ridiculously huge — hi there LG Watch Sport and Huawei Watch 2 — or underwhelming for other reasons — sup LG Watch Style, with sub-24-hour battery life. Even outside of the Android Wear world, the smartwatches of 2017 seem dead set on pushing superfluous features like LTE connectivity at the cost of aesthetics — whaddup Samsung Gear S3. And maybe I'm just weird, but the first thing I want from a watch is for it to look good. The functionality I seek from a wrist computer is relatively basic — show me notifications and keep the cruft to a minimum.
You'd think that wouldn't be too much to ask. And yet it's been surprisingly difficult to find a modern watch that delivers on those basic requirements, without complicating things too much.
For that reason, I've found myself turning to the previous generation of wearables as they're updated to the new Android Wear 2.0, and my current favorite is a device I've used on and off for the past couple of years — the original Huawei Watch.
The primary reason I'm using the OG Huawei Watch right now, as opposed to anything more recent, is the way it looks. The model I'm using is the silver variant with a metal strap, and despite its lack of ambient light sensor, this thing looks better than just about any other smartwatch — with the possible exception of the Apple Watch, if that's your thing.
The appearance of the first-gen Huawei Watch hasn't changed since we reviewed it way back in September 2015. It's admittedly chunky, but the appearance of the device isn't completely entirely removed from that of a fashion watch. The strap doesn't fasten quite as effortlessly as Apple's milanese loop, but it's close. And it's aged better than the relatively cheap leather paired with other Huawei Watch variants.
Battery life, too, has held up well. I haven't used the Huawei Watch ever single day for the past two years, but still, it's still able to get me through a full day of notification wrangling, music shortcutting and call rejecting with around 50 percent in the tank by the day's end. There's been no change — either positive or negative — with the Android Wear 2.0 update.
The same goes for the display, which in a world of Huawei Watch 2s and LG Watch Sports which can adjust their brightness on the fly, stands out as a minor inconvenience. I still need to set the brightness level of my Huawei Watch manually whenever I go inside. And that means I'm constantly bouncing between not being able to see it in daylight, and having to scramble to dim the brightness level in darker settings.
I'm also aware of at least two friends who've experienced significant display burn-in after using the same watch face on their Huawei Watch for the past year or so. (That's where parts of the watch face appear to be inked permanently into the panel.) That's not unexpected for an OLED panel, but something to watch out for as the device ages. And another long-running annoyance: I've been continually vexed by the watch's frustrating charging dock — which loves to slip free from its contact pins — and the physical button, which feels decidedly squishy on my unit.
All of these are hardware quirks which aren't going to disappear anytime soon. But the Huawei Watch's software has changed significantly over the past couple of months, as the Android Wear 2.0 update has been rolled out. It's now easier to hop between watch faces with a quick swipe. The circular app drawer is immediately accessible behind a press of the hardware key — and like Wear 2.0's notifications, this part of the UI is now better suited to a circular display.
Notifications themselves are a bit of a mixed bag. If you're used to the ease with which you could dismiss or read alerts on a Tizen watch or Android Wear 1.x device, you'll find a few more taps and swipes are required to drill down and deal with emails, instant messages, calls and other notifications. Nevertheless, the whole UI seems more at home on the Huawei Watch's circular screen, which is something you couldn't say about the preloaded software back in 2015.
The other big change in Wear 2.0 is the ability to — independently — run apps directly on the watch itself. There's a Play Store app on the watch, and the device now functions like any other Android gadget, with your Google accounts and other data being copied across during setup.
I'm not big on running apps on my watch, for one pretty simple reason — if a task takes me more than a few seconds to execute, I'm just going to pull out my phone anyway. And so I haven't gone into great depth with on-watch apps. I've dabbled in Google Assistant, and Google's AI seems to have stepped up its game significantly since it first debuted on Wear, with speech recognition being one notable area of improvement.
Nevertheless, no amount of software can eliminate the social stigma of talking into your wrist, and so I've also appreciated the move towards on an on-watch keyboard in Android Wear 2.0. Ironically, this works better on the older Huawei Watch compared to the newer one, due to the larger screen, and I've found it fits the bill when I need a quick, convenient way to fire off a reply without reaching for my phone.
I'm still not using the Huawei Watch to anywhere near its full potential. But given that newer watches are building out functionality that I, and many others, simply don't want or need, I'm happy to use and recommend it even two years on from its initial debut. The lack of automatic brightness is a downer. I'm moderately) disappointed that there's no NFC for Android Pay. But on a day-to-day basis, it's hard to argue with the basic "meat and potatoes" experience offered by the Huawei Watch.
Meaningful progress in the smartwatch space may have stalled, but at least we still have attractive, capable Android wearables like the "Huatch" that do a great job of putting notifications on your wrist.
Get the Android Central Newsletter
Instant access to breaking news, the hottest reviews, great deals and helpful tips.
Alex was with Android Central for over a decade, producing written and video content for the site, and served as global Executive Editor from 2016 to 2022.
I own the Asus Zenwatch 3 in silver and in my opinion it looks better than the Huawei which I also have. Just a shame it looks like Asus have abandoned it and still no android wear 2.0..not a big deal for me as I use it just to see who's calling and read text and email messages, I also use it to tell the time sometimes 🙃

Many of these opinions/facts (other than Wear 2.0 ones) are exactly why I'm still using my Moto 360 (original version, but warranty replaced at just over two years due to refusing to boot other than on-dock, even with full battery; this changed me from silver with leather to black with metal strap, works and looks good considering its age, battery, and Wear 1.x). Spouse is happy with a Gear S2 (which does have a cell radio, doesn't get used).

I love mine, the bezel and sides are scuffed up but the sapphire screen still looks perfect! It was so slow before 2.0. Now it's so fast! Still a few annoyances but that has to do with 2.0. I can't swipe to apps, it just changes watch faces. Also can't get a notification back if I swipe it away,used to have an undo button. Actually got this last August on sale. I love it! Disappointed that the 2nd gen is ugly and the ceo of huawei said he doesn't know what smart watches for.

I've been using this watch for 18 months I've had no issues and use a cradle that I purchased to hold the charger. You can't beat the battery life. I have the silver tone with the leather band and used a purchased band for over a year. Everywhere I go people notice my watch and tell me how nice it is

I'm still looking to buy this one. Still my favorite. I owned moto 360, gear watch and currently using the zen watch 2 which is great with battery life. Can't wait to get this watch. I would get the s3 but it doesn't have a good voice command like Google now.

I would love to be able to comment about android wear 2.0 on an existing watch, but my google account will not allow me to connect to my phone ever since my LG Urbane updated to 2.0. It won't allow me to connect to the play store, thus not allowing me to load watch faces, etc. I am not alone.... https://productforums.google.com/forum/?utm_medium=email&utm_source=foot...

Such a nice looking watch. NFC would make it perfect...

This watch has been my daily watch for close to two years now. I can attest to the battery still lasting well over a day even after all this time. Unlike Alex i don't have a gripe about the auto brightness. I've always left it at medium level and never feel it's too bright or dim in any situations except a complete dark room, where i quickly put it in theatre mode. Also i can concur as well, the biggest gripe for me is the charging dock. I would say in 2 years between 10 and 20 times did i think I had it charging, only to put it on the next morning only to have 30% battery left. It's a pain, but i have gotten used to double checking it's charging before going to sleep.

Certainly is a pity. I just sold my ZenWatch 2 for $50 before it became totally worthless and was tired of waiting for 2.0. Was still a decent watch, but I'm ready for a change. As much as I enjoy Android Wear, I'll probably end up getting a fitness watch just for basic notification access, which is what I primarily used Wear for. That is unless something decent gets announced very soon.

I have had mine since it dropped and I have not taken it off for anything else since. Used it with the Beta for months and now its on 2.0 and its fantastic. great battery life compared to other watches and still looks great. That sapphire screen helps alot with that!

"this thing looks better than just about any other smartwatch — with the possible exception of the Apple Watch." The Apple watch looks like a kids watch from a vending machine. What about the Moto 360 v2 or Asus watch? I would even dare to say the new Huawei watch looks better than the basic square on a strap watch Apple sells.

Dude how can you say the Apple Watch looks better than the Huawei Watch. Like seriously, I'm no fanboy, I have a MacBook Pro and an iPad Pro, but my phone is the Galaxy S8, and in my opinion the Apple Watch is the ugliest Apple product to ever be released. It looks like a shrunken 1st generation iPhone, which was great for 2007, but certainly unacceptable in 2017.

At least 90% of the Android Wear smart watches I've seen look better than the Apple Watch. The Apple Watch looks like a square bubble, and that's not a compliment for a watch. The Huawei Watch is still the nicest looking smart watch out there, which is why I still haven't replaced it. I wish Huawei could have made a true successor to this watch.

I am wearing the original Huawei Watch right now -- also the silver with a metal band -- and still love it. BUT: I love it a lot less than I did two months ago. The Android Wear 2.0 update was horrible, simply because it removed the (actually useful!) shortcuts from AW 1.6. I loved being able to double-click the button to put it into theater mode, or triple-clicking to maximize brightness for a few seconds. Now those are gone, and I HATE it. The button is, frankly, nearly useless now. If I could find a way to either add those shortcuts back via a third-party app, or revert the watch to AW 1.6 again, I'd do it in a heartbeat.

Yup those features were great, I miss those too.

I'll keep wearing my ugly old Pebble Time until there's an AW watch that can last three days on a charge. I'm not holding my breath.

I just don't understand this reasoning. I only take my watch off during my showers/getting dressed (which I did with my analog watches as well). My charging cradle is plugged in right I next to my electric shaver. This charges my Gear S3 enough to never require it having to be charged at other times. In essence my watch wearing habit hasn't changed from my analog watch days at all other than the watching sitting in a cradle rather than just laying flat on the counter.

That's definitely the case for most people. I travel four days a week for work, though, and a charging cradle would be one more fairly bulky thing I'd have to cram into my already very full backpack. Not to mention that I'm sure it's more costly than a phone charger to replace a charging cradle in the event that I accidentally leave it in a hotel room (the number of phone chargers I've lost over the last ten years is embarrassing). If I had a more regular schedule, I'd pick up an LG Watch Sport today.

Charging the HW is really easy, and requires virtually no bulk to your existing microUSB charging setup for your phone. For around $11, you can get a charging disk for the watch that just plugs onto a microUSB cable and works great. It's about the size of three stacked half-dollars.

Still rocking mine here as well, although it splits time with a Gear Fit2 now... HW for dress, GF2 for exercise & daily bumming around... I can't for the life of me figure out why Huawei didn't just iterate on the original design vs the awful looking mess they put out for the v2s. I still get compliments on this watch when I'm out a la "Oh, I have an Apple Watch, but I wish it looked more like that". Someone needs to step up again and make an Android Wear device that doesn't look like a chunky plastic toy.

Completely agree. I have the Huawei v1, and I love it. Had it a year, it just works, and the apps I need/use area available. The battery is starting to get a little weaker, but I still get more than a day of normal use with always on. I compare that to my new S3, which is nice enough, but lacks the look and Tizen isn't as nice. I switch between the two, wearing the Huawei when I want the look and need the apps, and wearing the S3 when I want the fitness and need the IP rating. Doesn't seem like it would be so hard to make a good AW watch with an IP rating that doesn't suck, and a classy look. I think the market is just too small. Too bad.

All Huawei had to do to make a true second gen smart watch was to keep the same look, add NFC, GPS (for fitness tracking without a phone), and some kind of rotating crown/bezel. That would have made it a perfect watch for the current generation.

I think that'd be difficult to do while keeping the same look. Adding NFC and GPS would require more space inside the watch, and then there's the extra battery they'd have to pack in to make the GPS usable for any significant period of time.

This watch is useless after it tried to update and stuck in a perm loop. It's about 18 months old, so they won't repair it under warranty. It's now just a paperweight. This is the second android wear watch I've bought that has had this exact problem (first was a moto 360). I'm sticking to samsung watches from now on.

LOL Samsung isn't any better with updates bricking watches. Good luck tho...

Android Wear 2.0 has been a complete failure for me on my moto360 gen-2. Android Wear 1.5 was GREAT, and I was COMPLETELY happy with it.
That all changed in March and all my bluetooth notifications inexplicably died. Fast forward to late May 2017 and its even worse now with the moto- AW 2.0 roll out.
>Bluetooth notifications do not work
>Playstore 2.0 on the watch does not work because 2.0 mandates your google profile be communicated form the phone to the watch.... which does not work. I have factory reset, re-downloaded AW, cache and data cleared at least 15-16 times in an effort to revive it without success. For everyone who reads raving reviews about the newest generation of android wear devices, or older devices adopting 2.0... there is a LONG running complaint thread here:
https://productforums.google.com/forum/#!category-topic/android-wear/LeQ... My views here... Harsh as they may be, it is what it is. Over-priced (at least mine was at $330 12 months ago) and under supported.
https://youtu.be/4xb6ZtJgk0I

Thank goodness for choices - friends have the HW1 and still love it, but it looks tiny on my wrist - whereas the HW2 looks fine. I guess I am the size of a basketball player, so the option of something bigger is good for me. As for not using LTE - don't knock if you haven't tried it. I have never used the watch mic, mind, that is just too weird, but bluetooth headphones work fine, and it feels great to leave the phone at home sometimes. The HW2 has had pretty poor reviews, but it works for me, and the bad press meant I could get it for £100 off list price. :-)
The HW1 was definitely the best at the time - shame it looked like a toy on me.

Well for T-mobile in my area ( Bergen County, NJ ) LTE is a must being that they are phasing out their non-LTE network. My girlfriend's gear S2 no longer gets service, while my gear S3 works amazingly.

I have the same watch myself and I love it. It's so much better than the moto that i had before. One of the reasons why i got this watch was the fact that i can replace the battery easily compared to other brand that was huge factor for me. Also i get 2 days of use before i charge. The built in speaker is also pretty good. My only complaint is the vibrate is somewhat weak but i can understand why since it's a better killer. Other than that it's a great watch I still prefer this look over the new model that they made.

Had a Huawei for a few months. The power pins got less and less reliable until they finally died. Sent the watch back. For me it's Moto 360 all the way with wireless charging and best looks of any AW watch.

Yeah me using original huwaei watch since a year and totally love it...no new smart watch has come close yet...

Well, being the best Android smartwatch is not exactly impressive.
It's like having the "best LCD display on the market", for the iPhone. Not really interesting, since AMOLED is much better in almost every category today... Tizen is much better than Android Wear as well. Much lower power consumption, more ergonomic, more features, more ways to interact (rotating bezel)...

Agree 100%... And Tizen is well supported by its developer. Unlike AW.

I've been using mine almost daily and still find it quite useful. I'm a nurse so like the flashlight, timer in addition to using phone email and texts. I have no qualms talking to my wrist! One thing I don't like is the messaging app doesn't work. I need to say, "ok Google send text " I read books and play games when in especially boring meetings, non chalantly of course.

I am so happy to read that you like your old watch. This is extremely interesting... I loved my old bicycle and I am thinking about writing articles like you do, to let people know about that old and beautiful bike... Next time you have something interesting to share, just don't!

You lost me as soon as you said the apple watch looks good, yick, its an ugly bezeled pill box from the 1930's strapped to your wrist :)

I've always liked the look of the HW version 1. I had my original moto 360(which I still like with no issues). I thought about getting the HW version 1, but I found the LG Urbane on clearance at Target for $100. The Urbane is a fantastic watch. I've been really happy with it. I got rid of the leather band and bought a steel band. Love it!

I have this watch and it is great .
A couple of pointers for those suffering from the lack of ambient light sensor:
1. Download and install to phone and watch SWAPPtrue dark (not in the play store). It allows you to dim the whole screen (always on/ambient mode included). You can very quickly dim the screen just by touching the edge of the screen, with out adjusting the brightness. Without it I would have ditched Android wear long ago.
2. Installing Wear edge controls: brightness app allows you to trick the watch into thinking it has Auto brightness. (By holding down until Auto pops up.) This means that when you swipe down to toggle screen, you have direct access to theatre mode, with out having to open the brightness control first. This is a better compromise since they took away the double press of the hardware button to activate theatre mode.
Enjoy.

I have this watch since 9/15 and yes I have a severe screen retention problem since I leaving the watch in always on ambient mode. I've been using the blank face for more than 3 months now but the problem is permanent it seems. Battery power got better though. LOL. lesson learned. I' will use it till it dies.

I agree with the article. Replaced my original moto 360 a couple of months ago with the OG Huawei Watch and love it, it's the best looking and in terms of performance it's very smooth.