Twitter Blue premium subscription expands to the U.S., New Zealand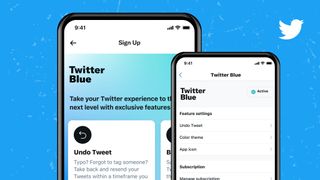 (Image credit: Twitter)
Update, Nov 9 (2:15 p.m. ET): Twitter Blue rolls out to more countries
What you need to know
Twitter's rumored Blue subscription service has gone live.
It offers a selection of features, including undo tweet, reader mode, and customization.
In its first phase of rollout, it'll be limited to Australia and Canada.
Twitter today finally launched its rumored Twitter Blue service.
As expected, this is a paid-for Twitter subscription that'll sit alongside the regular free Twitter service while offering an enhanced experience for customers who want it. It's initially going live in Australia and Canada from CAD 3.49 or AUD 4.49 per month, respectively. Twitter says this is just the first phase of the rollout as it opts to gain a "deeper understanding" of what customers want.
If you've read coverage of Twitter Blue, you'll already know what to expect. First, Twitter highlights Bookmark Folders. The company already allows you to save tweets you particularly like under Bookmarks to refer to them later. Now, Folders will let you organize said tweets into a cohesive collection. It's a lot like tags in Google Keep and turns the Twitter app into a scrapbook of sorts. As we noted, while it's not a feature that you can't do without, it makes organizing research on Twitter more convenient than using a third-party tool to do so, though.
Next, Twitter is adding "undo tweet." Like unsend in Gmail and some messaging apps, it allows you to essentially withhold a Tweet for up to 30 seconds, giving you a pause to approve, edit, or delete the tweet entirely. It's not an edit button; it's more of a "stop and think about it button." You can live without it, but if you're a big brand representative or a CEO sending tweets on the go, an extra half-minute to scrutinize your message will not go amiss.
Twitter is also adding a reader mode aimed at making long threads readable. If you're on Blue, you'll be able to view all tweet threads as a singular long post. It's not clear if this comes from its purchase of Scroll, but it does make services like Thread Reader's "unroll" redundant.
Other minor tweaks include customizable icons and colors.
Twitter Blue is, as expected, a collection of nice-to-have features aimed at the people who spend far too much time on Twitter. Many users can point to third-party apps which offer this feature or that, but Twitter is likely hoping the convenience factor keeps people interested.
Update, Nov 9 (2:15 p.m. ET) ― Twitter Blue comes to the U.S. and New Zealand
After launching over the summer in Canada and Australia, Twitter's paid subscription service is now available in the U.S. and New Zealand.
Users on iOS, the web, and on the best Android phones will be able to access all the features above, including the new Labs feature. Navigate to Twitter Blue from the main menu to subscribe and get started.
It's time to flex those Twitter fingers and take it to the next level 💪

Twitter Blue is now available for subscription in the US, New Zealand, Canada, and Australia on iOS, Android, and web pic.twitter.com/if3wXfoGpBIt's time to flex those Twitter fingers and take it to the next level 💪

Twitter Blue is now available for subscription in the US, New Zealand, Canada, and Australia on iOS, Android, and web pic.twitter.com/if3wXfoGpB— Twitter Blue (@TwitterBlue) November 9, 2021November 9, 2021
Our Shruti Shekar tried out Twitter Blue to see if it was worth it, but she didn't find it compelling enough to pay for. Of course, that's up to you to decide whether or not Twitter is offering enough features to take your USD 2.99 per month.
I'm sorry, but you're a fool if you give Twitter money. If doesn't even get rid of ads, so on top of ads, you're paying them for a few minor features. Undo tweet? You mean "taking a second to think before I tap the Post button?"

Yeah I think not especially considering there is nothing worth the extra money for
Android Central Newsletter
Get the best of Android Central in in your inbox, every day!
Thank you for signing up to Android Central. You will receive a verification email shortly.
There was a problem. Please refresh the page and try again.