Twitter for Android v3.4 now available - New profile pages, photo streams and more included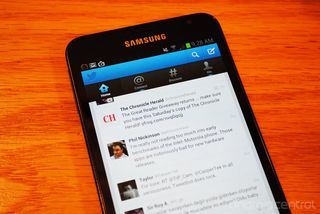 For those of you out there who prefer to use the official Twitter for Android app, you'll want to head on into the Google Play Store and grab v3.4 which, Twitter has now made available for download. This release comes with plenty of changes and additions. Whether or not those tweaks will be welcome remains to be seen but here's the list:
New profiles with header photos
Photo streams on profiles and events
Pinch-to-zoom on photos
Search suggestions for people, topics and hashtags
Improved protected account management including the ability to accept or deny follower requests
Other improvements, polish, and fixes
Overall, the list looks great but you'll have to put the new features to the test yourselves to see if it they will make you give up any of the many third-party clients out there. If you decide to give the latest update a go, let us know how it's working out for ya. One thing I noticed, it seems third-party image hosting is out. it now forces you to use Twitter image hosting.
Does anyone know if Contact syncing in ICS or JB is fixed in this update?

Doesn't look like it is. Attention Twitter: Android isn't going away. Giving iOS contact syncing but not Android is a bit small-minded. Telling 68% of mobile users to go screw is not a sound way to keep or grow a user base. Even Facebook added it back.

Still no tablet UI. Lamesauce. Sticking with Plume.

No joke, how could a company so ubiquitous fail so much and so big with apps.

If twitter ever puts images in your stream I would not use another twitter app. Tweet Lanes and Plume are my favorite twitter apps currently.
Android Central Newsletter
Thank you for signing up to Android Central. You will receive a verification email shortly.
There was a problem. Please refresh the page and try again.